The Ad Facebook Condé Nast Doesn't Want You to See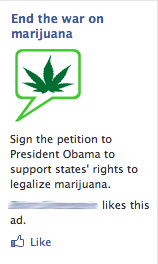 More free publicity for Just Say Now, the marijuana legalization campaign: Condé Nast has ordered the editors of Reddit to reject the group's ads supporting California's Proposition 19 because it "does not want to financially benefit from this issue." The editors, who think "it's ridiculous that we're turning away advertising money," responded by running the ads for free.
Unlike Facebook, which objected specifically to the pot leaf in the Just Say Now ads it rejected (on grounds that they violated a general "no smoking" policy), Condé Nast says the subject of the ads is the problem. In fact, its position suggests that it would also turn down ads from opponents of Prop. 19.
Firedoglake has more.