A Pot of Money to Piss On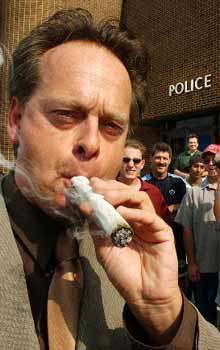 Last fall Marc Emery, Canada's self-proclaimed "Prince of Pot," reached a plea deal with the U.S. Justice Department, agreeing to serve five years in federal prison for the crime of selling marijuana seeds to Americans via the Internet. But the Drug War Chronicle reports that Emery is still hoping to avoid deportation, which Canadian Justice Minister Rob Nicholson can block if he concludes that the punishment Emery faces is grossly disproportionate or that his prosecution was politically motivated. There is strong evidence on both counts. While Canada treats selling cannabis seeds as a minor offense punishable (if at all) by modest fines, the U.S. government depicted Emery's Vancouver-based business as part of a criminal conspiracy that could have sent him to prison for life. And after Emery was busted in 2005, then-DEA Administrator Karen Tandy made it clear that he was targeted for his political activism as much as his seed sales, declaring:
Today's arrest of Mark [sic] Scott Emery, publisher of Cannabis Culture magazine and the founder of a marijuana legalization group, is a significant blow not only to the marijuana trafficking trade in the U.S. and Canada, but also to the marijuana legalization movement. His marijuana trade and propagandist marijuana magazine have generated nearly $5 million a year in profits that bolstered his trafficking efforts, but those have gone up in smoke today. Hundreds of thousands of dollars of Emery's illicit profits are known to have been channeled to marijuana legalization groups active in the United States and Canada. Drug legalization lobbyists now have one less pot of money to rely on.
In light of the huge gap between Canadian and U.S. policy regarding cannabis seeds, and given the evidence that the U.S. government is seeking to punish Emery for his outspoken criticism of marijuana prohibition, there seems to be a persuasive case for preventing his extradition. Canada's Extradition Act says the justice minister "shall refuse to surrender a person when that surrender could involve unjust or undue or oppressive actions by the country to which he is being extradited." Nicholson is supposed to make a decision by May 10, but he could ask for an extension.
Emery's cause has attracted support in Canada's parliament. "Many dedicated individuals have collected approximately 12,000 petitions reflecting a strong belief that Mr. Emery or any Canadian should not face harsh punishment in the U.S. for selling cannabis seeds on the Internet when it is not worthy of prosecution in Canada," M.P. Libby Davies, a New Democrat who represents Vancouver East, said last month. Liberal M.P. Ujjal Dosanjh, former attorney general of British Columbia, said "it appears to me that we have assisted a foreign government arresting a man for doing something that we wouldn't arrest him for doing in Canada."
More on Emery here.