Reason Nominated for Seven "Maggie" Awards
The Western Publishing Association, which covers print and online outlets left of the Rocky Mountains, has nominated Reason for seven of its prestigious "Maggie" Awards for outstanding journalism in a magazine. And the nominees are….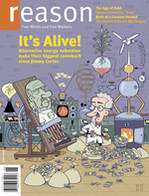 * Best Magazine, in the Politics & Social Issues category
For our June 2009 issue. We're up against Mother Jones, Ode, the San Francisco Bay Guardian, and Sierra.
* Best Web/Digital Edition
* Best Web/Digital Blog
For the BLOG THAT YOU ARE READING.
* Best Regularly Featured Web/Digital Columnist
For the one and only Nick Gillespie
* Best News Story
Radley Balko's "Forensics Fraud? Experts say this video shows a doctor manufacturing evidence. So why is a man still on death row?"
* Best Feature Article
For Jesse Walker's "The Paranoid Center: How the panic over right-wing violence is being used to marginalize peaceful dissent"
* Best Interview or Profile
For Ronald Bailey's "'Chiefs, Thieves, and Priests': Science writer Matt Ridley on the causes of poverty and prosperity"
Reason was a four-time Maggie finalist last year, and a one-time winner. We won Mag of the Year for 2004.
Later this week, we'll find out if our sole nomination for the National Magazine Awards, for Best Video, results in a little air-mail package called Oscar.
Do you subscribe to Reason yet? If not, 11 issues are yours, for under $20 (and under $45 for three years, fer chrissakes). If you already do, why don't you go ahead and give it as a gift, to your loved (and hated) ones?