'The truth—well, the truth is that I've had a long-standing problem with heroin addiction'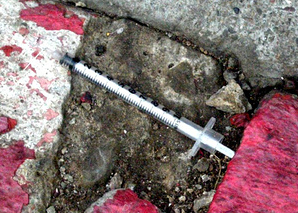 Bill Day was a reliable source of clean needles for San Antonio's heroin addicts until authorities forced him to shut down his operation. Day helped found the Bexar Area Harm Reduction Coalition in 2003, and collected over 10,000 dirty needles since the program started. And ironically, he had legislative support:
Day, who has AIDS but didn't get it through drug use, started passing out needles in San Antonio regularly a little over a year ago. Around the same time, the state Legislature authorized Bexar County, which includes San Antonio, to set up a separate pilot program.

But [District Attorney Susan] Reed said in August that anyone with a needle, even in the program, was breaking the law. "It's just a question of law," she said.

Attorney General Greg Abbott backed up Reed, saying people who possess drug paraphernalia as part of a needle-exchange program can be prosecuted because the law didn't specifically exempt them.
Read the whole story here.
Steve Chapman wrote in support of needle exchange programs here.
Hat tip to Austin reader, KJ Radebaugh.