He Could've Beat Those Dirty Lakers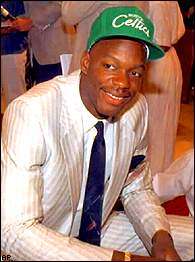 Twenty-two years ago yesterday, University of Maryland star forward Len Bias died of a cocaine overdose. In the wake of his death, Congressman James C. Wright, Jr. (D—Texas), proposed the 1986 Anti-Drug Abuse Act—which, in the course of "providing strong Federal leadership in establishing effective drug abuse prevention and education programs," and "halting international drug traffic," established minimum sentences for the possession or sale of illicit substances.
Wright resigned from Congress in 1986 1989, disgraced after committing an ethical faux pas or two, and the University of Maryland has a new (decent) power forward to worry over in Landon Milbourne, but the federal minimum sentencing laws are still around.
It's a crying shame that Bias, who signed with the Celtics two days before he died and likely could've been part of the dynasty that beat those dirty Lakers, is remembered more as the impetus for draconian drug laws than as a hoopster with a heart of gold and a sick inside game.
Check out Senior Editor Jacob Sullum's article on minimum sentencing here, and those of you who aren't too old to engage in "social networking" can check out reason's new Facebook page here.