Why We Can't Have Nice Things: Can You Afford Tariffs on Tin Cans?
"There's nobody that says, wait, is this good for America? Is this good for the American consumer?"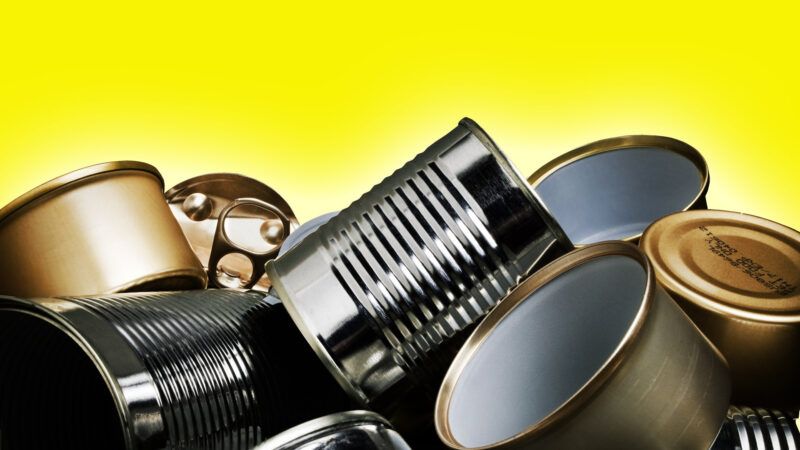 (Illustration: Lex Villena; Italianestro)
You probably don't think much about tin cans, even when you're buying one. It's the product inside the can—soup, beans, maybe hairspray or sunscreen—that seems to matter.
But the humble tin can is both a crucial component of modern, globe-spanning supply chains and a product of them: About half of the metal used to make tin cans in the U.S. is imported from abroad. And that's why tin cans—more specifically, tinplate steel, the type of metal used to make those cans—are at the center of a behind-the-scenes fight over tariffs that illustrates so many of the problems with protectionist policies.
On one side of that fight is Cleveland-Cliffs, one of just two companies in the U.S. that produces tinplate steel. In a recent petition to the Commerce Department, Cleveland-Cliffs asked for tariffs of up to 300 percent against imported tinplate steel—the products that account for over half of the supply of tinplate in the American economy.
Those tariffs will translate into reduced supply and higher prices, says Tom Madrecki, vice president of supply chain and logistics for the Consumer Brands Association.
"When the tariffs go into effect, they raise the cost of steel, they raise the cost of the packaging," says Madrecki. The can itself is often the most expensive element of a canned food item, so those prices quickly cause the overall price tag to rise. "You [will] see food prices go up 19 to 30 percent. That translates to 36 to 58 cents per can," he says.
And while new tariffs might protect some tinplate-making jobs at Cleveland-Cliffs, research suggests the higher prices will cause far greater losses throughout the rest of the economy. The Trade Partnership, a think tank, estimates that the proposed tariffs could cause up to 40,000 jobs to be lost in downstream industries, including blue-collar jobs like can-making and food production. If the steel in their tin cans is suddenly more expensive, food production companies might simply purchase finished—and less-highly-tariffed—cans overseas.
"You're going to go to the grocery store one day…and you're going to look at the receipt in disbelief and say, 'How did this happen?'" says Gerard Scimeca, chairman of Consumer Action for a Strong Economy, a free market group that opposes the tariff proposal. "Well, this is how that happened: You had a company trying to take advantage of our trade policy for personal gain."
And here's the real kicker: As a rule, the Department of Commerce doesn't even consider the potential (and often obvious) consequences of these decisions. The tariff petition process is one-sided and skewed heavily in favor of companies seeking protectionism at the expense of consumers and workers throughout the economy.
Government policy, no surprise, is one of the big reasons why we can't have nice things.
Further reading for this week's episode:
"Biden Administration Considering New Tariffs That Will Hike Prices for Canned Goods," by Eric Boehm, Reason.
"U.S. Plans New Tariffs on Food-Can Metal From China, Germany, and Canada," by Yuka Hayashi, The Wall Street Journal
"Tinplate Steel Tariffs Will Harm American Consumers and Manufacturing Jobs," by the Consumer Brands Association
"Four Areas for Congress To Exercise Trade Policy Oversight," by Tori Smith, American Action Forum
Written by Eric Boehm; produced and edited by Hunt Beaty; mixing by Ian Keyser; fact-checking by Katherine Sypher.