Kerry Howley: A Journey Through the Deep State
The Bottoms Up and the Devil Laughs author and former Reason staffer reports back from post-privacy America.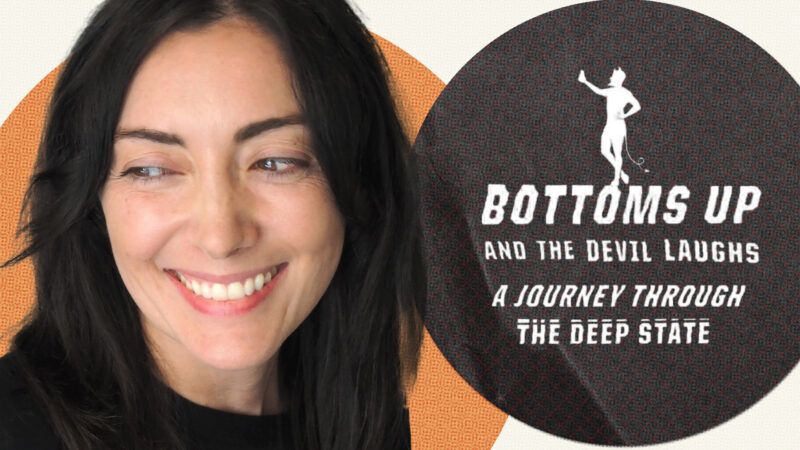 "This book is born of an anxiety I was feeling, which was this sense that we were leaving pieces of ourselves, in all these different forums, in all these different media," says today's guest, former Reason Senior Editor Kerry Howley, whose new book is Bottoms Up and the Devil Laughs: A Journey Through the Deep State.
"There's a piece of yourself in your email. You're leaving traces in Facebook Messenger and text, and the possibility [exists] that all of these could be reassembled to form an identity that looks like you but is not you," she says. Bottoms Up and the Devil Laughs "tells the story of a young whistleblower named Reality Winner to whom this truly happened. Her life was reassembled by prosecutors in a truly absurd way to suggest that she was a terrorist. And so she is kind of an illustration of that anxiety but also the reality that we're all living in."
Howley is now a staff writer at New York magazine and a multi-finalist for the National Magazine Award, the industry's highest honor, most recently for a profile of anti-abortion activist Marjorie Dannenfelser. 
In a wide-ranging conversation about surveillance, privacy, and journalism in an age where nothing we say or write or post ever really goes away, Howley talks about getting inside the mindset not just of whistleblowers like Reality Winner and Daniel Hale but also the people who would lock them up and throw away the keys. We also talk about how her work at Reason and her stint at an openly censored newspaper in Myanmar continues to inform her worldview.
Today's sponsors:
Better Help. When you're at your best, you can do great things. But sometimes life gets you bogged down, and you may feel overwhelmed or like you're not showing up in the way that you want to. Working with a therapist can help you get closer to the best version of you. Because when you feel empowered, you're more prepared to take on everything life throws at you. If you're thinking of giving therapy a try, Better Help is a great option. It's convenient, flexible, affordable, and entirely online. Just fill out a brief questionnaire to get matched with a licensed therapist, and switch therapists anytime for no additional charge. If you want to live a more empowered life, therapy can get you there. Visit BetterHelp.com/TRI today to get 10 percent off your first month.
The Reason Roundtable Live in New York! For the first time, Katherine Mangu-Ward, Peter Suderman, Matt Welch, and Nick Gillespie will tape live and unfiltered in New York. Come out on Tuesday, April 25 to the historic Village Underground (130 West Third Street)! Tickets are $25.00, include entry to the afterparty, and are going fast. For more details and to buy tickets, go here!