Winsome Earle-Sears: School Choice 'Is New Brown v. Board' Fight
Virginia's lieutenant governor wants state education dollars to fund students, not school buildings.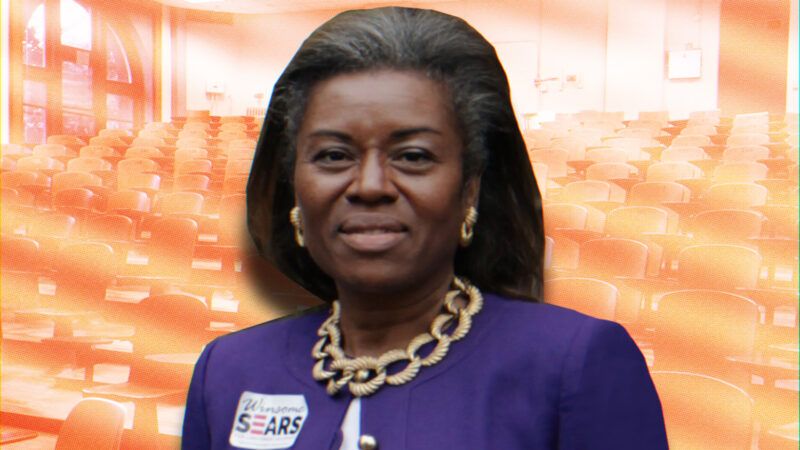 "Brown v. Board of Ed ultimately was never about black kids getting into a white school. It was always about ultimately a parent being able to decide where their children should attend school," Virginia Lt. Gov. Winsome Earle-Sears tells me in today's Reason Interview podcast. She is one of the driving forces behind a new bill that would create so-called backpack funding for kids in Virginia.
Parents would be allowed to use the state's portion of per pupil funding—somewhere between $4,000 and $6,000—at any public or private school, for tutoring, books, and other educational expenses. If the bill passes, Virginia would join eight other states with education savings accounts (ESAs) that accomplish similar goals.
Earle-Sears was born in Jamaica in 1964 and grew up in New York City before joining the Marines and eventually settling in Virginia, where she has served in the House of Delegates and on the Virginia Board of Education. She became lieutenant governor in 2021 on the same ticket as Republican Glenn Youngkin in an election in which controversies over critical race theory (CRT), school lockdowns, and other issues related to education played a significant role. 
On today's show, we talk about why school choice is her top priority, the ongoing controversy over her administration's proposed history standards that were rejected by the Virginia Department of Education, and the black experience in America over the past half-century.
Today's sponsors:
Lions of Liberty Podcast Network. Take your first step toward freedom by checking out one of the oldest 

libertarian/anarchist podcast 

networks in the world.

 On Mondays, John Odermatt 

delivers a powerful mix of inspiration, health, and faith to set 

your mind, body, and soul free with Finding Freedom. On Wednesdays, B

rian McWilliams will make you laugh at our broken world while 

providing the promise of a better future with Mean Age Daydream. Friday's offerings include shows like Meme Wars, Hatewatch, and Libertarians in Living Rooms Drinking Liquor. Listen today at Lions of Liberty Network and everywhere podcasts are found. Past episodes featuring Nick Gillespie talking postmodernism and South Park and Rick and Morty are here and here.
The Reason Speakeasy. The Reason Speakeasy is a live, monthly, unscripted conversation with outspoken defenders of free thinking and heterodoxy in an age of cancel culture and thought police. The next one takes place in New York City on Monday, February 6, with Nick Gillespie interviewing Reason contributor, UnHerd columnist, Feminine Chaos podcaster, and mystery writer Kat Rosenfield about celebrities caving to woke critics, cancel culture, and her new novel You Must Remember This. Doors open at 6 p.m. Tickets are $10 and include beer, wine, soft drinks, and appetizers. For more details and to buy tickets, go here now.