Robert Draper: The GOP Needs a Post-Trump Reality Check
The Weapons of Mass Delusion author says election-deniers like Marjorie Taylor Greene and Lauren Boebert may be the Republicans' future.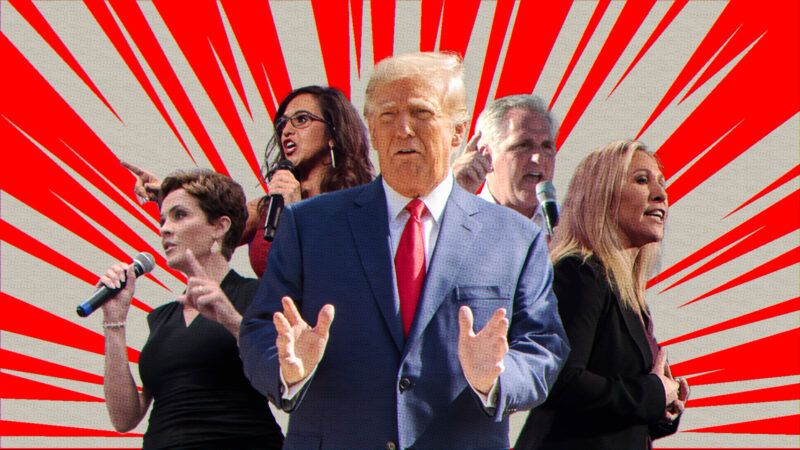 Has the Republican Party lost its mind—and its way—in its slavish devotion to Donald Trump, who insists that the 2020 election was stolen from him through extensive voter fraud?
That's the question that journalist Robert Draper investigates in his new book Weapons of Mass Delusion, which looks at rising Republican stars such as Rep. Marjorie Taylor Greene (R–Ga.) and failed Arizona gubernatorial candidate Kari Lake, who are diehard Trump loyalists, and established party leaders such as likely Speaker of the House Kevin McCarthy, who is openly terrified to cross the former president.
I spoke with Draper shortly after the midterm elections, in which the GOP had an unexpectedly poor showing against a massively unpopular Joe Biden. Is this a sign that Trump's hold on his party—and the country—is weakening? And is there any reason to believe that the party of Ronald Reagan and Barry Goldwater may return to its small government roots?
We also talked about Draper's 2014 New York Times Magazine cover story, "Has the Libertarian Moment Finally Arrived?," which prominently featured me and Matt Welch.
Today's sponsor:
The Reason Speakeasy. The Reason Speakeasy is a live, monthly, unscripted conversation with outspoken defenders of free thinking and heterodoxy in an age of cancel culture and thought police. The next one takes place in New York City on Thursday, December 1, with Nick Gillespie interviewing Kaytlin Bailey, the founder of Old Pros, a sex worker rights group, host of The Oldest Profession Podcast, and the writer and performer of Whore's Eye View, a one-woman show about 10,000 years of prostitution, female emancipation, and sexual freedom. Doors open at 6:00 p.m. Tickets are $10 and include beer, wine, soft drinks, and appetizers. For more details and to buy tickets, go here now.