Darts and Laurels for the Late George H.W. Bush: Podcast
Also: How much should we care that Trump & co. lied in 2016 about a Putin-proximate real estate deal in Russia?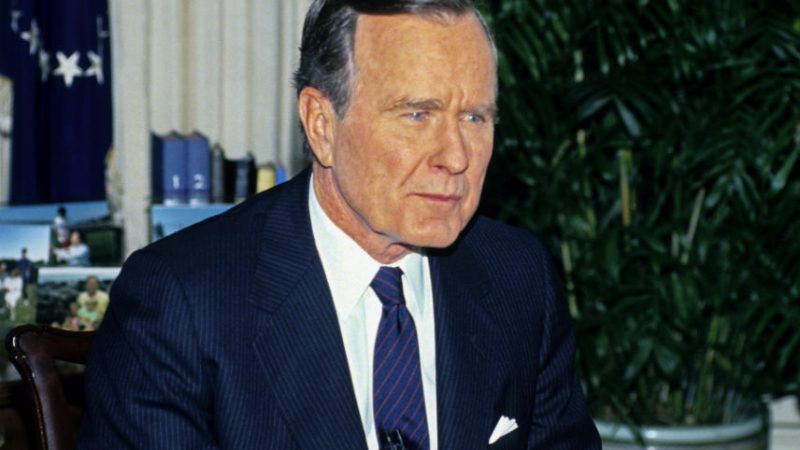 (Ron Sachs - CNP/Newscom)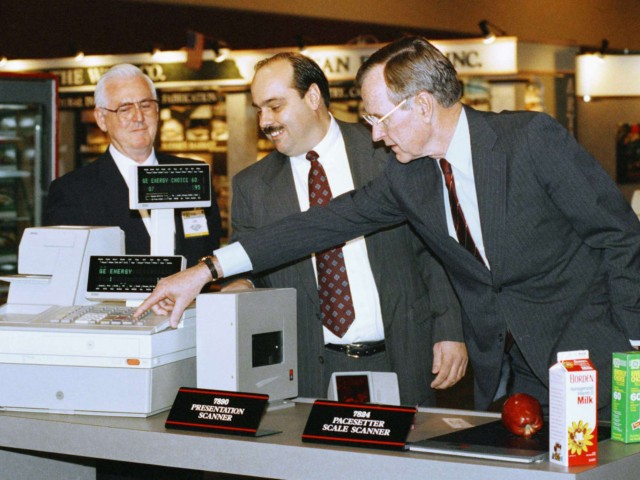 What else can we say about the departed George H.W. Bush, other than that he wasn't the worst president in our lifetimes but otherwise left little for libertarians to cheer about aside from not freaking out while communism collapsed? On the latest editors' roundtable edition of the Reason Podcast, Katherine Mangu-Ward and Peter Suderman add their contributions to the pool already populated by co-podcasters Nick Gillespie and me. Hint: involves supermarket scanners.
Also discussed: Last week's huge volume of news on all things Mueller/Trump/Russia, the multi-administration follies of Government Motors, the technologic inadequacies of certain podcast participants, and of course the Reason Webathon (Donate right the hell now!).
Subscribe, rate, and review our podcast at iTunes. Listen at SoundCloud below:
Audio production by Ian Keyser.
'Fishing' by David Szesztay is licensed under CC BY-NC 3.0
Relevant links from the show:
"George H.W. Bush, 41st U.S. President, Dead at 94," by Scott Shackford
"When the World Convulsed, George H.W. Bush (Mostly) Let Freedom Happen," by Matt Welch
"George H.W. Bush's Legacy Holds Little, Nothing for Libertarians To Celebrate," by Nick Gillespie
"Did I Really Once Think That George H.W. Bush Was the Worst President of My Lifetime?," by Jesse Walker
"Bush, Buckwheat, and the Budget," by Thomas Winslow Hazlett
"Sovereignty Is Such a Lonely Word," by Matt Welch
"Trump Ex-Lawyer Cohen Pleads Guilty to Lying to Congress About Russian Negotiations," by Scott Shackford
"Putin's Potential Penthouse in Trump Tower Moscow Launches Investigation," by Elizabeth Nolan Brown
"After Losing $1 Billion to Tariffs, General Motors Announces 14,000 Layoffs," by Eric Boehm
"When Trump (or Obama) Threatens CEOs, It's the Little Guy Who Loses," by Matt Welch
"How The Hell Did GM Pay Back Its Bailout "in Full And Ahead of Schedule"? Well, It Didn't…," by Nick Gillespie
"GM Will Shut Down Factory Built on Land Seized in Controversial 1981 Poletown Taking," by Ilya Somin
"Trump, Ryan, and Walker Want to Seize Wisconsin Homes to Build a Foxconn Plant," by Zach Weismueller
Don't miss a single Reason Podcast! (Archive here.)
---