Politics Is Not Pretty: Podcast
Reason editors rate the White House Correspondents Dinner, Trump's nuclear politics, the optics of political summits, and the resuscitation of Zora Neale Hurston.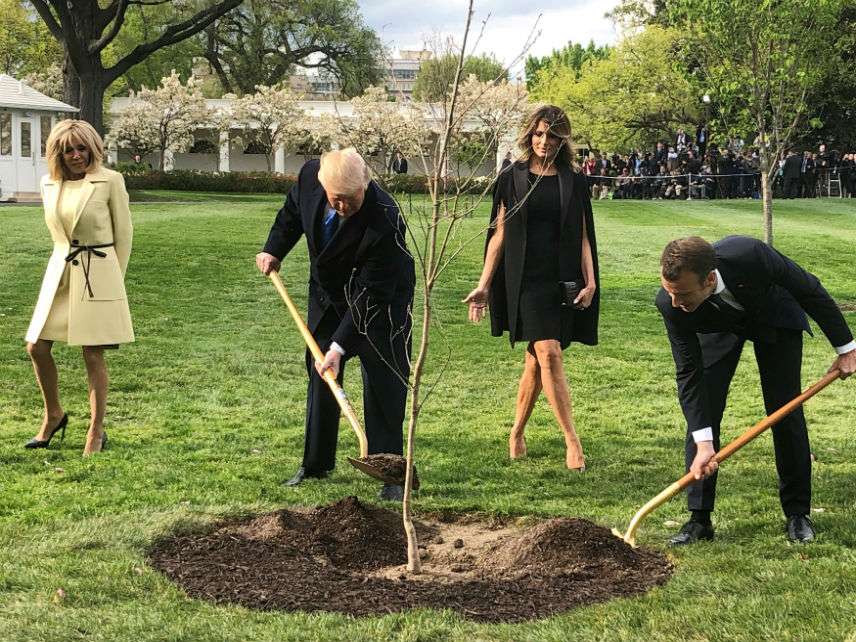 As there is no escape from the culture-war nontroversies surrounding this weekend's White House Correspondents Dinner, the least you can do is go meta about the always-ugly apparitions of industrial self-congratulation and concentration of power in Washington, D.C.
And so this week's editorial roundtable edition of the Reason Podcast, featuring Katherine Mangu-Ward, Nick Gillespie, Peter Suderman, and me, begins with a brief such discussion before pivoting quickly to other news, including peace talks on the Korean peninsula, tonight's midnight deadline on steel/aluminum tariffs on the European Union, the looming Iran-nuclear-deal implosion, the strange and wonderful imagery from French President Emmanuel Macron's state visit, and a surprise new book from Zora Neale Hurston.
Subscribe, rate, and review our podcast at iTunes. Listen at SoundCloud below:
Audio production by Ian Keyser.
Relevant links from the show:
"It's Time To End the White House Correspondents' Dinner," by Nick Gillespie
"CNN Won't Cut Away from White House Correspondents' Dinner, Reassures Viewers They'll 'Find Out All of What Happened in the Streets of Baltimore by This Time Tomorrow'," by Jesse Walker
"The White House Press Correspondents' Dinner Is About as Bad as You Think, Only a Little Bit Worse and a Little Bit More Fun," by Lucy Steigerwald
"Is This Prom Dress an Act of Cultural Appropriation?," by Nick Gillespie
"North Korea Claims It Will Suspend Its Nuclear Weapon and Missile Tests," by Brian Doherty
"Trump's Economic Illiteracy Has Deep Roots," by Eric Boehm
"Shocker! American Steel Prices Spiked in April.," by Eric Boehm
"How Trump's Steel Tariffs Harm America," by Veronique de Rugy
"3 Ways Kanye West Is Confounding Everyone with His MAGA Tweeting," by Brian Doherty
"'Black People Don't Have To Be Democrats'," by Nick Gillespie
"Fire!!: The Zora Neale Hurston Story," by Brian Doherty
"Zora Neale Hurston: 'America's favorite black conservative'," by Damon Root
"Zora Neale Hurston, Libertarian?," by Damon Root
"Mostly Weekly: Why I'm Boycotting the White House Correspondents' Dinner," by Andrew Heaton and Sarah Rose Siskind
Don't miss a single Reason Podcast! (Archive here.)
Matt Welch
Moderated a panel at the Libertarian Party Convention in California
Nick Gillespie
Talked to past editors at Reason
---