Disinformation Reporter Ben Collins Failed To Correct the Gaza Hospital Story
Perhaps the Walter Cronkite Awards ought to have slightly higher standards?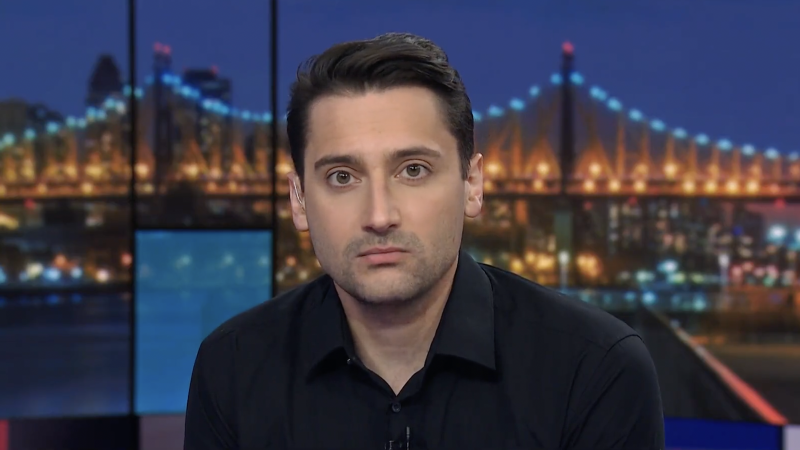 Ben Collins is a reporter for NBC News who specializes in coverage of disinformation and extremism, particularly on social media. His work has earned him many plaudits, including a 2023 Walter Cronkite Award for Excellence in Television Political Journalism.
Collins is treated as an expert in the burgeoning field of countering the spread of misinformation. Yet his error rate is noteworthy.
Take the Gaza hospital explosion, for example. On Tuesday, reports surfaced that the Al-Ahli Arab Hospital in Gaza had come under attack, resulting in as many as 500 deaths. The New York Times ran with "Israeli Strikes Kill Hundreds in Hospital, Palestinians Say." Underneath this headline was an image of an obliterated building—readers who squinted would have noticed that this was not the hospital, but a completely different target.
The Times' only source for information about the explosion was the Gaza Health Ministry; mainstream reporting noted that Palestinian authorities laid the blame squarely on an Israeli airstrike. Subsequent intelligence reports from both Israel and the U.S. provide credible evidence that the hospital was most probably struck by Palestinian Islamic Jihad, a terrorist group.
Did Collins soberly wait for these facts to come in? Nope. The award-winning disinformation expert helped circulate the inaccurate claims of the Palestinian authorities. When other voices on social media recommended caution, Collins chimed in to assert that any delay in reporting the horrific casualty numbers represented a profound moral failing. (Casualty estimates have yet to be confirmed.)
In theory, the confusion surrounding the hospital explosion is a great topic for a self-described disinformation reporter. Many left-leaning writers and political figures recklessly endorsed the Palestinian view that Israel had bombed the hospital. Reps. Rashida Tlaib (D–Mich.) and Ilhan Omar (D–Minn.) both made statements blaming Israel and did not swiftly delete them after what really happened became clearer. Omar eventually acknowledged the new information, but Tlaib again blamed Israel for the explosion during a speech at a pro-Palestine rally outside the U.S. Capitol. Is this not something worthy of coverage by Collins and company?
Keep in mind that Collins represents the journalistic side of a multi-faceted effort to monitor and eliminate purportedly wrong ideas. Disinformation tracking has become an industry unto itself, and aspects of the industry enjoy government funding: A disinformation watchdog that called on advertisers to divest from various non-liberal news sources—including Reason—received funding from the U.S. State Department.
Disinformation reporters often seem interested in sparring only with contrarian people and in defense of mainstream narratives: Matt Taibbi, Glenn Greenwald, Elon Musk, and others. Collins, for instance, downplayed the New York Post's Hunter Biden laptop story and denied that there was any effort to censor the lab leak theory of COVID-19's origins, even in the wake of ceaseless revelations that various government agencies pressured social media companies to de-platform contrarian speech about precisely these topics.
Collins' reporting often contains basic errors that suggest he doesn't particularly understand the right-wing forces he's denouncing. His most recent article alleges that Musk's plans for Twitter were shaped by a far-right former Trump administration staffer, even though it's fairly clear the staffer wasn't actually telling Musk what to do, but rather warning about what would happen to Musk if he offended "the regime." If that sounds conspiratorial, try to follow this clip of Collins and MSNBC's Rachel Maddow elucidating the Musk plan. It's impossible to describe, so please watch:
In his latest article, @oneunderscore__ offers for consideration that the series of changes that have taken place at Twitter "may have been a plan all along."https://t.co/c5k2Jd6eWH pic.twitter.com/kt5jvUmftR

— Maddow Blog (@MaddowBlog) October 3, 2023
What?
If you're going to paint broad swaths of opinion that depart from mainstream orthodoxy as paranoid and conspiratorial, you should take great pains to avoid echoing paranoia and conspiracy. You should also beware of elementary errors—like immediately taking a terrorist group's assertions at face value—and call out others who make them.
Perhaps the Walter Cronkite Awards ought to have slightly higher standards?
Collins is not the only journalist who gets things wrong, of course. But there's something extra galling about journalistic errors when they are perpetrated by someone who holds himself out as especially talented at identifying lies. That's the real problem with the army of self-appointed fact-checkers and misinformation watchdogs who police social media with particular focus on alternative content creators—they're frequently no less wrong than anyone else.
Earlier this week, Reuters reported that U.S. lawmakers were "seeking answers" from Meta, X, Google, and TikTok about the spread of false information on those platforms.
"Deceptive content has ricocheted across social media sites since the conflict began, sometimes receiving millions of views," wrote Sen. Michael Bennet (D–Colo.) in a letter to the companies.
This framing totally ignores the fact that some of the most pernicious misstatements about the situation in Gaza were peddled by mainstream journalistic institutions like The New York Times. On social media, people were able to challenge prevailing narratives that the expert class had blindly accepted. For instance, Community Notes—the crowd-sourced, Wikipedia-style fact-checking system on X—is often able to provide useful context about claims that appear on that platform.
Disinformation reporters, on the other hand, are extremely partisan and prone to error. Let's stop pretending that they have some special, magical power to separate the truth from lies.