Federal Judge Rules Texas Anti-Drag Law Violates the First Amendment
The judge ruled that the law was unconstitutionally overbroad, vague, and viewpoint discrimination.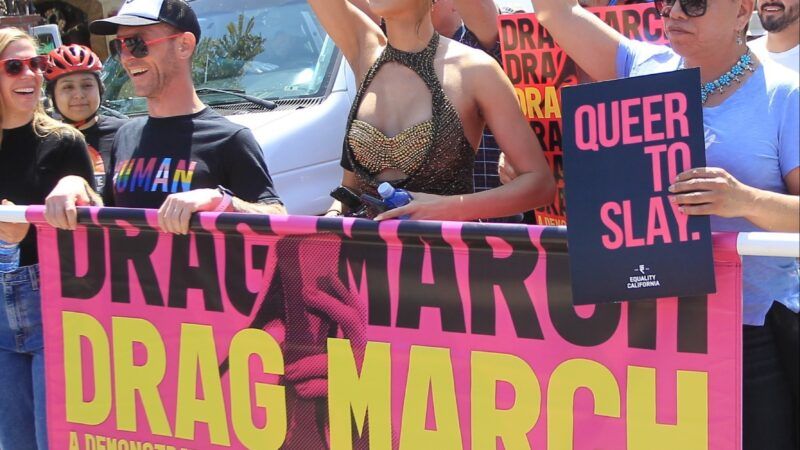 A federal judge ruled Tuesday that a new Texas law targeting drag shows violates the First Amendment and barred the state from enforcing it.
In a lawsuit brought by several LGBTQ nonprofits, drag production companies, and one drag queen, U.S. District Judge for the Southern District of Texas David Hittner held that Texas' Senate Bill 12, which bans sexually suggestive performances where minors are present, was unconstitutionally overbroad and vague.
"The Court sees no way to read the provisions of S.B. 12 without concluding that a large amount of constitutionally protected conduct can and will be wrapped up in the enforcement of S.B. 12," the ruling reads. "It is not unreasonable to read S.B. 12 and conclude that activities such as cheerleading, dancing, live theater, and other common public occurrences could possibly become a civil or criminal violation."
The ruling stands in contrast to a recent decision by another federal judge in Texas. Last week, U.S. District Judge for the Northern District of Texas Matthew Kacsmaryk denied a motion for a preliminary injunction against West Texas A&M University from banning drag shows on campus. Kacsmaryk, citing conservative sources such as the Manhattan Institute's Chris Rufo, held that drag was not categorically protected speech under the First Amendment and that the university could regulate vulgar and lewd content.
"Because men dressed in attire stereotypically associated with women is not 'overtly political' in a category of performative conduct that runs the gamut of transvestism… it is not clearly established that all drag shows are inherently expressive," Kacsmaryk wrote.
Hittner found the opposite, concluding that a survey of court decisions "reveals little divergence from the opinion that drag performances are expressive content that is afforded First Amendment protection."
"Drag shows express a litany of emotions and purposes, from humor and pure entertainment to social commentary on gender roles," he wrote. "There is no doubt that at the bare minimum these performances are meant to be a form of art that is meant to entertain, alone this would warrant some level of First Amendment protection."
Hittner specifically cited the West Texas A&M president's justifications for banning a drag show on campus, which claimed that drag degraded women and compared drag performances to blackface minstrel shows.
"The president's sentiment reinforces this Court's opinion that while some people may find a performance offensive or morally objectionable, it does not mean the performance is not expressive or given First Amendment protection," Hittner wrote. "Not all people will like or condone certain performances. This is no different than a person's opinion on certain comedy or genres of music, but that alone does not strip First Amendment protection."
Although the law does not mention drag shows, Hittner cited the legislative history and public comments of state officials, finding that S.B. 12 was unconstitutional viewpoint discrimination. In addition, Hittner ruled that the text of the law was "substantially overbroad" and "unconstitutionally vague," creating a legal risk for a wide range of other constitutionally protected performances.
Texas is one of several states that passed laws targeting drag shows during a spate of anti-drag fervor whipped up by culture-warring conservatives. Those laws have not fared well in court. Earlier this year, federal judges struck down and enjoined anti-drag laws in Tennessee and Florida, respectively, on First Amendment grounds.
The Texas Tribune reported that the Texas Attorney General's Office will appeal the ruling.
"Surely we can agree that children should be protected from sexually explicit performances. That's what Senate Bill 12 is about," Republican state Sen. Bryan Hughes, author of S.B. 12, told the Tribune. "This is a common sense and completely constitutional law, and we look forward to defending it all the way to the Supreme Court if that's what it takes."