Could Another Baby Formula Shortage Be on the Horizon?
Removing high tariffs from foreign imports of baby formula would ease the supply shock of possible factory closures.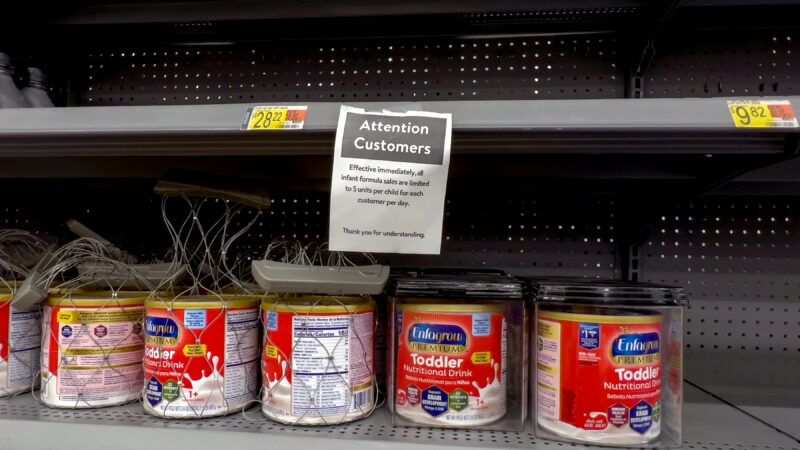 (Mark Reinstein/ZUMAPRESS/Newscom)
Late last month, the Food and Drug Administration (FDA) sent warning letters to three different baby formula companies expressing concern over the manufacturers' practices for handling contamination in their products. 
"You did not establish a system of process controls covering all stages of processing that was designed to ensure that infant formula does not become adulterated due to the presence of microorganisms in the formula or in the processing environment," the FDA wrote in its letters to ByHeart Inc., Reckitt/Mead Johnson Nutrition, and Perrigo Wisconsin. The FDA also requires the companies to respond within 15 days with "the specific steps you have taken to correct the stated violations, including an explanation of each step being taken to identify violations and make corrections to ensure that similar violations will not recur."
These letters indicate that another formula crisis should soon be underway. Just four companies—including Mead Johnson and Perrigo—comprise 90 percent of the U.S. baby formula market, meaning that if just one factory is forced to stop production due to safety concerns, it could send a massive shock to the U.S. formula supply, creating a repeat of last year's baby formula shortage.
But there is a way to prevent such a disastrous outcome: ditching the 27 percent tariff on foreign formula imports.
"Any time you add a tax of approximately 25 percent, some of that's gonna get passed onto consumers, and domestic prices will adjust upward to match the import prices," Scott Lincicome, director of the Herbert A. Stiefel Center for Trade Policy Studies at the Cato Institute, told Reason last December. "And the second thing is, any time you add a tax of that level, you're gonna get less supply. Consumers and importers, retailers in the rest of the United States will try to avoid importing more formula if they can because there's gonna be less demand for it, cause it's gonna be expensive."
Last July, during the depths of the shortage, Congress passed a bill that temporarily waived formula tariffs. While this measure directly helped to ease the supply crunch, the tariffs returned at the end of the year—which unsurprisingly led formula imports to decrease and out-of-stock rates to rise.
On the bright side, the FDA also announced in July 2022 that it would permanently ease draconian regulations that made it nearly impossible for foreign formulas to gain approval to be sold in the United States. However, high tariffs have still kept formula imports low.
In June, a bipartisan group of lawmakers introduced the Formula 3.0 Act, which would permanently remove high tariffs on baby formula imports.
"Due to high tariffs and other protectionist obstacles preventing high-quality infant formula imports from the global market, parents with small children were left scrambling to find affordable alternatives," said Rep. Don Beyer, (D–Va.) said in a June press release. "This bill would permanently eliminate trade barriers to encourage the import of FDA-compliant infant formula, bringing prices down for parents in the near term and staving off a potential future crisis."
Removing tariffs wouldn't just help prevent a shortage. Many American families rely on specialized European baby formula to treat children with allergies or other sensitivities. FDA regulations and high tariffs have often forced these parents to illegally import the perfectly safe formula they need to feed their babies.
However, the Formula 3.0 Act has languished in Congress—all while another devastating baby formula shortage seems increasingly likely to occur in the near future. While the causes of last year's baby formula shortage are clear, the government hasn't learned much from it.