Biden, the 'Most Pro-Union President,' Reaps What He Sows
Labor actions largely respond to policies that cause widespread pain.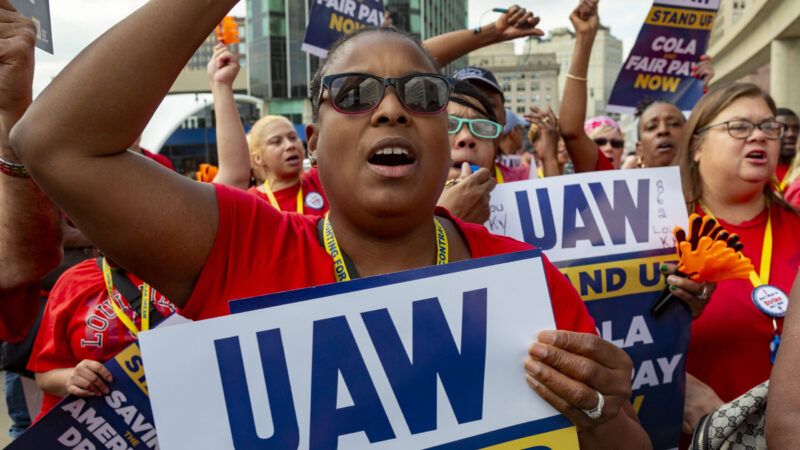 (Jim West/ZUMAPRESS/Newscom)
Labor unions are having a moment. That moment features wins for the Teamsters against UPS, unionized pilots against airlines, a movie industry strike, and a historic strike against the Big Three carmakers.
This is massive news for the self-described "most pro-union president"—but more for its awkwardness than for the resurgence of organized labor. The strikes are partially motivated by inflation under the Biden administration, auto workers worry about the destruction of jobs threatened by the White House's push for electric vehicles, labor actions threaten the Democratic Party's gains with corporate America, and the president finds himself vying for union support with his populist predecessor. 
In other words, it's an appropriately chaotic moment for modern America.
Big Demands in Response to Painful Policies
"UAW President Shawn Fain announced today that the union's strike authorization vote passed with near universal approval from the 150,000 union workers at Ford, General Motors and Stellantis," according to an August 25 United Auto Workers press release. "The union's demands include the elimination of tiered wages and benefits, wage increases to offset inflation and match the generous salary increases of company executives over the last four years."
The UAW's concern with, in part, wages eroded by the declining value of the dollar echoes that of other unions that complain of losing ground under high inflation. That's inconvenient for a president who touts his pro-labor credentials but who also presided over that period of pinched budgets and is blamed for the situation by the majority of Americans.
"Forty-three percent of respondents said that Biden and his policies were significantly to blame for inflation, while 18 percent said the president was fairly to blame and 17 percent said he and his policies were slightly to blame, a Newsweek/Redfield & Wilton Strategies poll found last November.
Worse for the Biden administration, even as it portrays itself as pro-union, it also paints itself green. That includes promoting electric vehicles and committing to end the federal government's purchase of cars with internal combustion engines by 2035. That poses big problems for the labor part of organized labor.
"The talks are about more than pay," Jack Ewing noted for The New York Times. "Workers are trying to defend jobs as manufacturing shifts from internal combustion engines to batteries. Because they have fewer parts, electric cars can be made with fewer workers than gasoline vehicles."
"The president is in a really tough position," Erik Gordon, a professor at the University of Michigan's Ross School of Business, told Fortune. "What he needs to be the most pro-labor president ever and the greenest president ever is a magic wand."
With such big challenges as inflation and disappearing jobs, the UAW is responding with equally big demands. The union scaled back its asks of Ford, General Motors, and Stellantis—but still wants a 40 percent pay raise over four years. That, a four-day work week, and a other eye-popping demands including spendy defined-benefit pensions round out the list. That's actually in line with what other unions have won for their members.
Labor unions are, indeed, having a moment. Unsurprisingly, employers aren't thrilled.
Employers Feel Pain and Place Blame
"The UAW strike and indeed the 'summer of strikes' is the natural result of the Biden administration's 'whole of government' approach to promoting unionization at all costs," U.S. Chamber of Commerce President Suzanne P. Clark protested last week. "For the 94% of American private sector workers not in a union, the costs are starting to stack up – from increasing consumer costs – now for new cars – to sudden loss in business for those in related industries like auto suppliers, restaurants and caterers whose customers are now on strike."
This is a problem for the Biden administration and its political allies given that corporate America has been drifting away from its traditional alliance with the GOP. The populist drift of the Republican Party under Donald Trump, growing emphasis on cultural issues, and the former president's unpredictable cult of personality created an opening for Democrats.
"The ongoing development of the Democratic Party as a party not of labor but of socioeconomic elites, and the ongoing development of the Republican Party as a party not of business but of working class social conservatives represents a major, perhaps the major, American political development of the twenty-first century," according to a recent paper by Tufts University's Eitan Hersh and the University of California at Berkeley's Sarang Shah.
But big business flirtation with Democrats may not survive a cold-water dousing from an administration "promoting unionization at all costs." Existential threats can outweigh loose new alliances.
That's not to say corporate America will return to the Republican fold. Trump, after all, is courting UAW support and plans to visit Michigan picket lines instead of debating rivals for the Republican nomination. He's emphasizing workers' fears of job losses as a result of the push for electric vehicles, and of the potential rise of Chinese manufacturers. If business executives are feeling a little disenfranchised right now, they can join the club.
Everybody Feels the Pain
It's important to emphasize that potential perils for the Biden administration in these labor actions are extensions of pain imposed by government. While union pay demands are big, they result from the damage to paychecks caused by the dollar's eroding purchasing power, courtesy of government policies. Union demands for the security of defined-benefit pensions and a revived right to strike over plant closures respond to disruptive policies that seek to force transformation of the U.S. economy along green lines. You can't use the power of the state to remake a country without scaring the hell out of a lot of people and driving them to seek stability.
Ultimately, the UAW is likely fighting a losing cause. Even without government pressure, the auto industry is changing. Automation and the migration of car production to states where workers often vote against labor unions means vehicle production in the future will look different than it does today. Raising costs for the Big Three will accelerate that process.
But Biden's efforts to forcibly reshape the economy in ways that he and his allies prefer, rather than the direction market forces would take it, makes him the obvious person to blame for resulting pain. "The brewing fear among Democrats is that it won't just complicate his labor credentials, it could slow the implementation of his green industrial agenda and the broader economic growth around which he's basing his case for reelection," reports Politico.
That means political risk for a president who gambled on revived organized labor power. More importantly, though, it means chaos and economic uncertainty for regular Americans.