Federal Judge Blocks California Online Age-Checking Law as Unconstitutional
Shielding children from "harm" shouldn't come at the expense of speech protected by the First Amendment.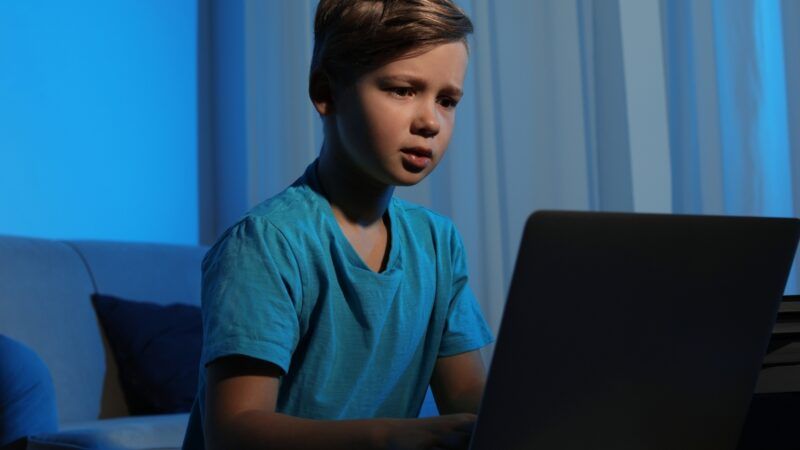 (Chernetskaya / Dreamstime.com)
A federal judge has granted an injunction blocking a California law that would force online businesses and social media platforms to estimate the ages of people visiting their sites and protect children from seeing content that might cause harm, stating that the law likely violates the First Amendment and would likely lead to online government-fueled censorship.
The law in question, the California Age-Appropriate Design Code Act (CAADCA), is one of the recent crop of bills seeking to "childproof" the internet by either demanding age verification checks of users or by locking away content. CAADCA, passed in 2022 unanimously by the state legislature and supported by Democratic Gov. Gavin Newsom, requires every business in the state with an online component to create a report showing how any new good or service they provided would be accessed by children and investigate and account for any sort of "harms" children might face. Businesses that are not in compliance with the law face fines of up to $2,500 per violation.
NetChoice, a trade organization representing tech firms, sued earlier this year to try to block the law. In NetChoice v. Bonta, the trade organization argued that this overly broad law violates the Constitution by "enact[ing] a system of prior restraint over protected speech using undefined, vague terms, and creat[ing] a regime of proxy censorship, forcing online services to restrict speech in ways the State could never do directly." In short, the end result of the law would lead to businesses and online platforms having to censor content in order to keep children from seeing it, even though a lot of this content is likely to be protected First Amendment speech.
On Monday, U.S. District Judge Beth Labson Freeman of the U.S. District Court of the Northern District of California, San Jose Division, agreed and blocked the state from enacting the law, which was scheduled to take effect on July 1, 2024.
"[T]he materials before the Court indicate that the steps a business would need to take to sufficiently estimate the age of child users would likely prevent both children and adults from accessing certain content," Freeman writes. "The age estimation and privacy provisions thus appear likely to impede the 'availability and use' of information and accordingly to regulate speech."
Critics of the law have noted that rather than protecting children's privacy, CAADCA's would likely result in the exact opposite by forcing online platforms to collect personal information to comply with the law. Freeman agreed: "Based on the materials before the Court, the CAADCA's age estimation provision appears not only unlikely to materially alleviate the harm of insufficient data and privacy protections for children, but actually likely to exacerbate the problem by inducing covered businesses to require consumers, including children, to divulge additional personal information."
In the ruling, Freeman embraces and takes note of and supports the arguments presented in an amicus brief by Eric Goldman, professor of law at Santa Clara University School of Law, about the many constitutional and privacy flaws within CAADCA. Goldman also wrote a policy brief for the Reason Foundation (the non-profit think tank that publishes Reason), detailing further the law's many problems.
"Imagine if, to protect children from seeing or buying potentially harmful products, you had to share your government-issued ID and wait for verification before you could enter any retail store—groceries, gas stations, liquor stores, bookstores, garden supply, etc. That would be an extraordinary invasion of your private information just to do any shopping or browsing," Goldman warned.
The Supreme Court in the past has rejected efforts by the government to mandate age verification to access online content as unconstitutional as an overly restrictive solution that requires people to potentially abandon their anonymity in order to engage in online speech (and reading) that is protected under the First Amendment.
That logic remains true, and all these new age verification proposals are running into the same problem in the courts. A law that purports to protect children from harm cannot lead to blanket censorship of online speech.
NetChoice is, of course, happy with the injunction.
"We appreciate the district court's thoughtful analysis of the First Amendment and decision to prevent regulators from violating the free speech and online privacy rights of Californians, their families, and their businesses as our case proceeds," said Chris Marchese, director of the NetChoice Litigation Center, in a prepared statement. "We look forward to seeing the law permanently struck down and online speech and privacy fully protected."
The fight is far from over. But given the court history on similar cases (a similar ruling came down in August over an age verification law in Texas), lawmakers should start taking note before using "Think of the children!" fearmongering to push for more online censorship.