Police Tore Up His Protest Sign. Now They Owe Him $50,000
Police also wrongly cited him for "improper hand signal" after the man flipped them off.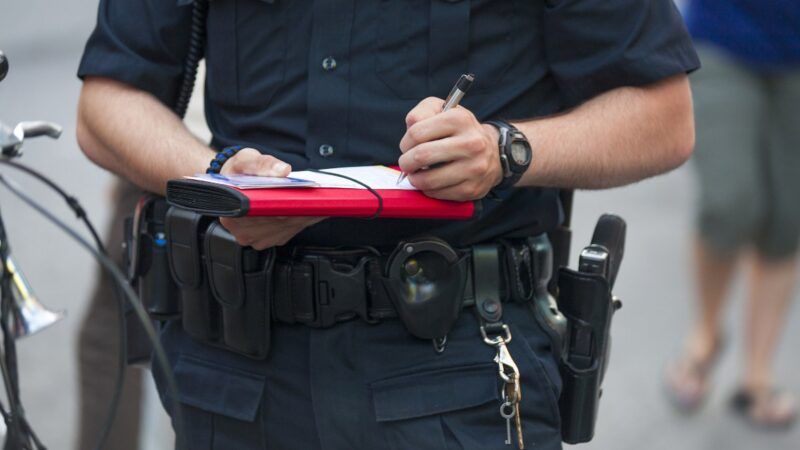 (Peterfactors / Dreamstime.com)
Last year, Delaware police prevented 54-year-old Jonathan Guessford from holding a sign warning drivers about a speed trap and wrongfully cited him for "improper hand signal" after he flipped off the officers who seized and tore up his sign. Police have now agreed to pay Guessford $50,000 as part of a settlement reached in a lawsuit alleging that police violated his civil rights.
Following several run-ins with the police, Guessford decided to "stage protests whenever he saw police officers stopping unsuspected vehicles using a radar gun," according to legal documents. On March 11, 2022, his protest consisted of standing by the side of the road, holding a homemade sign reading, "Radar Ahead!" Guessford was soon confronted by several Delaware State Police officers, who took his sign and tore it up.
As Guessford drove away after the encounter, he flipped off the officers, leading them to eventually cite him for "improper hand signal" under a statute governing hand signals for nonmotorized vehicles like bicycles. However, body camera footage showed that officers knew that the citation was incongruous and would likely be dropped.
"Yeah, you can't do that. That'll get dropped," Officer Christopher Popp said during a phone call to another officer, who replied, referring to a third officer, "I told him that's going to get thrown out….Eventually, [Guessford is] going to do something really stupid, and then we are going to be able to really lock him up."
Guessford filed a lawsuit against the officers in February, alleging that they violated his First Amendment rights by destroying his sign and issuing an improper citation. Last week, the officers settled the lawsuit, agreeing to give Guessford a $50,000 payout. 
The officer's "initiation of the traffic stop, and issuance of a bogus traffic ticket to Plaintiff Guessford, was an adverse action taken in retaliation for his exercise of constitutionally protected symbolic speech and expression," reads the lawsuit. "As a direct and proximate result of Defendants' violations of the First Amendment, Plaintiff Guessford has suffered irreparable harm, including the loss of his clearly established fundamental constitutional right to free speech and expression."