Cops Invented a Reason To Cite Man Who Flipped Them Off
Body camera footage shows that Delaware police cited Jonathan Guessford for flipping them off, even though they later agreed it was his right to do so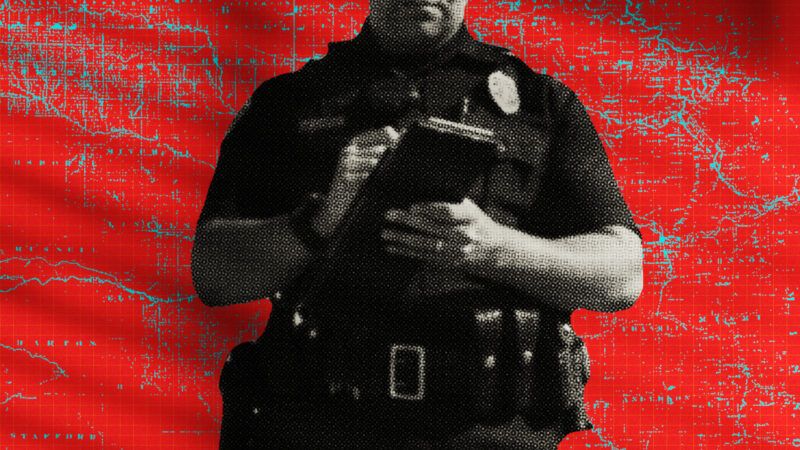 (Illustration: Lex Villena; Photographerlondon)
A Delaware man was ticketed after he flipped off local police—and newly released body camera footage appears to show that officers knew the citation was unlawful but decided to punish him anyway.
In March 2022, Jonathan Guessford, a 54-year-old resident of Smyrna, Delaware, was confronted by police as he stood on the side of a road, holding a sign that read "radar ahead," a warning to drivers about a police speed trap.
Two Delaware State Police officers, Stephen Douglas and Nicholas Gallo, seized Guessford's sign and ripped it up, according to body camera footage. As Guessford drove away, he flipped off the pair who pursued him, the officers even reaching speeds of up to 100 mph. After stopping Guessford and being joined by a third officer, Raiford Box, body camera footage shows the officers planning how to justify punishing Guessford.
"We can lock him up for disorderly conduct," Box tells the officers over a phone call captured by the body camera footage. "It might not go anywhere, but we can definitely lock him up for disorderly conduct."
"He stuck his middle finger out of the car and I'm like 'game on.'" Douglas says after the officers have exited the car, having pulled Guessford over.
"After a while, he 'll do something stupid," Box added later. "We can lock him up, take his kid, put his dog in the impound…for now it is what it is,"
Eventually, Guessford was cited for breaking a law regulating hand signals for bicycles and other non-motorized vehicles. However, body camera footage from after the incident shows that Box knew the citation wasn't lawful. In a phone call with another officer, Christopher Popp, Box explained that officers cited Guessford for improper hand signals.
"Yeah, you can't do that. That'll get dropped," Popp says. "I told him that's gonna get thrown out," Box replies, adding, "Eventually, he's going to do something really stupid and then we are going to be able to really lock him up."
"We need to look at something more that applies, like maybe, something stupid, like parked in the roadway, something like that that will fly," says Popp. "Unfortunately, I mean, we can't pull people over, we can't write them tickets for telling us to fuck off or giving us the middle finger, stuff like that. You know, that is their right to do so."
While the citation against Guessford was later dropped, he filed a lawsuit in February, alleging that police violated his First Amendment rights.
The officer's "motive for the traffic stop and issuance of a traffic ticket was to punish Plaintiff Guessford for exercising rights secured under the constitution," the suit reads. "The adverse actions taken against [Guessford]—stopping his motor vehicle without reasonable suspicion or probable cause—would substantially interfere with the exercise of First Amendment freedoms."
Since the incident, one unnamed officer has been disciplined, according to a Delaware State Police spokesperson.