Wayne County Cops Seized Her Car Over $10 Worth of Weed. Now She's Suing.
The lawsuit argues that the excessive penalty violated her Eighth Amendment rights. The Supreme Court is currently considering a similar case.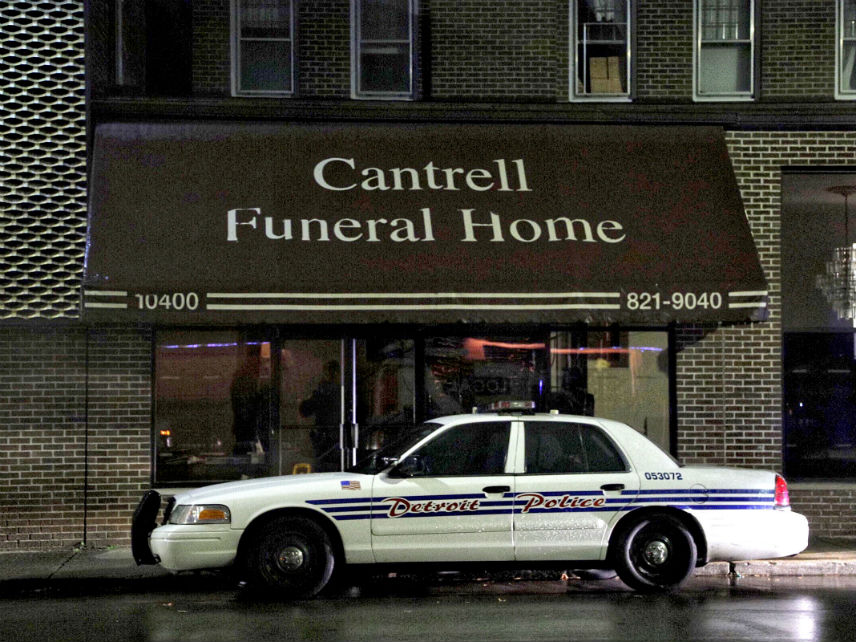 A Detroit woman is suing Wayne County, Michigan, after police seized her car for possession of $10 worth of marijuana under the state's civil asset forfeiture laws.
Crystal Sisson alleges in a federal civil rights lawsuit filed Wednesday that she was pulled over by Wayne County Sheriff's deputies this July after they surveilled her going into a Detroit medical marijuana dispensary, where she had bought a small amount of marijuana for $10. After discovering the marijuana, which is decriminalized in Detroit, the sheriff's deputies cited her for "illegally occupying a place where controlled substances are sold" and seized her 2015 Kia Soul.
Under civil asset forfeiture laws, police can seize property—cash, cars, and even houses—suspected of being connected to criminal activity. Law enforcement groups say it is a vital tool for disrupting organized drug trafficking and other crimes, but civil liberties groups say it has too few protections for innocent property owners and far too many perverse profit incentives for police and prosecutors.
To get her car back, Sisson had to pay the Wayne County Prosecutor's Office $1,200 to settle the forfeiture case, a typical practice in the county. Sisson's lawsuit, however, argues that the seizure and settlement was unconstitutionally excessive.
"Because the City of Detroit had decriminalized the possession of small amounts of marijuana and Sisson purchased a small amount of marijuana from a medical marijuana dispensary that Wayne County allowed to operate, the forfeiture of Sisson's vehicle and/or the $1,200 settlement for the forfeiture action is an excessive penalty in violation of Plaintiff's constitutionally protected Eighth Amendment rights," the lawsuit says.
Sisson's suit is notable because the Supreme Court is currently considering a similar asset forfeiture case, Timbs v. Indiana, that revolves around the case of Tyson Timbs, whose Land Rover, worth $41,000, was seized after he sold two grams of heroin to an undercover officer. Court watchers strongly suspect the Supreme Court will incorporate the Eighth Amendment, making the Excessive Fines clause apply to states.
Sisson is only one of hundreds of Wayne County residents who've been surveilled, pulled over, had their car seized, and been forced to pay out more than $1,000 to get it back, all for visiting legal, state-licensed medical marijuana dispensaries.
Three Detroit-area residents filed a federal class-action lawsuit against Wayne County this July for its asset forfeiture program. One of the plaintiffs, Stephen Nichols, had been waiting three years for a court hearing after his car was seized. The other two plaintiffs, like Sisson, allege their car was seized after visiting a medical marijuana dispensary. As Reason reported:
The two other named plaintiffs in the lawsuit, Adam and Ryan Chappell, are a father and son, respectively. According to the suit, the younger Chappell was borrowing his dad's car one day in July 2016 when Wayne County sheriff's deputies saw him pull into a medical marijuana dispensary in Detroit. The cops pulled him over as he left and seized the car. No marijuana was recovered from the car, and no criminal charges were filed in the case, according to the lawsuit.

[…]

Chappell was then handed a notice that the Wayne County Prosecutor's Office intended to forfeit his car, unless he paid a $900 out-of-court settlement fee or filed a claim to contest the seizure within 20 days, along with a $250 bond. (The bond requirement has since been eliminated by the Michigan state legislature.)
The Wayne County Sheriff's Office reported in 2016 that it surveilled 32 medical marijuana dispensaries, performed 634 investigatory stops of cars leaving dispensaries, and impounded 467 vehicles as part of Operation Push-Off, a local law enforcement initiative targeting drugs, prostitution, and drag racing funded by licensing fees collected from the state's medical marijuana program.
According to state reports, Wayne County law enforcement received $473,256 in Medical Marihuana Operation and Oversight Grants in fiscal year 2016 and $483,132 in 2017. Essentially, Michigan requires Wayne County medical marijuana dispensaries to pay Wayne County cops, who then rob and extort the dispensaries' customers. The mafia offers a better deal.
Of course, Michigan voters legalized recreational marijuana this November, so Wayne County cops will have to find another asset forfeiture cookie jar.