Candidates Spar Over National Abortion Ban in First Republican Debate
Plus: Invade Mexico?!, "Trump added $8 trillion to our debt," and more...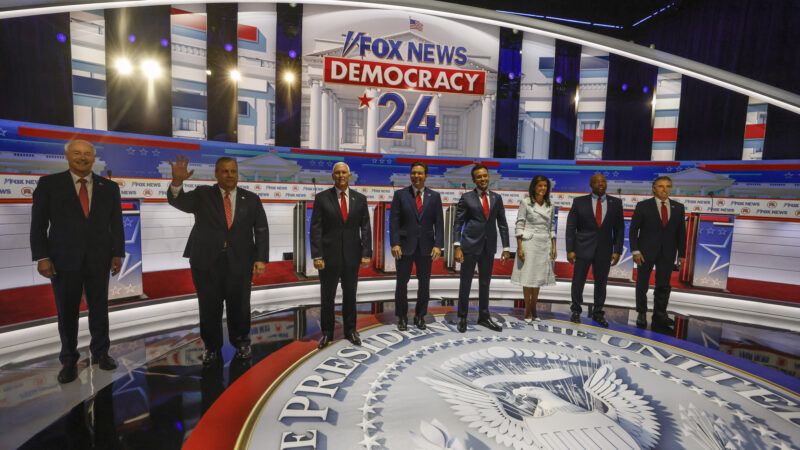 (TANNEN MAURY/UPI/Newscom)
Two candidates push back on national abortion ban. At the first debate between Republican candidates vying for the 2024 presidential nomination, two of the eight contenders on stage explicitly rejected the idea of helping pass a national abortion ban if they were elected. Former United Nations Ambassador and South Carolina Gov. Nikki Haley rejected it on practical grounds—noting that Republicans simply didn't and wouldn't have the votes in the Senate to actually push such a ban through—and North Dakota Gov. Doug Burgum rejected it on principle, asserting that it would be unconstitutional.
"Be honest with the American people…no Republican president can ban abortions," said Haley, pointing out that there wouldn't be enough Senate votes to do it. "Do not make women feel like they have to decide on this issue."
Haley talked about instead finding areas of compromise on reproductive rights and restrictions, including supporting accessible contraception, promoting adoption, banning "late-term abortions," and agreeing "that we are not going to put a woman in jail or give her the death penalty if she gets an abortion."
It was a dodge, to be sure. But Haley had the benefit of realism on her side, correctly noting that a lot of huffing and puffing about passing a federal 15-week ban could make voters feel like it was something they needed to really center when they cast a ballot when, in actuality, a 15-week ban isn't going to happen soon.
Burgum was more explicit about his views. "We should not have a federal abortion ban," said the North Dakota governor, who recently signed a six-week ban into law in his state. The 10th Amendment—that's the one saying "the powers not delegated to the United States by the Constitution, nor prohibited by it to the States, are reserved to the States respectively, or to the people"—doesn't allow it, he said.

Burgum pointed out that for decades, the big Republican talking point about abortion was that it should be an issue left up to individual states. "We can't have Republicans say for 50 years to return it to the states and then turn around and push a federal ban."
"The feds are stepping into people's lives and stepping into people's businesses over and over," he added. "If we say the fed should be in this, where do we stop?"
Meanwhile, former Vice President Mike Pence explicitly embraced the idea of a national ban on abortion at 15 weeks of pregnancy. "It's not a states-only issue. It's a moral issue," he said.
South Carolina Sen. Tim Scott echoed Pence's sentiment, saying a Republican president must fight for, "at minimum," a 15-week ban on abortion.
Abortion is an incredibly thorny issue for Republicans at the moment. Since the Supreme Court overturned Roe v. Wade last summer, American support for legal abortion has only been growing and anti-abortion amendments have been failing even in red states like Kansas and Kentucky. Extreme pro-life rhetoric may still enchant some of the party's base but be a liability when it comes to winning over moderate conservatives, swing voters, and independents, who can no longer minimize this rhetoric as they could when Roe was the law of the land.
Discomfort with how to handle the abortion question seemed apparent among some candidates on stage last night.
Florida Gov. Ron DeSantis expressed pride about signing a six-week ban into law in Florida, but evaded the question of whether he would urge a national six-week ban. Instead, he launched into a bizarre and apocryphal story about a woman who allegedly survived "multiple abortion attempts."
In general, the candidates seemed more comfortable slinging dubious accusations about Democratic positions on abortion than defining where they stand or think the party should stand.
For instance: Democrats want to allow "abortion all the way up to birth," DeSantis claimed. It's a common refrain among Republicans, conjuring up images of women—and politicians and doctors who support them—who simply decide on a whim late in pregnancy that they'd rather not continue.
But the vast majority of U.S. abortions take place before the end of the first trimester, with just 8 percent occurring after 13 weeks of pregnancy, according to the Centers for Disease Control and Prevention. Only around 1 percent occur at or after 21 weeks. And when these later-term abortions do occur, it's typically due to pregnancy complications that threaten a mother's life or health or the discovery of issues with the fetus that mean it won't survive full term or outside of the womb, many health professionals say. Besides, the vast majority of states ban abortion after the point of fetal viability, if not sooner. Only seven states (Alaska, Colorado, Minnesota, New Jersey, New Mexico, Oregon, and Vermont) and Washington, D.C., have no specific gestational limit in place.
---
FREE MINDS
GOP candidates enthusiastic about idiotic idea to invade Mexico. Probably the worst portion of last night's GOP debate came during discussion of border security and drug smuggling, during which multiple candidates on stage pledged U.S. military action in Mexico.
"The cartels are killing tens of thousands of our fellow citizens," DeSantis alleged. "So as president would I use force, would I treat them as foreign terrorist organizations? You're darn right I would."
NEW: DeSantis says he would support sending US special forces across the border into Mexico to combat cartels and target fentanyl labs, etc.
Says he would do it on "day one".

— Bill Melugin (@BillMelugin_) August 24, 2023
DeSantis wasn't the only one on stage who backed using the U.S. military against Mexican cartels, notes The Hill:
On Wednesday night, former Arkansas Gov. Asa Hutchinson said he would support limited military action, such as intelligence gathering, against the cartels. But only if Mexico could be looped into the campaign.

"Cooperation makes a difference," Hutchinson said. "We cannot be successful going against the cartel unless we bring in Mexico as a partner. We have to use economic pressure to accomplish that."

Former Vice President Mike Pence on Wednesday also backed partnering with the Mexican army to "hunt down and destroy the cartels."

Experts, however, say any military action could end up backfiring, straining relations with Mexico and other Latin America countries and likely failing to stop a shadowy network of cartel operations.

Rep. Joaquin Castro (D-Texas), who represents a border state, sharply criticized the GOP candidates for raising the possibility of military action in Mexico.
Republicans have gone from Self Deportation to Build A Wall to Invade Mexico in just over a decade.

— Joaquin Castro (@JoaquinCastrotx) August 24, 2023
Oh! Now they're saying invasion as in WE are going to invade. Yeah, don't do that either. #Cato2024https://t.co/twaEbuGmhH

— A lady (@Anastasia_esq) August 24, 2023
Neither DeSantis nor any other 2024 candidate has the legal authority to order strikes against cartels in Mexico. Candidates need to stop grandstanding and to start offering real and *constitutional* solutions to America's problems.https://t.co/v128wBDrfy

— Katherine Yon Ebright (@EbrightYon) August 24, 2023
---
FREE MARKETS
They actually talked about cutting spending! One of the first issues addressed at last night's Republican debate was what these presidential candidates had done to cut spending. It was a welcome early foray into something substantive and far-removed from the culture war. The best answer came from Haley, who slammed not just reckless spending by Democrats but by her fellow Republicans, too:
"The truth is that Biden didn't do this to us, our Republicans did this to us too," Haley said during the early moments of Wednesday's Republican primary debate. She pointed specifically to Republican support in Congress for COVID stimulus bills and other recent spending packages. "They need to stop the spending, they need to stop the borrowing, they need to eliminate the earmarks that Republicans brought back in," she said.

Then she delivered the hammer blow: "And Donald Trump added $8 trillion to our debt, and our kids are never going to forgive us for this," Haley said.
More here.
---
QUICK HITS
• Reason's Jacob Sullum checks in on what former President Donald Trump was doing during last night's debate.
• The Arizona Supreme Court will consider an abortion ban, enacted pre-statehood, that mandates two to five years in prison for abortion providers.
• Sen. Chris Murphy (D–Conn.) embraces "the classic techno moral panic trope that the technology is some sort of brain eating mind control system, creating zombies who have no free will of their own."
• There were no anti-interventionist candidates at the GOP debate.
• "The Florida State Board of Education voted unanimously Wednesday to add harsher penalties to a new law barring transgender students and staff at state colleges from using facilities such as restrooms and locker rooms that are consistent with their gender identity," reports The Hill.
• Eugene Volokh on why we should care about pseudonymity in litigation.
• Hawaii Gov. Josh Green is "suspending whole sections of state and local laws and regulations that relate to homebuilding."