To Tackle Highest Housing Costs in the Country, Hawaii's Governor Declares YIMBY Martial Law
An emergency proclamation by Gov. Josh Green offers developers the opportunity to route around almost all regulations on building homes.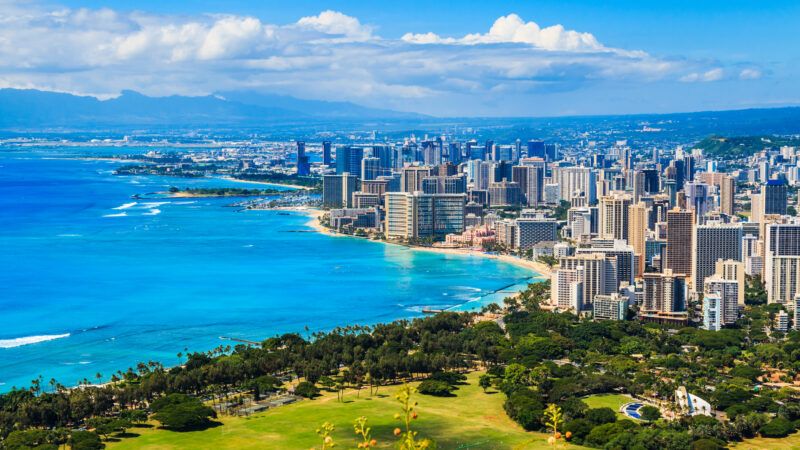 ( Izabela 23/Dreamstime.com)
The loss of life from the deadly wildfires on the Hawaiian island of Maui has been made even worse by the loss of shelter. Some 2,000 homes have been destroyed so far, leaving thousands more homeless or displaced.
The fire has only worsened an insufficiency of homes on the island and in the state more broadly. In Hawaii, median home prices are close to $1 million and regulations on adding new supply are incredibly strict.
Weeks before the fires, Democratic Gov. Josh Green had already proclaimed a statewide housing emergency with the purpose of slashing through all that regulation to get thousands of new homes built.
"We don't have enough houses for our people. It's really that simple," said the governor at a press conference last month, where he promised "bold action to streamline processes for creating thousands of affordable housing units."
Green is in fact taking bold action by suspending whole sections of state and local laws and regulations that relate to homebuilding.
Local governments are given far more flexibility to expedite housing approvals, while developers will have the chance to route around basically all existing regulations on home building to get housing projects approved.
It's a radically deregulatory approach that's received praise from across the political spectrum.
"This is probably the single most significant state-level action on accelerating housing production maybe in the whole country, maybe ever," Sen. Stanley Chang (D–Honolulu) tells Reason.
"Hawaii has probably the most regulated land on the planet," says Robert Thomas, a former Hawaii real estate attorney who now works at the Pacific Legal Foundation, a libertarian public interest law firm. The governor's proclamation "cuts through the Gordian knot" of red tape, he says.
At the same time, Green's sweeping invocation of executive, emergency powers—a sort of "yes in my backyard" (YIMBY) martial law—is provoking concern from an equally bipartisan group of critics.
Civil Beat reports that environmental groups have already denounced the proclamation's potential to allow for high-rises in residential neighborhoods. Others support the substance of the order, but question the governor's sweeping use of emergency powers.
Keli'i Akina, president and CEO of the Honolulu-based Grassroot Institute, a free market think tank, says the governor is correct in identifying government regulation as the primary cause of Hawaii's astronomical housing costs.
The proclamation nevertheless "puts the governor in the position of being a super legislator. He's basically eliminating longstanding laws in one fell swoop without the input of the legislature and therefore the people," he says. "The long-term impact on the balance of power will have to be considered. It may create some constitutional liability."
Key to the governor's proclamation is the creation of a Beyond Barriers Working Group made up of representatives of both state and local agencies, the legislature's housing committees, housing advocacy groups, and environmentalists. The working group will review individual housing projects and determine whether they're eligible for regulatory relief.
The working group would consider whether a project's sponsor had the experience and financing necessary to start construction within three years and whether their project would avoid "irreversible and irretrievable" impacts on environmental and cultural resources.
If a project satisfied these criteria, the group could then ink a development agreement with the builder allowing them to proceed with a project without having to comply with Hawaii's thicket of regulations.
Developers with a working group–certified project wouldn't have to comply with normal zoning restrictions. They wouldn't have to go through Hawaii's cumbersome environmental review process (which can add months or years to a project's approval). They could avoid historic preservation regulations, and get relief from normal impact fees and taxes. They could also skip the need to get approval from the state's Land Use Commission—a duplicative zoning body.
In sum, homebuilders would theoretically have the opportunity to build housing projects of unlimited density almost anywhere all while skipping normal layers of review and process.
This arrangement wouldn't quite be a regulatory free-for-all. Developers would still need to go through an expedited historic and environmental review process laid out in the proclamation. They'd also have to pay their workers prevailing (union) wages and host at least one public meeting about their project.
While the proclamation doesn't require projects to include below-market-rate units, the working group is directed to prioritize projects that do include some affordable housing.
More broadly, the governor's proclamation would also allow local governments to hire private parties to sign off on building permits, expand urban growth boundaries, and permit residential development in commercial areas without having to get the typical state sign-offs.
Many people have criticized the governor's proclamation for the way it suspends the state's Sunshine Law—which establishes sweeping transparency requirements for government meetings and decisions—if its provisions "delay the expeditious action, decision, or approval of any board or agency." That would seemingly relieve the working group of the need to hold open meetings, respond to records requests, publish agendas ahead of time, and refrain from ex parte negotiations.
A governor-appointed lead housing officer would also have the power to call the working group into session at a time and place of their choosing. Its decisions would only need a majority vote of those members present. "Its fiat powers to approve development could be politically influenced and subject to accusations of favoritism or waste or cronyism," says Akina.
Green has said his proclamation could lead to the construction of 50,000 homes within the next few years. Chang says that the proclamation, which has to be renewed every 60 days, would be most helpful for projects already in the works. In particular, he says it could really expedite the approval of thousands of public housing units that have already been proposed.
That's all assuming that there's no successful legal or constitutional challenge to the emergency proclamation. Lawsuits challenging the order are almost inevitable, said one Maui land use attorney to Civil Beat. "There's no disagreement that we need more affordable housing. But using the state constitution as toilet paper isn't the right approach," he told the publication.
Thomas says that Hawaii courts have generally been unwilling to second-guess the governor's use of emergency powers. Numerous lawsuits challenging emergency proclamations during the pandemic all failed. "COVID taught us that [the state's emergency statute] is extremely robust," he tells Reason. "It is essentially a political question is how the Hawaii Supreme Court has treated it."
At the same time, Thomas does suggest that a court might look differently on the use of emergency powers to address something like Hawaii's housing shortage. "Maybe it's an emergency but it's one that's been festering for 50 years. It's been on the longest fuse one can imagine," he says.
Chang argues that displacement caused by Hawaii's high housing costs is the textbook definition of an emergency.
"As a result of housing prices skyrocketing, we've entered seven straight years of population decline. About half of all native-born Hawaiians live outside of Hawaii," he says. "If you had 15,000 people leaving because of flooding or a hurricane or earthquakes or volcanic eruptions, I think that would certainly qualify for an emergency. The severe [housing] shortage constitutes an emergency as well."
Green has said he'll keep his proclamation in effect for one year. (Hawaii's emergency statute requires it to be renewed every 60 days, nonetheless.)
All parties agree that the governor's proclamation is a temporary solution to Hawaii's longstanding housing affordability problems and that it is incumbent on the legislature to enact permanent fixes.
Thomas argues the proclamation offers the opportunity to see what Hawaii would look like without its existing morass of development regulations: "At the end of the [proclamation], if there's anything close to the 50,000 new units on the market the governor predicted and the sky's not black with pollution, the waters look like they do today, that's going to provide some empirical proof that it was these [regulations] getting in the way."