Donald Trump Has a Wild New Immigration Plan
A report reveals new draconian restrictions the 2024 frontrunner wants to implement, such as sea blockades in Latin America and "ideological screening" for migrants.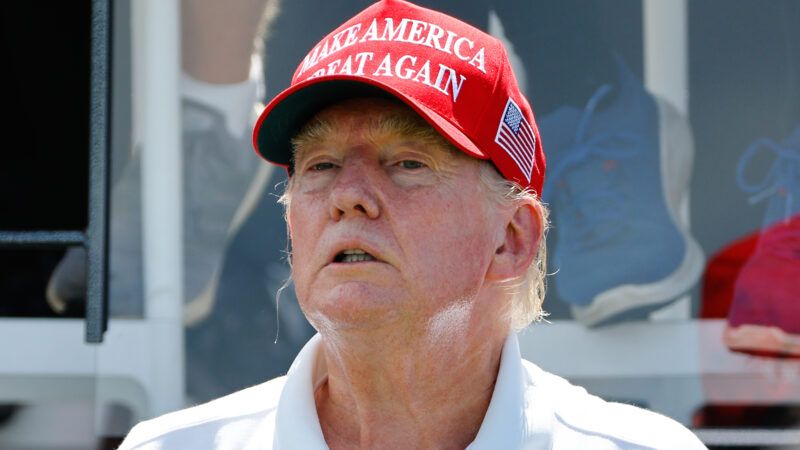 (Rich Graessle/Icon Sportswire CGV/Rich Graessle/Icon Sportswire/Newscom)
During former President Donald Trump's time in the White House, his administration rattled the legal immigration system and implemented hardline policies with consequences that are still felt today. According to a new report by Axios' Stef W. Kight, the 2024 presidential frontrunner has even more draconian restrictions on his agenda.
"Trump's plan would involve waves of harsh new policies — and dust off old ones that rarely have been enforced, if ever," writes Kight. One policy would "ramp up ideological screening" for would-be legal immigrants. U.S. immigration law already largely bars Communist Party–affiliated people from immigrating, but Trump would reportedly expand that to reject "Marxist" applicants. Another policy would expand the former president's "Muslim ban" to "block more people from certain countries from entering the U.S.," notes Axios. Trump's platform would also include ending birthright citizenship and carrying out quick deportations of criminal migrants under "an obscure section of the 1798 Alien and Sedition Acts."
Other aspects of the plan would target drug cartels and smuggling. It would label cartels as "'unlawful enemy combatants' to allow the U.S. military to target them in Mexico," Axios reports, the same designation the government has used "to justify long-term detentions of 9/11 suspects at Guantanamo Bay." It would also authorize the Coast Guard and Navy to form a blockade in U.S. and Latin American waters to halt boats carrying drugs.
Certain aspects of the plan, if implemented, would likely run into legal challenges. One such aspect is Trump's reported intent to use the Alien Enemies Act, signed by President John Adams in 1798, "to quickly remove smugglers and migrant criminals…without having to go through legal steps in [Immigration and Customs Enforcement's] deportation process." Other policies would put hopeful migrants—and even travelers—through invasive and costly procedures to enter the U.S., such as social media searches and paying bonds to come here.
In all, the platform would continue the Trump administration's efforts to narrow access to the U.S. immigration system and ongoing calls on the right to take military action against drug cartels. Stephen Miller, a far-right senior adviser to Trump who was the driving force behind some of the administration's cruelest immigration policies, called the plan "sublime" and predicted that "the 2025 crackdown would bolt the hatches faster than a thunderclap and tighter than a submarine."
Of course, "bolting the hatches" and bombing the cartels both neglect the realities of supply and demand. Without legal immigration options, people who are sufficiently desperate will seek more covert (and more dangerous) ways to enter the country. Trump's border wall didn't succeed in keeping people out, even in places where it was completed—but it did lead to deaths and injuries among the many migrants who tried to climb it. Likewise, turning the military on drug cartels won't do anything to address stateside demand for their product. It'll just lead to more violence, corruption, and black-market activity throughout Latin America.
Trump has undeniably helped define the GOP's current immigration priorities, which are heavy on restrictionism and light on reform. Many of the Republican Party's top 2024 presidential contenders, including Florida Gov. Ron DeSantis, entrepreneur Vivek Ramaswamy, and Sen. Tim Scott (R–S.C.), have expressed support for policies Trump carried out during his first term. As he charts an even harsher path on immigration and the border, more counterproductive and heavy-handed policies could enter the mainstream GOP platform.