Americans Aren't Buying 'Bidenomics'
Plus: Idaho can't enforce ban on transgender girls playing on female sports teams, Minneapolis may mandate minimum wage for ride-share drivers, and more...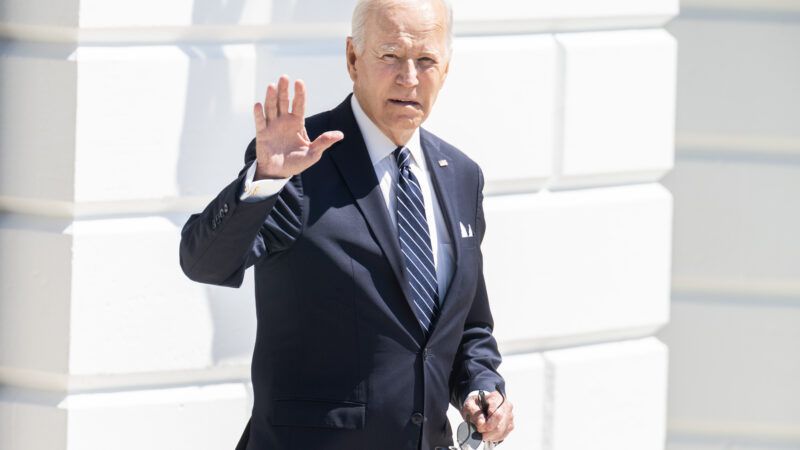 (Tom Williams/CQ Roll Call/Newscom)
President Joe Biden's approval ratings are especially low when it comes to the economy, according to the latest Associated Press/NORC poll. Just 36 percent of those surveyed said Biden is doing a good job handling the economy.
The Biden administration pushed hard this month to convince voters that his initiatives—termed "Bidenomics"—have positively impacted the economy. Americans aren't buying it.
The A.P./NORC poll was conducted between August 10-14 and surveyed 1,165 American adults.
Overall, 42 percent approved of the job Biden has been doing as president.
"Both figures are close to where Biden's approval numbers have stood for about the past year and a half," notes A.P. "Signs of an improving economic outlook have done little to sway how people feel about the Democratic president as he gears up for a 2024 reelection campaign that could pit him against his predecessor and 2020 opponent, Republican Donald Trump."
For most of his presidency, Trump routinely received relatively good ratings for his handling of the economy, and they often exceeded his overall approval ratings. These numbers did start to slip, however, as the pandemic wore on in 2020.
The worst news for Biden concerns his 2024 presidential bid: Only 24 percent of all poll respondents said they want to see him run for president again. More than half of Democrats surveyed—55 percent—do not want to see Biden run again, though 82 percent said they would support him if he does.
Among Democratic poll respondents, Biden got a 65 percent approval rating on the economy and a 76 percent approval rating overall.
Younger Democrats were more likely to disapprove on both fronts, with only 52 percent of poll respondents ages 18 to 44 approving of Biden on economic issues and 68 percent approving of his job overall.
Around two-thirds of younger Democrats surveyed said they don't want to see Biden run for president again.
In contrast, Trump's presidential run has relatively strong support among Republicans, even after several criminal indictments.
The A.P.-NORC poll found 63 percent of Republicans want to see Trump run for president again, up from 55 percent who said as much in April.
But while Trump may engender more loyalty among the GOP than Biden does among Democrats, 53 percent of people in the A.P.-NORC poll said they would "definitely not" vote for Trump, with another 11 percent saying they would "probably not" vote for him. Only 43 percent said they would definitely not vote for Biden, with another 11 percent saying they probably wouldn't vote for him.
---
FREE MINDS
Idaho cannot enforce its ban on transgender girls playing on female sports teams. The U.S. Court of Appeals for the 9th Circuit upheld an injunction against the state enforcing the law, which judges said was likely unconstitutional. "U.S. Circuit Judge Kim McLane Wardlaw … said a lower-court judge did not abuse his discretion in finding that the categorical ban likely violates transgender students' equal protection rights under the U.S. Constitution's 14th Amendment," reports NBC News.
Twenty-two other states have passed similar laws, according to the conservative legal group Alliance Defending Freedom. North Carolina joined that list this week after the state's Republican-led legislature overrode Democratic Gov. Roy Cooper's veto of a bill prohibiting transgender girls from playing on female sports teams in middle school, high school, and college.
North Carolina's lawmakers also overrode Cooper's veto of bills banning gender transition treatments for minors, limiting discussion of gender and sexual orientation in K-4 classrooms, and requiring teachers to notify parents before they call a student by a different name or pronouns.
---
FREE MARKETS
Minneapolis approves minimum wage mandate for Lyft and Uber drivers. New legislation passed by the Minneapolis City Council would set a minimum wage for drivers with Lyft, Uber, and other ride-sharing companies. "The proposed ordinance mandates at least $1.40 per mile and $0.51 per minute within Minneapolis be paid to drivers," reports CNN."Mayor Jacob Frey has the opportunity to veto the ordinance and has until next Wednesday, August 23, to do so."
Lyft and Uber will likely stop doing business in Minneapolis if Frey signs the bill into law. "If this bill were to pass, we would unfortunately have no choice but to greatly reduce service, and possibly shut down operations entirely," Uber told drivers in a Monday email.
"Should this proposal become law, Lyft will be forced to cease operations in the City of Minneapolis on its effective date of January 1, 2024," Lyft wrote in a letter to city council members.
The company told CNN that the measure would lead to drivers earning less money "because prices could double and only the most wealthy could still afford a ride."
---
FOLLOWUP
Kansas newspaper raid updates: The judge who signed a warrant for a police raid on a Marion County, Kansas, newspaper now faces scrutiny over previous drunk-driving convictions. Police have returned reporters' cell phones and computers. And the Kansas Bureau of Investigation is now involved.
---
QUICK HITS
• Is former President Donald Trump actually listening to his lawyers? Rather than holding a planned press conference next Monday to reveal what he said was new evidence of election fraud in Georgia, "my lawyers would prefer putting this… in formal Legal Filings as we fight to dismiss this disgraceful Indictment," he posted to Truth Social yesterday.
• The FBI has arrested nine current and former California police officers.
• Another bad tech bill is winding its way through the California legislature:
If analyzing and policing online content is the only way to implement California's latest social media bill, SB 680, then it becomes a restriction on online content. That's a First Amendment problem.

More from @jess_miers in her op-ed for @techdirt: https://t.co/yszaAeBfch

— Chamber of Progress (@ProgressChamber) August 16, 2023
• "An Ohio initiative that would legalize marijuana for recreational use officially qualified for this November's ballot yesterday," notes Reason's Jacob Sullum. "If successful, it would make Ohio the 24th state to allow cannabis consumption without a doctor's note."
• The Authors Guild and the American Booksellers Association are piling on the anti-Amazon antitrust train, asking the Justice Department and the Federal Trade Commission to help end Amazon's "monopoly in its role as a seller of books to the public."
• The latest episode of Reason's new "This Is Why We Can't Have Nice Things" podcast is out. In this episode, host Eric Boehm looks at the Jones Act, "a federal law from 1920 that severely limits the number of cargo vessels operating here" and "requires that ships moving goods from one American port to another must be American-built, American-flagged, American-crewed, and registered in the United States."