Denver Cop Kills Man Holding a Marker
Plus: The Atlantic says anti-racists are overcorrecting, NYC targets landlords of unlicensed cannabis growers, and more...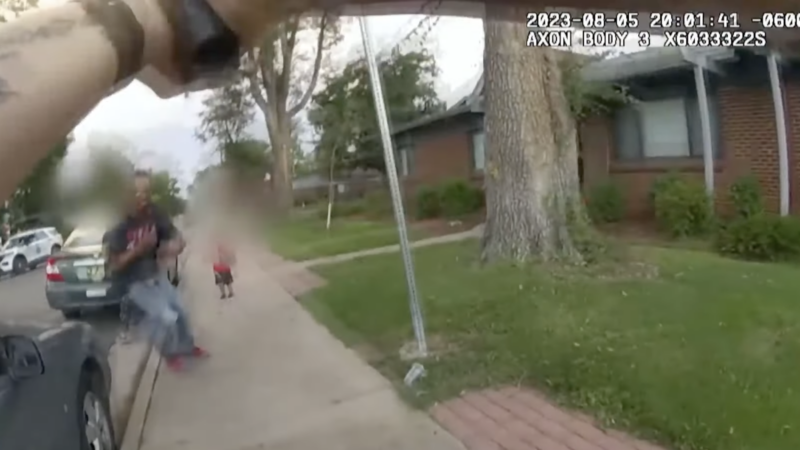 From Denver, another tragic story about cops shooting and killing someone holding a "weapon" that turned out to actually be a harmless object. In this case, an officer with the Denver Police Department (DPD) shot and killed a man armed with a marker. The officer (whose name has not been released) said she believed that 36-year-old Brandon Cole had been holding a knife when she shot him on the evening of August 5.
Now, the DPD has admitted that Cole was not holding a weapon after all.
"Through the investigation, it was determined that the object Mr. Cole had in his hand during the interaction with the officers was a black marker," Denver Police Commander Matt Clark said at a Monday press conference.
According to Clark, police were responding to a 911 caller who said they thought they saw a man push his wife out of a wheelchair. When two police officers—one male and one female—arrived on the residential street where this had allegedly taken place, they found a woman sitting on the street nearby an empty wheelchair and observed a man "reaching into the driver's area of a vehicle."
The female officer then noticed Cole holding "an object that she believed to be a knife," said Clark. Cole began moving toward her, prompting the male officer to use his Taser on him. But it "did not have an effect," said Clark, and Cole continued moving toward the female officer, making it within "several feet" of her.
She fired twice, hitting Cole. Cole was taken to a hospital, where he was pronounced dead.
Body cam footage shows a small child standing just behind Cole on the sidewalk when the officer shoots.
"There just wasn't an opportunity to transition to a Taser," said Police Chief Ron Thomas. "When she finally deploys her duty weapon, the person is so close to her that her view of that young child and [another person behind Cole] are not even clear to her."
The officer who shot Cole seems to face little repercussion for killing a man for holding a marker and endangering a small child. She will now "complete the department's reintegration program before returning to a patrol assignment," said Clark on Monday.
Cole leaves behind three children, according to NBC News.
---
FOLLOWUP
A few takes on the latest Donald Trump indictment, in which the former president and 18 others are charged with partaking in a "criminal enterprise" in violation of Georgia's Racketeer Influenced and Corrupt Organizations (RICO) Act. The aim of this alleged enterprise "was to overturn Georgia's presidential election result," Fulton County District Attorney Fani Willis said Monday.
"Georgia's RICO law, as interpreted by state courts, is even broader than the famously flexible federal version, covering many more 'predicate offenses,' defining 'enterprise' very loosely, and prescribing a weaker test for establishing a pattern of racketeering activity," notes Reason's Jacob Sullum:
The indictment nevertheless hinges on debatable interpretations of specific conduct that Willis portrays as part of a criminal conspiracy but the defendants will characterize as legitimate efforts to rectify what they perceived as systematic election fraud. As with the federal indictment of Trump that was unsealed earlier this month, which covers much of the same territory, the choice between those dueling descriptions will depend largely on how a jury views each defendant's knowledge and intent.
Some say that the more criminal charges people pile on Trump, the more success he's likely to have among conservative voters. But this may not be true:
Do Trump's indictments increase his support among Republican primary voters? NO.

Polls suggesting this use a bad question format. We asked better questions (about the documents indictment) and found that indictments hurt Trump a little bit.

Preprint: https://t.co/rLMpCJn6ah pic.twitter.com/caW3G4B3Cp

— Matt Graham (@Matt__Graham) August 15, 2023
Clark Neily, senior vice president for legal studies at the Cato Institute, thinks the Georgia indictment is particularly bad news for Trump:
Up until now, I've been hesitant to predict how the various prosecutions of Donald Trump are likely to turn out. But no longer. I believe yesterday's indictment in Georgia sealed Trump's fate, and it is now all but certain that he will be convicted of multiple felonies in one or more of the four pending cases against him.
So does lawyer and conservative columnist Andrew C. McCarthy, who writes at the New York Post:
[Willis] is running into the same complications that Biden Justice Department special counsel Jack Smith faces in the election-interference charges he has brought against Trump in Washington, DC, federal court.

In fact, there is significant overlap in that case and Willis' — the federal case includes the Georgia shenanigans but is broader because Trump's schemes went beyond Georgia, seeking to reverse election results in additional battleground states won by Biden.

Smith's problem is that the federal penal statutes he has invoked — relating to fraud, obstruction and civil rights — do not clearly and narrowly target the kind of conduct in which Trump engaged. …

Unlike Smith, Willis can invoke laws that are specifically designed to deal with election-interference conduct of the kind Trump engaged in.
This runs counter to suggestions made by the likes of Chris Christie and Asa Hutchinson, two of Trump's opponents for the GOP presidential nomination. "I think that this conduct is essentially covered by the federal indictment," Christie told Fox News. "Generally, state cases are deferential to the federal cases that have been brought," said Hutchinson, "and I think you can make the case that Georgia should have been deferential because there's overlap there as well, but it is what it is."
Overall, Trump's 2024 opponents varied sharply in their reactions. "This is further evidence that Trump knew he lost the 2020 election and was ready to do anything it took to cling to power," said former Texas Rep. Will Hurd. Meanwhile, Vivek Ramaswamy called the indictments "politicized persecutions" and Florida Gov. Ron DeSantis called it another example of the "criminalization of politics."
---
FREE MINDS
"At the core of today's anti-racism is little more than a vibe shift." Anti-racists are overcorrecting, suggests Tyler Austin Harper at The Atlantic. "Until recently, calling attention to a stranger's race … would have been considered a social faux pas," he writes. But in recent years, Harper has "grown used to" awkward comments about from well-meaning progressives about the fact the color of his skin:
In their righteous crusade against the bad color-blindness of policies such as race-neutral college admissions, these contemporary anti-racists have also jettisoned the kind of good color-blindness that holds that we are more than our race, and that we should conduct our social life according to that idealized principle. Rather than balance a critique of color-blind law and policy with a continuing embrace of interpersonal color-blindness as a social etiquette, contemporary anti-racists throw the baby out with the bathwater. In place of the old color-blind ideal, they have foisted upon well-meaning white liberals a successor social etiquette predicated on the necessity of foregrounding racial difference rather than minimizing it.

As a Black guy who grew up in a politically purple area—where being a good person meant adhering to the kind of civil-rights-era color-blindness that is now passé—I find this emergent anti-racist culture jarring. Many of my liberal friends and acquaintances now seem to believe that being a good person means constantly reminding Black people that you are aware of their Blackness. Difference, no longer to be politely ignored, is insisted upon at all times under the guise of acknowledging "positionality." Though I am rarely made to feel excessively aware of my race when hanging out with more conservative friends or visiting my hometown, in the more liberal social circles in which I typically travel, my race is constantly invoked—"acknowledged" and "centered"—by well-intentioned anti-racist "allies." …

My point is not that conservatives have better racial politics—they do not—but rather that something about current progressive racial discourse has become warped and distorted. The anti-racist culture that is ascendant seems to me to have little to do with combatting structural racism or cultivating better relationships between white and Black Americans. And its rejection of color-blindness as a social ethos is not a new frontier of radical political action.

No, at the core of today's anti-racism is little more than a vibe shift—a soft matrix of conciliatory gestures and hip phraseology that give adherents the feeling that there has been a cultural change, when in fact we have merely put carpet over the rotting floorboards.
---
FREE MARKETS
New York City targets landlords of unlicensed cannabis growers. "In the latest effort to stop unlicensed cannabis dispensaries from opening, city lawmakers went after the landlords, not the illegal operators themselves," reports NY 1.
A law now, in effect, explicitly prohibits landlords from knowingly renting to illegal dispensaries that cannabis or tobacco products.

But how does a landlord officially know their commercial tenant is selling marijuana without a license?

From a letter following a raid from the sheriff's office or the NYPD.

"The landlord gets a letter from the city saying you're renting to an entity that's conducting illegal business and we want you to evict them," Councilwoman Lynn Schulman, a Queens Democrat who was the prime sponsor of the law, said.

Then, there is supposed to be a follow up.

"When there's a re-inspection of that premises, they'll get another notice. After that, then they'll get fined," Schulman said.

That fine — $5,000 dollars for the first violation and $10,000 for subsequent violations. The fines go through the Office of Administrative Trials and Hearings.
The move is similar to the way many cities target prostitution, with possible charges for people who rent to sex workers or allow their premises to be used for commercial sex.
It's also part of what's best described as the "war on intermediaries." Cops, activists, and politicians have been targeting third parties—landlords, banks, tech platforms, hotels—that they say should be responsible for stopping criminal use of their product or premises.
---
QUICK HITS
• "Murder is almost certainly going to fall nationally in 2023 and it is increasingly looking like murder will fall at a level not seen in decades (if at all)," notes data analyst Jeff Asher. "Our YTD Murder Dashboard shows murder is down nearly 13 percent in now 114 cities with available data."
• The arbitrary ban on gun possession by drug users invites wildly uneven enforcement, writes Reason's Jacob Sullum.
• I'm participating tomorrow in a Cato Institute panel on fertility rates and pro-natalist policies; you can register to watch it live here.
Is it better to expand government programs or reduce government intervention to support families effectively?

Join @vanessabcalder, @chellivia, @JGunlock & @ENBrown for a discussion: https://t.co/Ot4ZXiJ9sw#FreeingAmericanFamilies

READ MORE: https://t.co/GRc4znkbvX pic.twitter.com/ojTprfYCN3

— CatoEvents (@CatoEvents) August 13, 2023
• Philadelphia once led the nation in sentencing minors to life in prison without parole. Now it leads the country in letting them go:
NEW: Philadelphia once sentenced more kids to life without parole than any other city.

Since 2016, it has led the country in letting them go.

For the @nytimes, I wrote about that transformation and the people at the center of the fight.

Gift Link: https://t.co/FL0lFIj6uN pic.twitter.com/JWNk4rqSxm

— issie lapowsky (@issielapowsky) August 15, 2023
• Florida prison officials let a man's prostate cancer progress until he was paralyzed and terminally ill.