Taiwanese Company Demands U.S. Taxpayers Cover the Higher Costs of Making Semiconductors in Arizona
Taiwan Semiconductor Manufacturing Company cites regulatory costs and a lack of skilled workers as specific impediments. Biden and Congress can fix those without giving out billions of taxpayer dollars.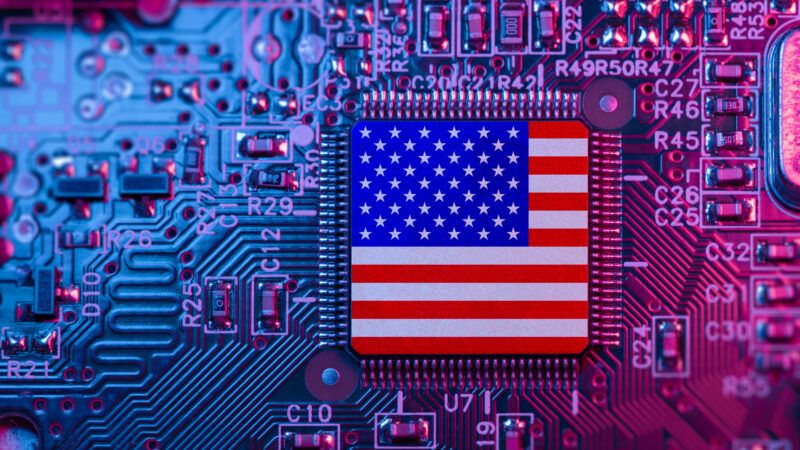 (American Flag Semiconductor © Korn Vitthayanukarun | Dreamstime.com)
The largest semiconductor manufacturer on the planet agreed to open factories in the U.S. instead of abroad. The company wants the government to pick up the tab for the difference in cost, even as it postpones production.
Taiwan Semiconductor Manufacturing Company (TSMC) makes semiconductor chips found in iPhones, MacBooks, and computer graphics cards from manufacturers like AMD and Nvidia. In December 2022, Apple CEO Tim Cook and President Joe Biden visited Arizona to announce that TSMC would build a new factory in the state while upgrading and expanding another. "Apple had to buy all the advanced chips from overseas" before, Biden said. "Now we're going to do more of their supply chain here at home." The company pledged to spend as much as $40 billion on the projects.
TSMC had teased the project as far back as May 2020, stating in a press release that it hoped to build a factory "with the mutual understanding and commitment to support from the U.S. federal government and the State of Arizona."
As it turns out, "support" doesn't come cheap: In June 2020, just a month after announcing its intent to build in Arizona, the company reportedly asked the federal government to "make up TSMC's running costs difference between the United States and Taiwan."
In April 2023, The Wall Street Journal reported that TSMC sought between $7 billion to $8 billion in funding from the CHIPS Act, a $52.7 billion pot of cash earmarked specifically toward incentives for semiconductor manufacturers. It also sought an additional $6 billion to $7 billion in grants from the Commerce Department. If fully approved, the government would be on the hook for up to $15 billion, more than one-third of the total projected cost.
Now, however, TSMC says that it will delay the start of production in the Arizona facility until at least 2025, citing lower-than-expected revenues and difficulty finding skilled workers. The company already faced delays last year over a lack of skilled workers.
Nonetheless, the Journal reports that "TSMC faces significantly higher costs in the U.S. compared with Taiwan. [TSMC Chairman Mark] Liu said TSMC is counting on U.S. help to cover that cost gap for about five years."
Given the company's difficulties, it should be a relief that the U.S. has so far not acceded to TSMC's demands. But there are plenty of things the government can do that would have far-reaching benefits beyond just one company.
In a January 2023 earnings call, TSMC Chief Financial Officer Wendell Huang said that while he couldn't give an exact number for the financial discrepancy between building in the U.S. and Taiwan, "the major reason for the cost gap is the construction cost of building and facilities, which can be 4 to 5x greater" in the U.S.
Of course, part of that gap can be explained by factors like the difference in the cost of living—by one estimate, over twice as much in the U.S. as in Taiwan. But in November 2022, a month before Biden announced the project, TSMC wrote in a public response to questions from the Commerce Department that it doesn't "see access to capital as a significant barrier to growth in the US"—rather, specific factors making the project more expensive included "federal regulatory requirements that increase project scope and cost."
Rather than forking over billions of dollars to a single company, the Biden administration should take steps to ease regulatory burdens on expanding companies. Similarly, plenty of firms could benefit from a greater number of high-skilled workers, like those proficient in science, technology, engineering, and mathematics (STEM) fields. And yet foreign nationals who graduate in STEM fields from American universities face near-impossible challenges to stay in the country and most end up going elsewhere. Congress could help that situation by raising the number of green cards that can be issued annually.
With TSMC's delay, Biden and Congress have an opportunity. TSMC admits that its issues are bureaucratic, not financial, so there's no need to shovel more money at a wealthy company. Instead, lawmakers should get rid of cumbersome regulations and create a more welcoming environment for both businesses and workers.