Barbie Banned in Vietnam!
The glitter-filled movie got involved in authoritarian geopolitics by allegedly displaying Chinese propaganda.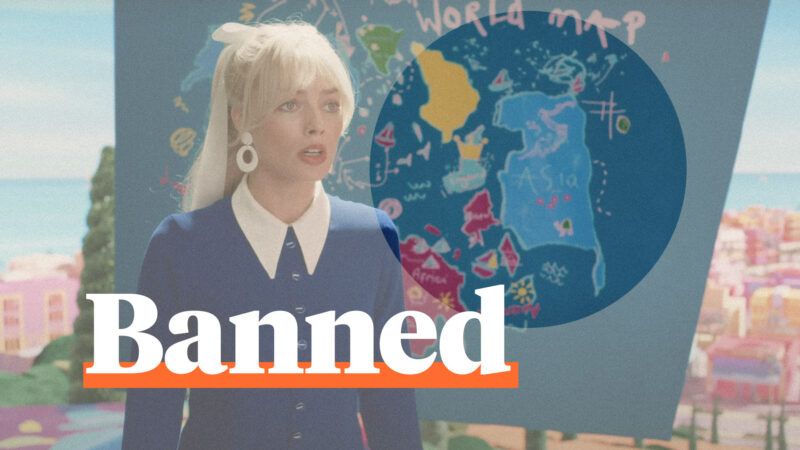 (Illustration: Lex Villena; Warner Bros. Pictures)
Vietnam has banned the upcoming movie Barbie from distribution in the country over a scene allegedly featuring China's disputed claims in the South China Sea.
"We do not grant license for the American movie 'Barbie' to release in Vietnam because it contains the offending image of the nine-dash line," said Vi Kien Thanh, director of Vietnam's Cinema Department, in a statement to the state-run Tuoi Tre newspaper.
The Chinese Communist Party uses the infamous nine-dash line to illustrate China's historical maritime claims, which encompass approximately 90 percent of the entire South China Sea and significantly overlap with Vietnam's claims. International law says a country's territory extends 200 miles off its coast, an area called the country's exclusive economic zone (EEZ), a rule that other countries in the region, including Vietnam, Malaysia, and the Philippines, base their claims on. Since 2014, China has built islands in the region, which are potentially energy- and resource-rich, to enforce and legitimize its EEZ claims.
Barbie, a Warner Bros. comedy directed by Greta Gerwig and featuring Ryan Gosling and Margot Robbie, seems relatively tame and uncontroversial. Gerwig described it as a "pink, glittery existential dance party," which raises the question of why Warner Bros. would use the movie to reference a yearslong geopolitical conflict that implicates a third of the world's maritime trade.
If Vietnam's allegations are indeed founded, this is likely another instance of American film studios placating the Chinese Communist Party's (CCP) propaganda machine, which bans films that violate CCP doctrine from screening in the Chinese market. A 2020 investigative report by the free speech group PEN America found that studios routinely write and produce in accordance with CCP dogma to maintain access to the country's $2.46 billion box-office market.
By placating one authoritarian communist regime in showing the nine-dash line, Barbie has drawn the ire of a different authoritarian communist regime.
Barbie is expected to be one of the biggest blockbusters of the summer, possibly grossing as much as $80 million over its opening weekend. It's unclear whether Warner Bros. will revise the film to appease Vietnamese censors, especially since it has an economic incentive to instead prioritize CCP demands. Last year, the studio's best-performing film was The Batman, grossing over $770 million. The film made about 12 times more in China than in Vietnam, grossing $25.3 million and $2.1 million, respectively.
In response to Vietnam's outrage, Chinese Foreign Ministry spokesperson Mao Ning told Fox News, "China's position on the South China Sea issue is clear and consistent," adding that Vietnam "should not link the South China Sea issue with normal cultural exchange."
Barbie will join a growing list of films and television shows Vietnam has banned due to the offending nine-dash line. In 2019, the country banned Abominable, a DreamWorks animation about a girl who finds a yeti on her roof. In 2022, Vietnam banned Sony's Uncharted, an action-adventure film about treasure hunting. In 2021, officials ordered Netflix to remove the show Pine Gap and to delete scenes from the show Madam Secretary from its platform in Vietnam.
While Barbie is not set to release until July 21, the film's trailer has sparked speculation about what scene in the pink-filled movie could contain the geopolitical blunder. It may very well be one featuring a childish-looking world map that is cartoonishly inaccurate—perhaps to avoid giving exactly this kind of offense. 
If there's a lesson here, it's that placating one authoritarian regime will likely irritate another.