City Agrees To Remove Ordinance Requiring Permission To Protest
"Americans don't need a permission slip to speak in front of city hall. The First Amendment is their permission slip," said one attorney involved in the case.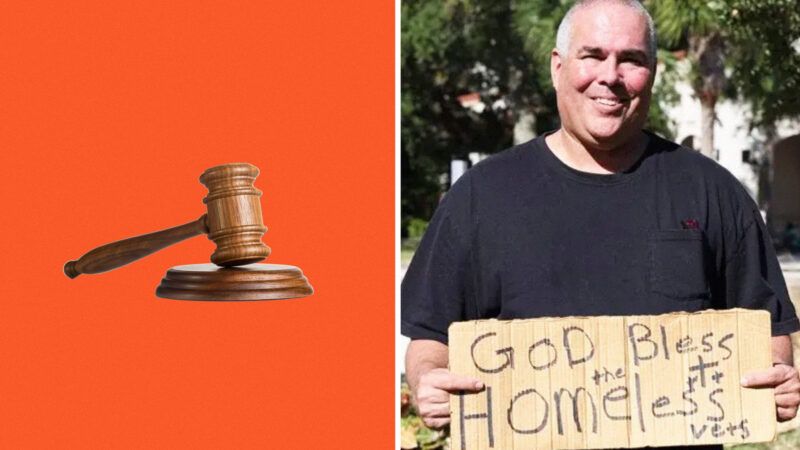 (Illustration: Lex Villena; Jeff Gray)
In 2021, police in Blackshear, Georgia, issued a criminal citation against Jeff Gray for holding a sign that read "God Bless the Homeless Vets" outside the town's city hall. The town's police chief even admitted while he was citing Gray that the local law was "kind of silly" but nonetheless ticketed him for failing to obtain Blackshear City Council's permission before holding a "parade, procession, or demonstration."
However, following a lawsuit challenging the local ordinance on First Amendment grounds, the city has now agreed to remove the regulation—and make a donation to a charity for homeless veterans.
"It's a new dawn in Blackshear," FIRE attorney Harrison Rosenthal said in a Thursday press release. "Americans don't need a permission slip to speak in front of city hall. The First Amendment is their permission slip."
Since 2011, Jeff Gray has carried out a series of "civil rights investigations" in towns across the southern U.S. on his YouTube channel. In his videos, Gray peacefully exercises his rights—such as the right to film police during a traffic stop or to peacefully protest—in order to test whether local law enforcement will respect his civil rights.
On August 18, 2021, Gray engaged in one of these "investigations" outside Blackshear's city hall, holding a sign that read "God Bless the Homeless Vets." Soon after, he was approached by Police Chief Wright who asked if he was "trying to demonstrate a little bit." When Gray replied that he was, Wright responded that Gray would need "to get a permit first to demonstrate on any public property," adding that the law was "kind of silly, but that's what the rules are." The police chief further informed Gray that city law required him to send a letter to the City Council explaining the "cause" of his protest and wait for a permit. When Gray refused to leave, Wright issued a criminal citation to him for violating the city ordinance.
In January of this year, the Foundation for Individual Rights and Expression (FIRE), a First Amendment nonprofit, filed a lawsuit on Gray's behalf, arguing that the ordinance was plainly unconstitutional. 
"Members of the public have a clearly established First Amendment right to engage in expressive activities in traditional public fora without obtaining advance permission from government officials," the suit noted. "In enforcing the ordinances against Gray, Chief Wright violated Gray's First Amendment rights by prematurely ending Gray's expressive activity, chilling his ability to speak further, issuing him a criminal citation, and asserting under color of law that Gray's expressive rights are conditioned on the prior approval of city officials."
On Thursday, FIRE announced that it had reached a settlement with the city. The city agreed to revoke the unconstitutional ordinance requiring permits before demonstrations and to make a symbolic $1,791 donation (reflecting the year the First Amendment was ratified) to a charity for homeless veterans.
"This is the sort of situation where a municipality or a city has left a dusty old law lingering on the books, and it was a law that was very clearly unconstitutional. But because cities tend to leave unconstitutional laws on the books, rather than repealing them, sooner or later a police officer was going to pick up that book and throw it at somebody," FIRE attorney Adam Steinbaugh tells Reason, adding that the settlement serves as "a warning to cities that you can't leave dusty old unconstitutional laws lingering on the books because they're going to create risks for the rights of your citizens and for your city."