Transit Agencies Demand Taxpayer Subsidies To Stave Off 'Death Spirals.' There's a Better Way.
Service cuts that reflect falling demand and zoning reforms that bring more fare-paying residents back to cities could shore up transit agencies' budgets.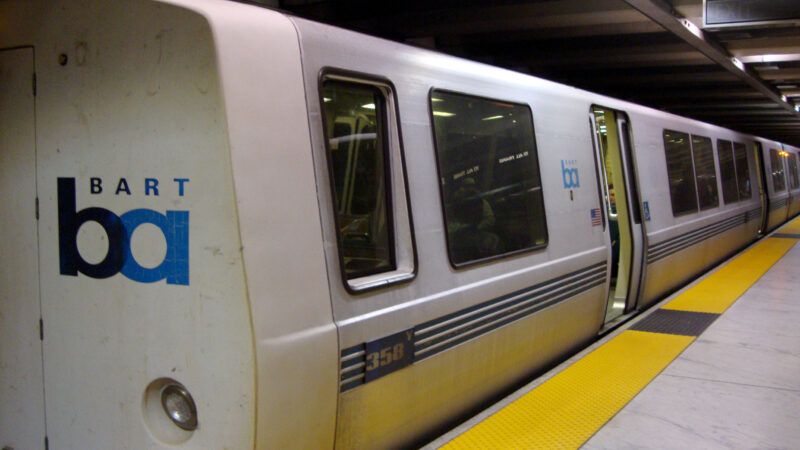 (Eric Broder Van Dyke/Dreamstime.com)
None of America's public transit agencies covered their operating costs (not to mention capital costs) with farebox revenue, parking charges, and other "user fees" before the pandemic. On the other side of COVID, fewer are even trying.
As the last of the $69 billion in pandemic-era federal transit aid is spent, transit agencies and advocates have gone clamoring for more taxpayer subsidies they say are necessary to avoid a "doom loop," "death spiral," or some other self-perpetuating apocalyptic vortex of ever-falling service, ridership, and revenue.
Earlier this week, California Gov. Gavin Newsom and leaders of the state's Democratic-controlled Legislature agreed to a budget deal that will provide transit agencies with $5.1 billion in state aid. That represents an increase of $1.1 billion, reports the San Francisco Chronicle, plus additional flexibility to spend capital funds on day-to-day operations.
This money will be particularly helpful for San Francisco Bay Area Rapid Transit (BART), which breathed a huge sigh of relief after details of the then-pending budget agreement were announced earlier this month.
"It's not yet clear how much money BART will receive and when it will receive it, but the budget agreement is a significant development to help avoid drastic cuts to service," said BART General Manager Bob Powers.
BART has been the most affected by pandemic-era trends that have generally proved disastrous for the country's largest fare-dependent transit agencies designed to funnel workers to and from downtown job centers.
No other city has seen a greater COVID-era out-migration of jobs and people from dense urban centers than San Francisco. It's also the nation's capital for telework. Fewer people traveling each day to work has blown a hole in the agency's fare revenue, which once was covering 70 percent of its nearly $800 million annual operating budget. Another 26 percent came from local funding.
Fares and other user fees fell to cover only about 10 percent of the agency's budget during COVID, and federal relief—once a minuscule part of its operating budget—has risen to account for almost 50 percent. But that aid is drying up, and ridership remains stuck at about a third of its pre-pandemic levels.
With additional taxpayer funding, the agency had said it will face a $92 million deficit in FY 2025. In FY 2026, when the last of the federal aid money runs out, its deficit is projected to balloon to $313 million.
BART had said even if it adopts its list of financial stability strategies—which includes "increase revenue and decrease expenses"—rail's high fixed costs relative to marginal costs will leave it deep in the red. Without additional aid, the agency says riders would be facing 60-minute headways and an end to weekend service.
Other agencies have sounded a similar note as they've gone hunting for additional subsidies.
Last week, staff at the long-troubled Washington Metropolitan Area Transit Authority (WMATA) told the agency's board of directors that it was facing a $750 million deficit come FY 2025 when federal aid (which currently covers about a quarter of its budget) is exhausted.
"The severity of these cuts would devastate this region, yet still not eliminate the funding deficit and would trigger a transit death spiral," said the agency.
Rail ridership on WMATA has been steadily declining since before COVID, as persistent maintenance problems resulted in accidents and frequently disrupted service. Still, in 2019, the agency was able to cover almost half its rail operations (and 40 percent of its combined bus and rail operations) with fare revenue and other user fees.
No longer.
WMATA's rail ridership is only about 50 percent of what it was pre-pandemic.
The stickiness of remote work in the D.C. region has played a big part in that. So has non-pandemic-related service cuts that the agency has undertaken to repair its tracks and fix derailment-causing safety flaws on its rail cars.
Subsidy-dependent bus ridership has rebounded to 88 percent of pre-pandemic levels. That's still left WMATA covering only about 20 percent of its operations with fares and other user fees.
WMATA's board presentation notes that BART and New York's Metropolitan Transportation Authority (MTA)—which runs subway and bus service in the New York City area—have "avoided fiscal collapse" with state subsidies in the former case and state subsidies plus a big payroll tax increase in the latter.
Baruch Feigenbaum, a transportation policy expert for the Reason Foundation (which publishes this website), argues that transit agencies are often overhyping their projected revenue losses in order to shore up subsidies.
Service cuts are appropriate when demand for rides has fallen, he adds. "There has been a major downturn in San Francisco. If they need to cut headways because there are fewer people, they need to cut headways."
Service cuts that reflect falling demand, service redesigns that reflect changes in post-pandemic travel patterns, and finding more efficiencies (including through privatizing operations) could help shore up budgets while minimizing the need for taxpayer subsidies, says Feigenbaum.
It's notable that while demand for transit ridership has fallen in America's dense urban cities, demand for living and working within these cities remains high—as evidenced by the post-COVID rebounds in rents and home prices.
In that context, falling transit ridership comes with a silver lining. The Niskanen Center's Alex Armlovich has argued that lower ridership, born of hybrid work arrangements, has drastically increased the effective capacity of existing rail systems.
Each individual using subway infrastructure less means the current infrastructure can service more people's needs generally, he argued in an August 2022 op-ed for New York Daily News.
In the New York context, argues Armlovich, this is "an immense capacity windfall that would have cost untold billions to achieve by other means." A happy consequence is that the city can comfortably add population without straining its existing transit infrastructure.
"Housing growth versus subway capacity is no longer a policy trade off," he wrote. "Indeed, the city now needs new residents to keep MTA afloat!"
New York City, much like San Francisco, D.C., Boston, and other cities where transit systems are staring down fiscal cliffs, has any number of policies and regulations that limit housing growth.
Removing those limits on housing construction would see developers add more units and cities add more people. A growing population would mean growing transit ridership and fare revenue.
In other words, zoning reform could reverse transit agencies' "death spirals" into a virtuous cycle of more private development bringing more fare-paying transit riders. Transit systems would become less dependent on subsidies, not more.
That sounds like a brighter future than the one policy makers and transit agencies are committing to now of permanent taxpayer subsidies to make up for permanently depressed ridership.