Supreme Court on Affirmative Action: 'Eliminating Racial Discrimination Means Eliminating All of It'
In a 6–3 decision, the Court ruled that race-based affirmative action in college admissions violates the 14th Amendment.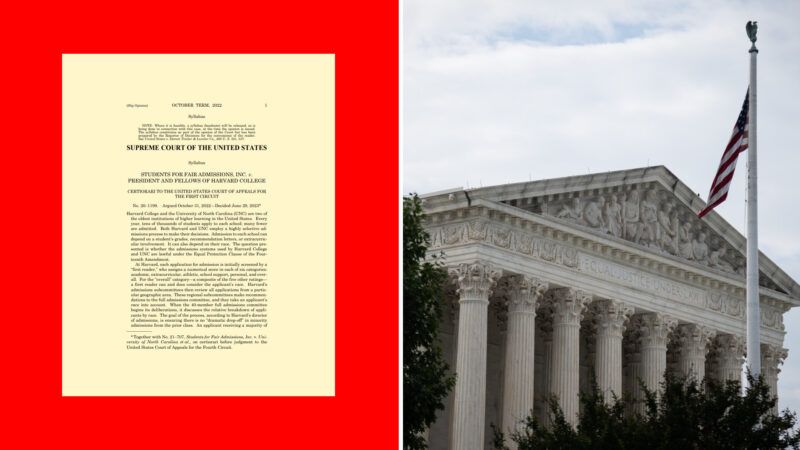 (Illustration: Lex Villena; Graeme Sloan/Sipa USA/Newscom)
The Supreme Court has stuck down race-based affirmative action in college admissions. In a 6–3 decision today, the Court ruled that both Harvard and the University of North Carolina's admissions policies engaged in unlawful racial discrimination, violating the 14th Amendment's Equal Protection Clause. The decision effectively ends almost 50 years of legalized racial discrimination in the college admissions process.
"Eliminating racial discrimination means eliminating all of it," wrote Chief Justice John Roberts in the Court's majority opinion. "In other words, the student must be treated based on his or her experiences as an individual—not on the basis of race." 
The ruling in Students for Fair Admissions v. President and Fellows of Harvard College marks a decisive victory for those who had long hailed the practice as unjust and unconstitutional. It also reaffirms a reading of the 14th Amendment as prohibiting racial discrimination in all but the narrowest of circumstances, even when such discrimination is done in service of an otherwise "noble" goal.
The Reason Foundation (the nonprofit that publishes this website) wrote an amicus brief last year urging the Court to rule against Harvard and UNC.
The evidence that both universities engaged in racial discrimination, particularly against Asian applicants, is staggering. According to the ruling, "over 80% of all black applicants in the top academic decile were admitted to UNC, while under 70% of white and Asian applicants in that decile were admitted." At Harvard, an Asian American applicant in the top academic decile has a lower chance of being admitted than a black student in the fourth-lowest academic decile.
"While the dissent would certainly not permit university programs that discriminated against black and Latino applicants, it is perfectly willing to let the programs here continue," wrote Roberts. "In its view, this Court is supposed to tell state actors when they have picked the right races to benefit."
While the ruling has attracted strong condemnation from supporters of race-conscious college admissions, polling suggests that a majority of Americans of all racial groups disapprove of these policies. A 2019 Pew Research poll found that 73 percent of all Americans, including 62 percent of black Americans and 65 percent of Hispanic Americans, did not think that colleges should be able to consider an applicant's race or ethnicity when making decisions about student admissions.
As reflected in the Court's ruling, the best argument against affirmative action in college admissions is a simple one: All people are created equal and should be treated equally before the law. Treating individuals differently based on their race is an unacceptable affront to this idea, even if it is in the service of a well-intentioned goal. Taking this idea further, treating college applicants differently based on any demographic trait—including legacy status—offends this same principle.
It's possible to believe these principles while also acknowledging that many racial minority groups—black Americans in particular—are affected by past and present racial discrimination. As Justice Clarence Thomas wrote in a concurring opinion, "While I am painfully aware of the social and economic ravages which have befallen my race and all who suffer discrimination, I hold out enduring hope that this country will live up to its principles so clearly enunciated in the Declaration of Independence and the Constitution of the United States: that all men are created equal, are equal citizens, and must be treated equally before the law."