Newly Released Video Shows Border Patrol Shooting Man Who Called Authorities for Help
Agents claimed to see a gun that wasn't there. Video reveals nervous officers with a hunting mentality.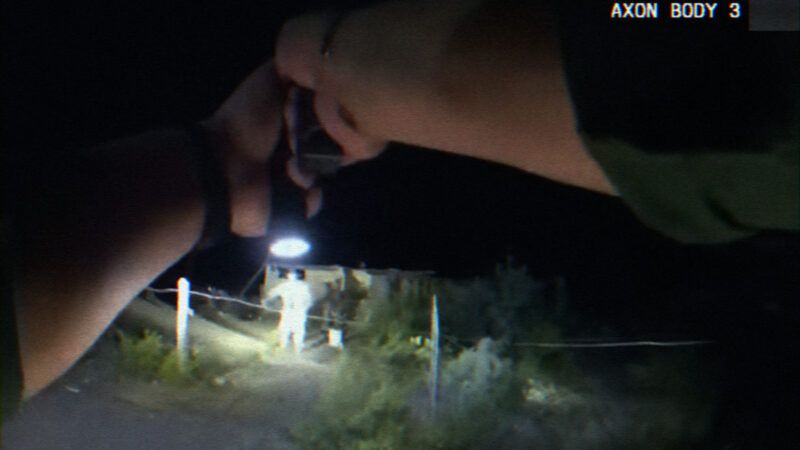 (Police bodycam video/YouTube)
Last month, U.S. Customs and Border Patrol agents shot and killed Raymond Mattia, a man of the Tohono O'odham Nation from Menagers Dam near the American side of the Arizona-Mexico border, after he had, according to his sister, called authorities for help after he was alarmed by what he thought were illegal immigrant trespassers on his property.
An edited presentation of agent bodycam video has now been released. The agents claim they believed Mattia to have a gun on him, though he did not. After reporting on the incident from The Intercept, it is not clear whether they were directly responding to Mattia's call, as The Intercept reports Tohono O'odham tribal authorities had called in the Border Patrol with reports of shots having been heard fired in the area.
The clip cobbles together various perspectives from various agent's bodycam of the approach and murder. At least one of them is clearly already in a nervous, aggressive, hunter mindset. He thinks he saw someone moving on the periphery near Mattia's home before Mattia himself is in sight, at around 10:35 on the video. (An agent is already discussing "shooting the fucking lock off" on a building they are circling.)
I personally am not sure what he saw, if anything. Still, given how Mattia did approach the agents, and that he had called for the help of the law in the first place, I wouldn't be quick to presume that what the officer saw or thought he saw was him, or anyone or anything of significance to the officers.
But the officer already considers this person or imagined person "this motherfucker," and he's angry as he runs toward what he thinks he might have seen. By the time the officer and his fellow agents do have Mattia in sight (around 12:00 on the video), the Border Patrol agent is approaching the experience like he was tracking the quarry and now has found it.
The agents see Mattia, shout at him to put his hands up and to "put that down" and take his "hands out of his fucking pocket." He does both, first tossing his sheathed knife away as he's shouted at. Within about 16 seconds of the first verbal command to put his hands up, the agents open fire as Mattia's hands leave his pocket and start going up.
The agents do, to their credit, begin trying to give emergency medical care to Mattia quickly enough, all the while continuing to shout about finding and securing the gun that did not exist. One officer is sure he's still holding a gun after he's on the ground shot. The only thing apparently on him was a cell phone.
They continue shouting commands about hands up and the like after he's on the ground bleeding to death, warning him he'll get shot again if he doesn't somehow obey their commands about his hands, although all he's doing is lying there on the ground dying. They cuff him. The video does not reveal any verbal realization on their part that there was no gun and what their reaction, if any, to that sinking in might have been. (Unless they are great actors, they seem to believe a gun was in Mattia's hands.)
But the officers remain in a pugnacious mindset. Mattia did, at their shouted command, very visibly toss away the only weapon he had, a sheathed hunting knife. One agent refers to that action as "he threw the machete at us."
An agent quickly identifies Mattia as not an illegal migrant but as "one tribal member hit multiple times."
The Intercept's detailed report on the incident after the video's release notes that "Late last week, a tensely awaited medical examiner's report ruled the case a homicide, finding that Mattia was shot nine times."
"The case is still under investigation, with the participation of the Border Patrol's parent agency, Customs and Border Protection, as well as the FBI and the Tohono O'odham Nation," The Intercept reported. "Of the 10 Border Patrol agents involved in the incident, three opened fire, CBP has said. Those agents are currently on administrative leave."
The Intercept quotes Mattia's niece, Yvonne Nevarez, saying, "We feel after watching the video that he was trying to comply the best he could….If they're allowed to get away with this now, it's not going to stop."
Still, as discussed in earlier Reason reporting on the story, recent Supreme Court precedent will make it far harder for his family to get justice for this crime if that justice depends on holding federal agents to account legally for their misdeeds. As Reason's Billy Binion has previously reported in detail, the Court decided last June in Egbert v. Boule that immigration officials (the specific type of agent at issue in that case) can more or less violate citizens' rights at will without being held accountable via being directly civilly sued for the damages they did. By recently neglecting to take up two other cases in which citizens tried using courts to hold federal officials to account for violating their rights, the Court seems to think, as Binion wrote, that any variety of U.S agent enjoys "absolute immunity for committing transgressions while policing domestically."