Cops Use Phony Diagnoses To Explain Away Stun Gun Deaths
The National Association of Medical Examiners now says "excited delirium" should not be cited as a cause of death.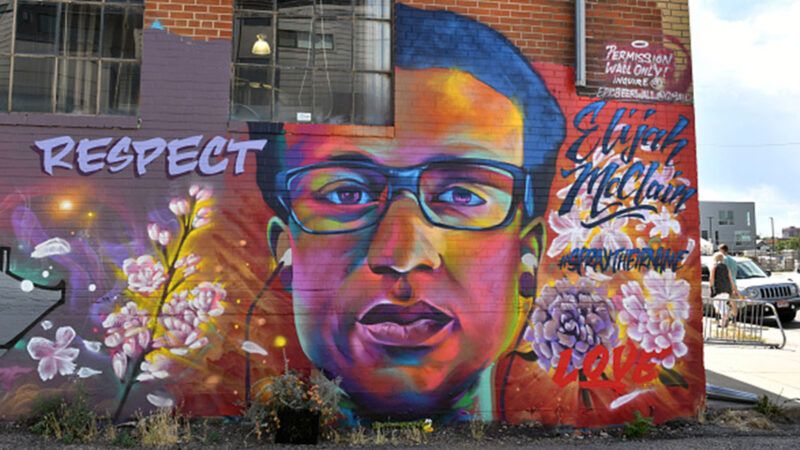 (Photo: A mural of Elijah McClain; Hyoung Chang/MediaNews Group/The Denver Post/Getty)
A small change in wording by medical examiners could have a big impact on how deaths in police custody are reported. In March, the National Association of Medical Examiners (NAME) said "excited delirium" should not be cited as a cause of death.
"Instead," the organization said, "NAME endorses that the underlying cause, natural or unnatural (to include trauma), for the delirious state be determined (if possible) and used for death certification." While that guidance is not legally binding, it further undermines the concept of excited delirium, which proponents describe as a state of wild agitation or distress, often resulting from illicit drug use, that can lead to sudden cardiac arrest. NAME now joins the American Medical Association and the American Psychiatric Association in not recognizing excited delirium as a cause of death.
The controversial term was popularized in the 1980s by a Miami forensic pathologist who was study sudden deaths of cocaine users, most of them in police custody. Nearly all "excited delirium" victims die after being tased or physically restrained by police. Since 2000, a 2017 Reuters investigation found, excited delirium had been linked to at least 276 deaths following the use of a stun gun, which suggested that electrocution, not excitement or agitation, was largely responsible.
The diagnosis has been used in other scenarios to clear police or other state actors. In 2019, three Aurora, Colorado, police officers accosted 23-year-old Elijah McClain as he was walking home from a convenience store and violently restrained him. McClain died after two paramedics diagnosed him with excited delirium and forcibly injected him with an overdose of ketamine, a powerful sedative. From January 2019 through September 2020, the Colorado Attorney General's Office found, Aurora paramedics injected people with ketamine 22 times in response to what they perceived as excited delirium.
A year after McClain's death, police officers in Rochester, New York, tackled Daniel Prude, a man having a mental health episode. The officers forced a spit hood over Prude's head and pinned him to the ground for three minutes until he stopped breathing. An autopsy report attributed Prude's death to "complications of asphyxia in the setting of physical restraint due to excited delirium due to acute [PCP] intoxication."
For decades, excited delirium diagnoses have helped police and correctional officers avoid liability for killing suspects. The NAME announcement is a welcome acknowledgment that medical examiners have an ethical duty to independently report the truth.