Small Porn Producers Will Be Hurt Most by New Age Verification Laws
New mandates in states like Utah and Virginia will lock in large incumbents like PornHub while discouraging positive trends and self-regulation in the industry.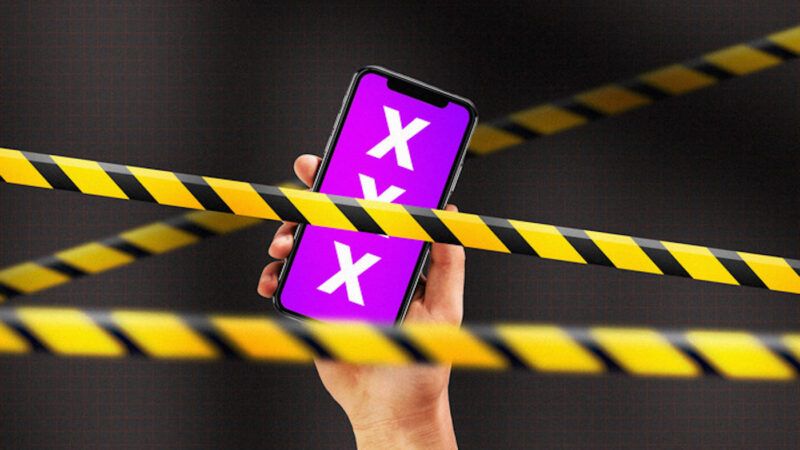 (Illustration: Lex Villena; Michał Rojek)
For the first time in history, performers have the bulk of power in the porn industry. But a wave of laws requiring specific forms of age verification for viewers of websites that depict or discuss sexuality is threatening to wipe out small studios and solo self-producers.
This legislative trend started in 2022 with Louisiana's Act 440, which requires websites containing more than 33.3 percent "material harmful to minors" to engage in age verification processes for each site user. The act features phrases familiar to those of us who work with sexuality, such as "prurient interest" and "lacks serious literary, artistic, political, or scientific value." These phrases are vague and subjective, as is the language describing which age verification mechanisms are acceptable to the state. Similar laws followed in Utah, Mississippi, Arkansas, Virginia, Montana, and Texas. Other countries, including Germany, France, and the United Kingdom, have also developed legal requirements for consumer age verification.
Most of my adult industry colleagues, including legal representatives of studios, declined to be named or to speak at all for this piece. Some cited fears of retaliation, while others expressed reluctance to go on the record during a time of immense industry upheaval.
Pornographers were searching for suitable age verification methods long before lawmakers decided to impose them. Before the advent of free tube sites—platforms for user-uploaded videos—it was standard practice for California-based studios with their own pay sites to require users to state they were 18 or older and allowed to view the content in their location. The sites usually displayed minimal previews on the front page and kept most of the explicit stuff behind a paywall. One web developer recalls being tasked with "pixelating" a body part on Vivid's homepage after the company put up a billboard in Times Square: "The difference between nipple and not-nipple was the exact placement of a few shades of color in a 2-3 pixel grid." No matter how minimal, the nipple had to be nixed ahead of that large of a promotion.
The age verification procedures required by new laws will be far more expensive and time-intensive. Since verification must be done well before a website viewer becomes a customer, it's as though a brick-and-mortar clothing shop had to pay a dollar every time someone looked in the window.
Larger production companies and tube sites are already based overseas or have the capacity to move to countries that are unlikely to cooperate with U.S. federal or state requests. What will be lost are the smaller "ethical porn" companies. While ethics vary across and between groups, in pornography and outside of it, companies that label themselves ethical are often genuinely concerned with developing a standard set of ethics. They are often founded by performers. They take extra care for the well-being of both cast and crew and often for the consumer as well—from asking about dietary restrictions for catering to considering how content choices impact viewers.
Handling both the implementation of age verification procedures and the questions of consumers will simply require more labor than these small companies may be able to afford. And, after OnlyFans' porn ban flip-flop in 2021, I imagine many larger platforms that allow sexual content alongside G-rated stuff may be considering banning eroticism entirely.
Over a decade and a half ago, pornographers were bemoaning the fact that tighter age verification would require consumers to turn over more identification than they were likely to be comfortable with. This turned out to be prescient: One platform's survey in the first quarter of this year indicated that 20 percent of existing customers would stop patronizing their site rather than undergo the kind of age verification required by these new state laws. Mike Stabile, director of public affairs at the Free Speech Coalition, describes pay sites since countries and states began requiring age verification where 30 percent of customers who were already subscribed left the site rather than hand over their ID.
One adult industry worker expresses concerns about the viewing histories of consumers being improperly protected, and those histories harming consumers' reputations. As another worker paraphrases, "The only way to make a site subpoena-proof is to not have the info," speaking to the desire to handle as little information as possible. Another expresses dismay that large tech companies have not stepped up to handle this vetting of adulthood (for a fee). Reputable sites should make their privacy policies clear regarding age verification or other sensitive data. Consumers should beware and know to ask these questions.
Though age verification laws ostensibly protect minors, many minors have likely already seen pornography—in no small part because only 16 percent of parents used filters to control their teens' phone use, according to a 2016 Pew Research Center survey. Yet pornographers still attempt to pick up the slack. One example is The Porn Conversation, a nonprofit founded by adult filmmaker Erika Lust, which offers "tools for parents, educators, and individuals to navigate conversations around pornography in a responsible and informed manner," recognizing "the prevalence and accessibility of pornography in today's digital age." Deakin University health and sexuality researcher Debbie Ollis echoed this, telling The Guardian that we "have to acknowledge young people's use of porn and provide education that can help and guide them, with a framework that helps them make sense of what they see in porn."
New age verification laws won't accomplish that. They're simply an attack on freedom of expression. As Stabile puts it, porn and terrorism are "where people lose their minds around civil liberties." And those who will bear the brunt of these laws are the small production companies that innovate, pursue ethics, and care about cast, crew, and customers.