COVID-19's 'Patients Zero' May Have Been Wuhan Lab Scientists, Report Finds
Plus: Grand jury indicts Jack Teixeira, Congress pursues A.I. regulation, and more...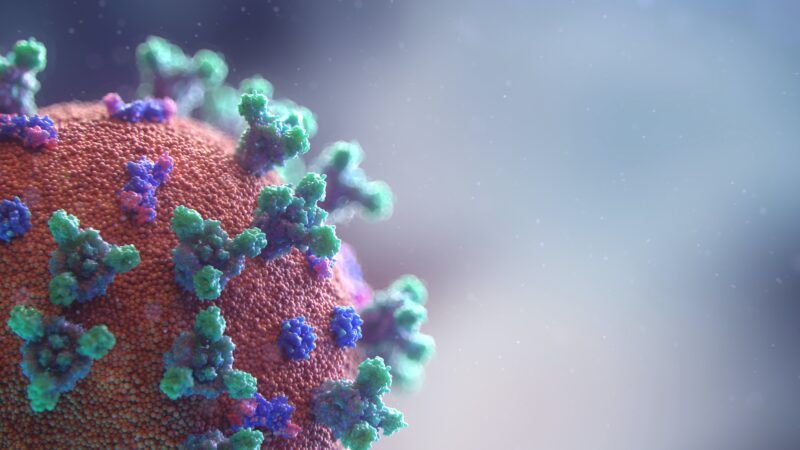 The first three people to contract COVID-19 were scientists working at the Wuhan Institute of Virology (WIV), claims a new report—a finding that could confirm the lab leak theory of COVID-19's origins, if verified.
The report—authored by independent journalists Matt Taibbi, Michael Shellenberger, and Alex Gutentag, and published on Substack—names Ben Hu, Yu Ping, and Yan Zhu as "three of the earliest people to become infected with SARS-CoV-2" in fall 2019. Not only did these three scientists work at the WIV, but they worked specifically on gain-of-function research; Hu in particular was considered a "star pupil" of Shi Zhengli, dubbed the "bat woman" for her work studying coronaviruses in bats.
"Ben Hu is essentially the next Shi Zhengli," molecular biologist Alina Chan told the Substack authors. "He had been making chimeric SARS-like viruses and testing these in humanized mice. If I had to guess who would be doing this risky virus research and most at risk of getting accidentally infected, it would be him."
The report's authors spoke with multiple sources inside the U.S. government who provided the information. These sources, whose names were withheld to protect their anonymity, said there is little doubt that the laboratory is where the pandemic started.
The findings have not yet been confirmed by other journalists, though several government agencies—including the FBI and the Energy Department—have stated that the lab leak is the most likely theory of COVID-19's origins. In February, FBI Director Christopher Wray told Fox News that COVID-19 most likely resulted from "a potential lab incident in Wuhan, China."
In March, President Joe Biden signed bipartisan legislation requiring the federal government to declassify all intelligence relating to the pandemic's origins. The deadline for declassification is June 18, which means whatever information caused the FBI to reach its determination should become publicly available in a few days.
"The clock is ticking," said Rep. Mike Gallagher (R–Wis.) in a statement.
If the names of the 3 sick WIV scientists had been made public in May 2020, I doubt that many in the scientific community and the media would have spent the last three years raving about a raccoon dog or pangolin in a wet market. https://t.co/YxsW8NYeRD

— Alina Chan (@Ayjchan) June 13, 2023
---
FREE MINDS
A grand jury indicted Jack Teixeira, the 21-year-old Air National Guardsman who released classified documents onto a Discord server with the aim of impressing his friends. According to The New York Times:
The filing of criminal charges in Boston federal court against Airman Teixeira, 21, comes about two months after F.B.I. agents arrested him at his home in North Dighton, Mass., and paves the way for a trial stemming from one of the most damaging national security leaks in recent history. If convicted, he could face up to 60 years in prison.

The evidence presented in the 10-page indictment represents a distillation of the immense trove of secrets Airman Teixeira is accused of taking from computers at an intelligence unit at the Cape Cod air base — and sharing with online friends he was hoping to impress in chat groups on Discord, a social media platform popular with gamers. But it was not immediately clear how many of the vaguely described incidents that underlie the charges had been previously disclosed and which ones were being made public for the first time.

Airman Teixeira's disclosures — exposing secrets of the United States, its allies and its adversaries — have bared rifts between the United States and its allies and given Russia information about intelligence-gathering methods, as news organizations have divulged some of the material. And Justice Department lawyers have said the extent of the information he leaked "far exceeds what has been publicly disclosed."
The Times adds that Teixeira's superiors within the Air National Guard also made serious errors in how they handled him.
"Air Force officials caught Airman Teixeira taking notes and conducting deep-dive searches for classified material months before he was charged with leaking a vast trove of government secrets, but did not remove him from his job, according to previous filings in the case," notes the Times.
---
FREE MARKETS
Sens. Josh Hawley (R–Mo.) and Richard Blumenthal (D–Conn.) have introduced a bill that would deny Section 230 protection to works created by artificial intelligence (A.I.).
Under Section 230, internet platforms do not take on liability for content created by third-party users on those platforms. This arrangement has infuriated many Democrats—who think it provides license to social media powers to allow harmful and false content to flourish—and also many shortsighted Republicans, who want to punish the platforms for taking down right-wing content, even though the platforms' incentives to take down content would actually increase without Section 230.
According to Axios:
Legal experts and lawmakers have questioned whether AI-created works would qualify for legal immunity under Section 230 of the Communications Decency Act, the law that largely shields platforms from lawsuits over third-party content.

It's a newly urgent issue thanks to the explosive of generative AI.
The new bipartisan bill bolsters the argument that Section 230 doesn't cover AI-generated work. It also gives lawmakers an opening to go after Section 230 after vowing to amend it, without much success, for years….

Section 230 is often credited as the law that allowed the internet to flourish and for social media to take off, as well as websites hosting travel listings and restaurant reviews….

Hawley and Blumenthal's "No Section 230 Immunity for AI Act" would amend Section 230 "by adding a clause that strips immunity from AI companies in civil claims or criminal prosecutions involving the use or provision of generative AI," per a description of the bill from Hawley's office.

The bill would also allow people to sue companies in federal or state court for alleged harm by generative AI models.
---
QUICK HITS
• States that implemented abortion bans post-Dobbs have seen almost 94,000 fewer abortions between July 2022 and March 2023.
• Conservatives are seeking Muslim support on social issues and wokeness.
• Texas bans transgender women from college sports.
• Chinese leaders are worried about slow economic growth.