Police Almost Beat Him To Death. After His Conviction Was Dismissed, Prosecutors Are Recharging Him.
Joseph Zamora spent nearly two years in prison after being convicted of assaulting police officers. The Washington Supreme Court overturned his conviction, but local prosecutors want to charge him again to show him the "improperness of his behavior."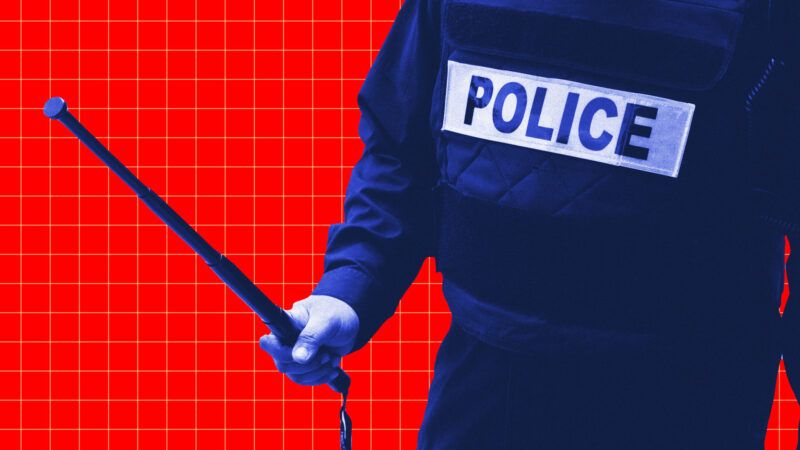 (Illustration: Lex Villena; https://docs.google.com/document/d/1Jqs3-rVpXvSNHtosFHGo3g7yJ6ImRIaZ1D9oJexJIbE/edit?usp=sharing)
Joseph Zamora was nearly beaten to death by police in 2017. After surviving a medically-induced coma and a monthlong ICU stay, he was charged with assaulting a police officer and served two years in prison. Zamora's conviction was overturned by the Washington Supreme Court last year. Now, a prosecutor is trying to recharge Zamora because he has "not accepted responsibility for his role" in the beating that almost killed him. 
The incident occurred in February 2017 when police officer Kevin Hake stopped Zamora while he was walking to his niece's house in Grant County, Washington. The cause for the stop was a neighbor's report about a suspected "car prowler."
A struggle between the two men ensued, which the state conceded "escalated far beyond what should have happened." According to an Appeals Court opinion, during the struggle, Hake "drew his handgun and placed it against Mr. Zamora's ear, temple, and in his mouth." Over his radio, another officer reported hearing Hake say, "Put your hands behind your back, I'll fucking kill you." 
According to the Appeals Court opinion, six additional officers arrived on the scene, and they "collectively struck [Zamora] repeatedly, pepper-sprayed him in the face twice," and used their stun guns to stun him three times. By the end of the beating, Zamora wasn't breathing and had no pulse. 
Zamora was taken to a local hospital, where a blood test determined that he had methamphetamine, amphetamine, and THC in his system. He was soon transferred to another hospital, remaining in the ICU for around four weeks. 
Eventually, prosecutors charged Zamora with two counts of third-degree assault for his alleged assaults of two officers, one of whom sustained some bruising and a "couple small scratches around [his] hand and wrist." The other officer injured his hand by repeatedly punching Zamora in the back of the head.
Zamora was convicted and served nearly two years in prison. However, in June 2022, Zamora's conviction was thrown out on appeal after he argued that the prosecutor in his case had made racially-biased statements during the jury selection process.
The prosecutor in Zamora's case, Garth Dano, had quizzed potential jurors about their beliefs on immigration, border security, and crime committed by immigrants, asking them questions like "Can you make room for the idea that when they hear that 100,000 people come across illegally a month, and of those we've got people from countries that—countries on our list that aren't even allowed in the country are part of that group?"
 The Washington Supreme Court unanimously reversed Zamora's conviction, ruling that while Zamora is not an immigrant, these statements were racially biased.
"Contrary to the State's assertion, no legitimate, relevant trial purpose supports the prosecutor's questions or statements," wrote Judge Charles W. Johnson. "Rather, the apparent purpose of the remarks was to highlight the defendant's perceived ethnicity and invoke stereotypes that Latinxs are 'criminally; and 'wrongly' in the country, are involved in criminal activities such as drug smuggling, and pose a threat to the safety of 'Americans.'"
According to documents obtained by the Seattle Times, following the Supreme Court's ruling, Zamora asked when he could file a tort claim, which is necessary to file a civil rights lawsuit against the city and its police department. Zamora also reportedly left a voicemail to Grant County Prosecutor Kevin McCrae "demanding" that he charge the officer who beat Zamora with attempted murder.
McCrae is now attempting to prosecute Zamora again for the same alleged crime—seemingly in retaliation. While McCrae has refused to comment on the reasoning behind his attempt to retry Zamora, a draft response to a bar complaint against McCrae after he decided to recharge Zamora obtained by the Seattle Times contains an explanation.
"It is clear to me that Mr. Zamora had not accepted responsibility for his role in this incident," McCrae wrote. "While there is no more jail time available in this case, any conviction would still count as criminal history on his offender score, would have an effect on the sentence for any future crimes Mr. Zamora may commit, and hopefully impress upon Mr. Zamora the improperness of his behavior."