Under Scrutiny for New Deaths, Rikers Officials Shut Down Communication
No longer will the troubled jail system publicly report when somebody dies in custody.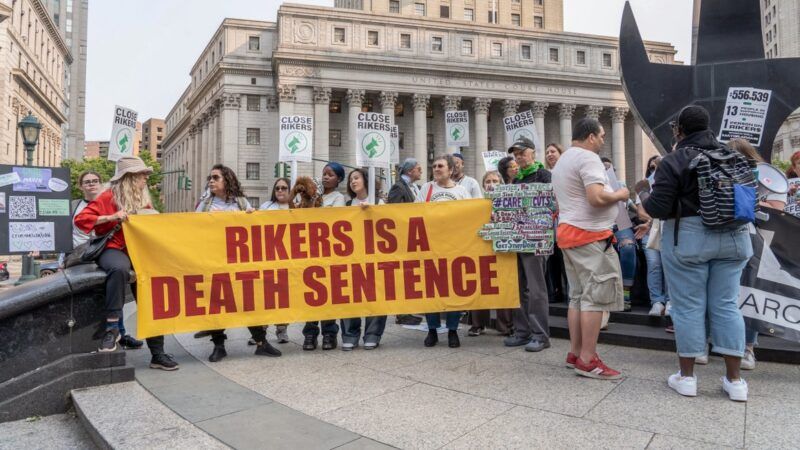 (Ron Adar/ZUMAPRESS/Newscom)
Nineteen Rikers Island inmates died last year, marking a high the New York jail complex hasn't seen in more than 20 years. Each death has received significant media attention. The embattled prison complex is under the review of federal monitors and under court order to reform to better keep its prisoners—many of whom are being detained pretrial and have not yet been convicted—safe.
This week, as Rikers remains under intense public scrutiny, media outlets reported an abrupt change in policy there. New York City's Department of Correction will no longer inform the press when an inmate dies. This comes after two inmates, Rubu Zhao and Joshua Valles, died in May. The department didn't publicly report either death.
Zhao died after reportedly falling or jumping over a railing on the top floor of a psychiatric facility at Rikers. According to an account from jail staff, it's not clear whether he jumped or fell. The New York Times reported that jail staff told medical staff who arrived on the scene that Zhao had fallen but didn't tell them it was from a significant height, and so they treated him for a possible seizure.
Valles, who was also being held in a psychiatric unit, had been complaining of headaches and vomiting and was taken to a hospital on May 19. On the way to the hospital, he had a seizure and later went into cardiac arrest. He died on May 27 at the hospital. Subsequently, the city's Department of Correction has attempted to claim that Valles' death wasn't "in custody" because he was compassionately released on May 24 after he was sent to the hospital and while he was on life support. An autopsy of Valles reportedly showed that he had a fractured skull when he died, raising important questions about what may have caused his headaches and vomiting.
Rikers officials' decision to stop informing the media about such deaths is troubling for a jail system under federal court orders to improve its operations. Kayla Simpson, an attorney with the Prisoners' Rights Project at The Legal Aid Society, told The City, "I think it's part of a series of attempts to isolate the jails from scrutiny to control the narrative."
This new policy of silence may not just be limited to the press. On May 26, Steve Martin, the head of the federal monitoring team keeping tabs on Rikers, submitted a special report to the U.S. District Court for the Southern District of New York highlighting five recent incidents that "have raised serious concerns about the City's and Department's ability to accurately and timely report serious and/or life-altering injuries, to safely manage the individuals in its custody, commitment to transparency and to engage, collaborate with, and provide the Monitoring Team with timely and accurate information."
Although the inmates in the five incidents are left anonymous, two of them are clearly Zhao's and Valles' cases. In Zhao's case, jail staff did not report what happened to the monitoring team for 33 hours. In fact, Martin says he found out about Zhao's death first from a media report. Martin says that when he finally received information from the Department of Correction, one of the commissioners told him that they're under no requirement to report in-custody deaths to the monitoring team at all, which Martin says is simply not true.
Martin says his team didn't find out about Valles' situation until he was already hospitalized and near death when the team received "an external allegation that this individual was in the hospital and on life support." When they contacted the Department of Correction, they were informed that Valles had a heart attack and that there was "no official wrongdoing" in the case. The report observed, "It is unclear how the Department was able to reach the conclusion that there was 'no Departmental wrongdoing' given the limited information available about the underlying incident."
All five incidents described in the report took place over a span of just six days, and Martin worries in this report about what else might be going on that the department is not sharing with them: "Reports for these serious, disturbing, and life-altering incidents were either not generated at all, were completed after a significant delay, were completed only after the issue was raised by external inquiries, and/or omitted crucial information about injuries sustained."
The report even accuses New York Department of Correction Commissioner Louis Molina of trying to convince him not to file it, warning that it would cause "great harm…at a time where we are making great strides."
That seems to be how Molina has decided to approach this scandal as it spools out. In a statement following the report, Molina insists that Rikers is in a better state than it was under Mayor Bill de Blasio.
"Over the last 18 months, we have dramatically reduced violence, eliminated rampant absenteeism, improved critical aspects of our training, infused outside correctional expertise into our ranks, significantly improved court production, and made Rikers Island safer for every person in our custody and every single officer," he said. "Simply put, the Department of Correction is in a much better place today than it was during the last administration. We have brought this organization back from the brink of collapse and we will not be deterred in continuing our good work."
The irony here is that when it comes to in-custody deaths, at least, Molina is not wrong. There have been three reported deaths at Rikers in 2023 thus far. The jail system had seen twice as many in-custody deaths at this point last year. Rikers is on pace for a significant reversal if this trend keeps up.
But if conditions at Rikers are genuinely improving, then why on earth would officials be circling the wagon and trying to keep information about conditions there not just from the press but from the federal team they are legally obligated to respond to under a court consent decree? Why would anybody outside of the department actually believe them?