California Lawmakers Want To Make Tech Companies Subsidize News Media
Plus: Debt ceiling deal passes House, Congress wants to childproof the internet, lactation consultant licensing law is unconstitutional, and more...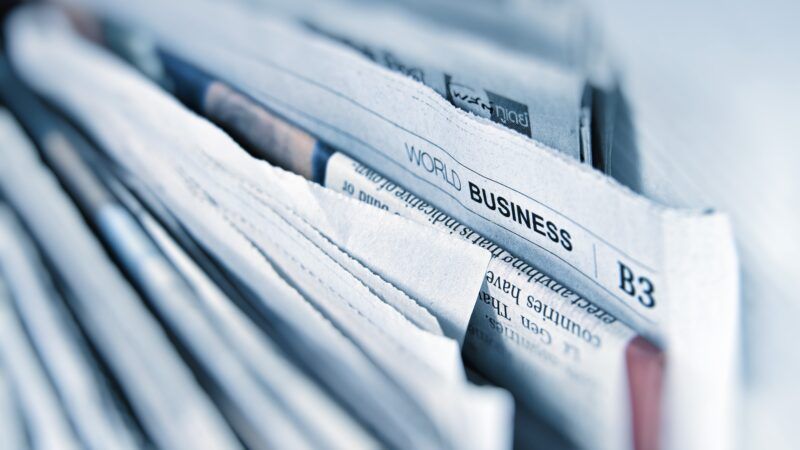 California lawmakers are moving ahead with plans to make Google and Facebook subsidize traditional media. Legislation from state Assemblymember Buffy Wicks (D–Oakland) would require some digital platforms "to remit a journalism usage fee payment…equal to a percentage…of the covered platform's advertising revenue generated during that month multiplied by the eligible digital journalism provider's allocation share."
Essentially, A.B. 886—dubbed the California Journalism Preservation Act (CJPA)—would make entities like Google and Facebook pay to link and send traffic to media websites, despite the fact that media outlets get as much if not more out of this arrangement.
This sort of "link tax" not only makes no sense but is "actively harmful to the open web" and "based on a ridiculously confused understanding of basically everything," writes Techdirt's Mike Masnick. More:
In short form: if any website does not want to get traffic from Google or Facebook, they have the power to control that by using robots.txt or redirects. It's easy.

The problem is that they want the traffic. They want it so bad that they hire "search engine optimization" experts to help them get more traffic.

The problem is that they don't just want the traffic, they also want to get paid for that traffic.

This is backwards in so many ways. It's basically saying that they should get paid to have other companies send them traffic.

It also breaks the most fundamental concept of the open web — the link — by saying that the government can force some websites to pay for linking to other websites (and, on top of that, force the paying websites to have to host those links, even if they don't want to).

Everything about this is filthy and corrupt. It's literally Rep. Buffy Wicks and others in the California legislature saying "we're forcing companies we dislike to give money to companies we like."
Under the CJPA's terms, online platforms would be subject to the link tax if they have at least 50,000,000 monthly active users or subscribers in the U.S. or are owned or controlled "by a person with either…United States net annual sales or a market capitalization greater than five hundred fifty billion dollars ($550,000,000,000), adjusted annually for inflation" or "at least 1,000,000,000 worldwide monthly active users on the online platform."
Meta has said that it will stop letting news sites post to Facebook and Instagram in California if the bill passes:
There you have it. Meta will pull news from FB and Insta if California passes CJPA. Expect similar moves from other tech co's.

Kudos to @Meta for taking a stand here.

???? Californians: melt the phones. The bill is expected to pass the House Friday.#FAFO https://t.co/aZvcTWymgv

— Jess Miers ???? (@jess_miers) May 31, 2023
The California bill echoes the Journalism Competition and Preservation Act (JCPA), a misguided federal proposal from Sen. Amy Klobuchar (D–Minn.).
In both cases, lawmakers mean to use the power of the federal government to prop up favored industries (newspapers and other traditional media outlets) at the expense of disfavored industries (tech companies).
---
FOLLOW-UP
Debt ceiling deal passes House. The House on Wednesday passed the so-called Fiscal Responsibility Act, a deal inked by President Joe Biden and House Speaker Kevin McCarthy (R–Calif.) to suspend the debt ceiling through 2025. More than 100 members of the House voted against the measure, but more than 300 voted in its favor, which sends the deal on to the Senate for a vote.
See also:
• Debt Ceiling Bill 'Locks in the Inflated Spending Levels of Recent Years'
• Debt Ceiling Deal Curtails GOP-Backed Budget Cuts, Spending Caps
• Conservatives Rage Against Debt Ceiling Bill: 'Not One Republican Should Vote for This'
---
FREE MINDS
How Congress is trying to childproof the internet. A barrage of state and national legislation takes aim at privacy and free speech online under the guise of protecting children and teens from harm. I dug into the different proposals before Congress, and the worst of the new state bills and laws:
Ultimately, this onslaught of "child protection" measures could make child and adult internet users more vulnerable to hackers, identity thieves, and snoops.

They could require the collection of even more personal information, including biometric data, and discourage the use of encrypted communication tools. They could lead social media companies to suppress a lot more legal speech. And they could shut young people out of important conversations and information, further isolating those in abusive or vulnerable situations, and subjecting young people to serious privacy violations.
Read more about the specific proposals here.
---
FREE MARKETS
A Georgia law requiring lactation consultants to be licensed is unconstitutional, the Georgia Supreme Court says. In 2016, Georgia became the first state in the country to require lactation consultants to be licensed by the government. Lactation consultants help new mothers who are having trouble breastfeeding and have become popular over the past decade (spurred in part by a coverage requirement in the Affordable Care Act).
The Georgia law "would have forced hundreds of women out of work," according to the Institute for Justice (I.J.), a nonprofit libertarian law firm that challenged the law on behalf of lactation care provider Mary Jackson and a nonprofit she helped found. Jackson has more than three decades of experience in the field and helped start Together with Reaching Our Sisters Everywhere (ROSE), a nonprofit dedicated to boosting breastfeeding among women of color. But under Georgia's new licensing law, she would have had to undergo extensive new training to continue working legally.
More from Scott Shackford:
Georgia Supreme Court Chief Justice Michael P. Boggs wrote the ruling in Jackson v. Raffensperger, and he was critical of attempts to declare that the state has a "public welfare" interest for every licensing law it passes: "Georgia's Due Process Clause requires more than a talismanic recitation of an important public interest." Here the court examined whether the licensing requirement protected the public from unsafe or harmful health practices. They found the state's evidence wanting:

Certainly, there is nothing inherently harmful in the practice of lactation care, and there is no evidence of harm to the public from the provision of lactation care and services by individuals who lack an [International Board Certified Lactation Consultant] license.

To get this license through a private credentialing body, the court notes, requires 14 different health courses (some college level), 95 hours of training, 300 supervised clinical hours, and up to $700 in costs. Boggs notes in his ruling that only 162 of Georgia's 470 lactation consultants have gone through the process to get licensing.

The state admitted to the court that they had no evidence that anybody was harmed by unlicensed or incompetent lactation care before or after the law's passage. An analysis of a version of the law that was considered in 2013 (and not passed) noted that there was no evidence of any harm caused by the state's failure to license or regulate lactation consultants.

Thus, the Court concludes that the law "violates Plaintiffs' due process rights under the Georgia Constitution to practice the chosen profession of lactation care provider."
"This case sets a precedent that the Georgia Constitution demands the government justify restrictions on economic liberty," said I.J. Senior Attorney Renée Flaherty in a statement.
---
QUICK HITS
• The American Civil Liberties Union of Nebraska and Planned Parenthood of the Heartland have filed a lawsuit challenging Nebraska's restrictions on abortion and gender transition treatment for minors. "The lawsuit argues that the Legislature, by combining sections of two bills involving different topics, violated the State Constitution's restriction that bills cover only a single subject," notes the Nebraska Examiner. "Supporters have argued that both parts of the new law regulate health care for children."
• Iowa's new school choice program, which allows families to apply for funds to send their kids to private schools, has launched. On the first day, more than 5,000 families applied, according to Republican Iowa Gov. Kim Reynolds.
• Canada is putting warning labels on individual cigarettes.
• Is this Aubrey Plaza ad for "wood milk" illegal?
• New York City won't stop arresting people for filming cops:
More than 2,700 people were arrested while they were filming police in 2021 and 2022, according to NYPD data.https://t.co/y7VhHDQAKG

— Gothamist (@Gothamist) May 31, 2023