A Georgia Woman Died After Falling Out of a Moving Patrol Car. Now, Her Family Is Suing the Cops Responsible.
Brianna Grier was having a mental health crisis. She needed an ambulance. She got two cops instead.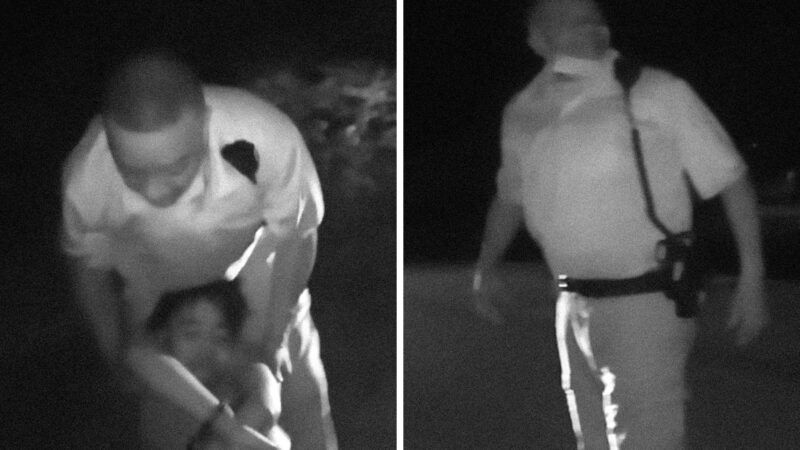 (Georgia Bureau of Investigation)
Brianna Grier was arrested last July in Hancock County, Georgia, after suffering from a mental health episode. However, police forgot to close the back door of their patrol car, and Grier fell out, sustaining injuries that eventually led to her death six days later.
This week, Grier's family has filed a $100 million lawsuit against the officers who arrested Grier, claiming that their actions constituted excessive force that violated her constitutional rights.
According to the lawsuit, Grier, who had been diagnosed with schizophrenia, had been visiting her parents and her twin 3-year-old daughters when she called 911, saying that she was having an anxiety attack and needed to take her medications. Two officers, Lieutenant Marlin Primus and Deputy Timothy Legette, arrived shortly and arrested Grier. According to the complaint, Primus "claimed he could smell alcohol on Brianna Grier, stating he was charging Grier with 'public drunk,'" though Legette "later admitted to Georgia Bureau of Investigation (GBI) officials that he did not smell alcohol"on her. 
According to the complaint, Grier herself insisted that she wasn't drunk, and when Grier's body fluids were later tested, no alcohol was found in her system.
The complaint states that Primus and Legette handcuffed Grier—who, in body camera footage of the incident, can be heard threatening to harm herself if arrested. The pair then forced Grier into the back of Legette's patrol car, where she may have hit her head. According to the complaint, Primus did "not protect Grier's head while hoisting and heaving Grier into the vehicle" and "Grier can be heard audibly exclaiming until her head has crossed the threshold of Deputy Legettes's patrol car driver's side back doorframe. Once Grier's head crosses the car doorframe ceiling, Grier is suddenly silent."
A few minutes later, the two officers drove off, leaving the back passenger-side door to the patrol car open. A few minutes later, Grier, who had not been buckled into the car, fell out of the patrol car.
In body camera footage of the incident, the two officers can been seen approaching an unconscious Grier, laying facedown on the side of the road. "Sit up, sit up, sit up," says Primus, moving Grier into a sitting position, adding "she jumped to the car." While the pair's statements are sometimes difficult to hear in released body camera footage, the complaint states that Legette added, "We're gonna need an ambulance."
However, neither officer attempted to administer first aid. As the pair waited for an ambulance, Primus stated that Grier "just bailed out. I might not have had that door shut. That I don't know. That I don't know," after which he motioned for Legette to turn off his body camera.
Grier was eventually airlifted to an Atlanta hospital. The complaint states that Grier had "multiple skull fractures upon arrival to the hospital" and was "declared brain dead," succumbing to her injuries six days later. Last November, the Hancock County District Attorney announced that he would not be seeking criminal charges against the officers.
"A State Actor cannot arrest and handcuff an individual, place them in a dangerous circumstance, and then claim no fault if the person is harmed by precisely the danger created by the State Actors," the complaint states. "As a proximate result of the callous and or reckless actions and omissions described above, Grier was injured, endured physical pain and mental suffering, and was killed."
Grier's case shows just how easily 911 calls seeking medical health for a mentally ill individual can end in tragedy. Grier's aggressive arrest by police and their negligence in failing to buckle her into the car and insure the patrol car door, according to the complaint, directly caused her unnecessary death.
But Brianna Grier didn't need to be arrested, she needed an ambulance—something her parents say had been summoned during their daughter's previous mental health episode—but instead, she got two cops.