Jury Finds Trump Liable for Sexual Abuse and Defamation of Writer E. Jean Carroll
Plus: Biden considering using the 14th Amendment to declare debt ceiling unconstitutional, Department of Energy makes mobile homes less affordable, and more...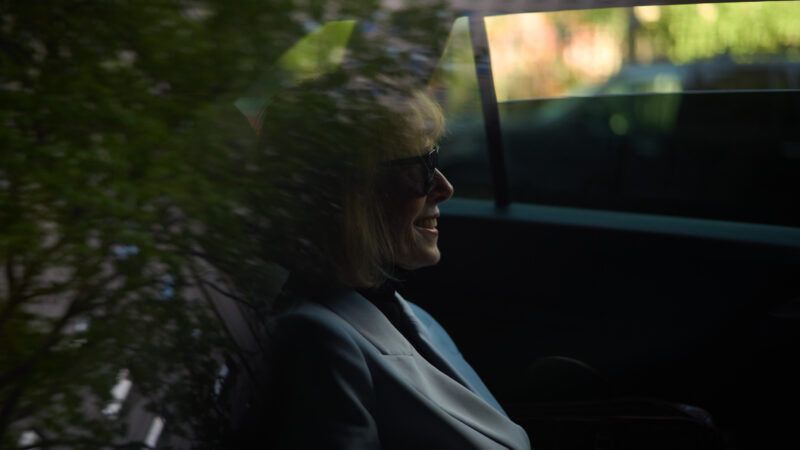 (Edna Leshowitz/ZUMAPRESS/Newscom)
E. Jean Carroll awarded $5 million in civil case against Trump. More than a dozen women have accused President Donald Trump of inappropriate sexual conduct, including numerous allegations of sexual harassment and assault. Now, for the first time, a jury has found Trump guilty of one of these claims. On Tuesday, a Manhattan jury found Trump liable for sexually abusing and defaming writer E. Jean Carroll.
Carroll accused Trump of raping her in a department store dressing room in the 1990s. Trump called the allegation "a complete con job" and "a lie."
The jury did not find Trump guilty of rape, but did find him guilty of sexual abuse and defamation. Carroll was awarded $5 million in damages in the civil court case.
"It was not clear why jurors chose the lesser offense of abuse over rape," notes The New York Times. "Sexual abuse is defined in New York as subjecting a person to sexual contact without consent. Rape is defined under state law as sexual intercourse without consent that involves any penetration of the penis in the vaginal opening."
Nonetheless, Carroll seems satisfied with the verdict. "I filed this lawsuit against Donald Trump to clear my name and to get my life back," she said in a statement. "Today, the world finally knows the truth. This victory is not just for me but for every woman who has suffered because she was not believed."
In a Truth Social post, Trump responded "I have absolutely no idea who this woman is. This verdict is a disgrace—a continuation of the greatest witch hunt of all time!"
Opinions are mixed on whether the jury's finding will hurt Trump politically.
"In a better world it would matter, but in the debased and polarized American politics of 2023, it may not," writes the Wall Street Journal editorial board, expressing some skepticism that this case was brought for the right reasons:
Yet if most Republicans dismiss the verdict as one more political assault, Mr. Trump's opponents and the press have themselves to blame. … This lawsuit, like the two impeachments and the recent Alvin Bragg indictment that stretches the law, seems less an attempt to get at the truth than to find some way, any way, to disqualify him from ever becoming President again. Voters don't like being told that a man they elected should be disqualified by members of the opposite party or the press.
Meanwhile, at The New York Times, David French dismisses the idea that the case was simply a matter of "he said, she said":
Carroll provided her own testimony, of course. But she also presented evidence that she had told others about the assault at the time, as well as evidence from other women that Trump had assaulted them and touched them without their consent.

Trump declined to testify at the trial, but the jury did see his videotaped deposition, during which he denied Carroll's claims but also doubled down on his assertions in the infamous "Access Hollywood" video. "I just start kissing them," he said on the tape, "It's like a magnet. Just kiss. I don't even wait. And when you're a star, they let you do it. You can do anything." He added: "Grab 'em by the [genitals]. You can do anything."

In the deposition, Carroll's lawyer, Roberta A. Kaplan, asked Trump specifically about that quote. "Well, historically, that's true with stars," he responded. When she pressed him, he doubled down: "Well, that's what—if you look over the last million years, I guess that's been largely true," Mr. Trump said. "Not always, but largely true. Unfortunately or fortunately."

I spent decades litigating cases, including a number of sexual harassment cases, and as I watched the evidence accumulate, I reached a tipping point—I would have been surprised by any verdict other than the one we received Tuesday.
But French is still skeptical that the result will make a difference to Republican voters.
The BBC talked to nine Republican female voters and found "his strongest supporters echoed Mr Trump's claim that he is the victim of a witch hunt," while "others said the verdict was further evidence that the party needs to find an alternative in 2024."
"Republicans challenging former President Donald Trump for the 2024 nomination were divided Tuesday after the 76-year-old was found liable for sexual abuse and defamation," notes the New York Post.
A number of Senate Republicans expressed concern that the verdict would affect Trump's electability. "You never liked to hear that a former president has been found—in a civil court—guilty of those types of actions," said South Dakota Sen. Mike Rounds.
Republican strategist Rick Tyler suggested the verdict would matter little to strong Trump supporters but could be bad news for Trump when it comes to swing voters, "making him unelectable in the general."
---
FOLLOW-UP
President Joe Biden is now considering invoking the 14th Amendment to declare limits on U.S. government debt illegal. Last week, Biden said he had "not gotten there yet" but would not rule this extraordinary measure out, as a standoff between Republicans and Democrats over raising the debt ceiling persists. On Tuesday, he told reporters "I have been considering the 14th Amendment." Noting that it would face litigation, he added: "I'm thinking about taking a look at—months down the road—to see what the court would say about whether or not it does work."
---
FREE MINDS
Wikipedia won't comply with U.K. age verification proposal. The U.K.'s massive Online Safety Bill "will touch on almost every aspect of online life in Britain," notes The Guardian. The bill is currently before Parliament. As part of its requirements, websites must have "proportionate systems and processes" designed to prevent minors from encountering harmful content, internet and telecoms lawyer Neil Brown told BBC News. In some cases, this means websites must verify user ages.
But age verification would "violate our commitment to collect minimal data about readers and contributors," the Wikimedia Foundation's Rebecca MacKinnon told the BBC. "The Wikimedia Foundation will not be verifying the age of UK readers or contributors," she said.
Techdirt has more details about the Online Safety Bill and its issues here. "The UK government still hopes to bend the internet to its will, but it's constantly finding out it won't be as easy as just declaring a bunch of stuff illegal," Mike Masnick writes:
The usual suspects have been cited in support of ruining the internet: hate speech, [child pornography], etc. While the proposed measures might have some immediately noticeable effect, those effects will likely be limited to showboat-y, ineffectual fining of non-compliant tech companies, perhaps with a few threats of prosecution thrown into the mix.

Notably, the bill targets tech companies, rather than those engaging in the activities the UK government wants to see eradicated. Tech companies are pushing back, though. Some of the biggest providers of encrypted communication services have already told the UK government they'll exit the British market, rather than make their offerings less secure.

It's not just encryption being targeted by the UK government. The government is also demanding service providers collect and retain more information about their users, supposedly to ensure the proverbial children aren't exposed to content above their pay age grade.
---
FREE MARKETS
A new Department of Energy rule will make manufactured homes less affordable, the Wall Street Journal editorial board warns:
Some 22 million Americans live in manufactured homes, often called mobile homes, and their median household income is $35,000 a year. The average cost of a manufactured home ranges from $72,000 to $132,000, compared to $365,000 for a traditional house. Manufactured homes were about 9% of new single-family home starts in 2021, providing more than 100,000 affordable homes.

Yet they are also the only single-residence housing entirely regulated by the federal government, in part because they are transported around the country after factory production. The Department of Housing and Urban Development for decades oversaw construction, safety and efficiency standards for the units, but in 2007 House Democrats gave the Energy Department power to impose energy-efficiency mandates.

Enter Jennifer Granholm's Energy Department, which last year unveiled a rule that condensed a decade of incremental efficiency rules into one turbocharged mandate. The low-cost manufactured home industry will be subject to standards that far surpass those applied to homes built on lots.
The result could be thousands of dollars tacked on to the cost of new mobile homes.
It's yet another way U.S. regulations are driving up the cost of housing. In so many ways, this country makes small or atypical housing arrangements illegal or more expensive—and folks wonder why we have such a large homeless population.
We get so worried that housing meets certain standards or preferences that we overlook the fact that tiny, crowded, or otherwise less desirable housing is better than no housing at all, a paradox Matthew Yglesias tackled in a Slow Boring post last year. Yglesias notes that mid–20th century, housing in which adults shared rooms was not uncommon, though it is today:
This decline in housing crowding is in part a triumph. Our society has gotten richer, our homes have gotten much larger on average, and material living standards have improved.

But in addition to reducing housing crowding through economic growth, the United States has also waged a multi-faceted war against the legality of small dwellings, with boarding houses and single-room occupancy (SRO) hotels driven out by zoning codes. But rather than improve life for those who would have previously lived in these accommodations, the move has largely shifted people into homeless shelters or sleeping on the street. As long as the unhoused are in shelters, they are largely out of sight out of mind as far as the electorate is concerned. But a mix of objective scarcity of shelter space and rising drug addiction has helped increase the number of visibly homeless people sleeping rough in American urban centers.
A barebones boarding house or hotel room may not be anyone's ideal,
but it is a lot better than sleeping in a car or in a tent. And an accommodation that you actually pay for and rent has considerable advantages over a shelter. It's your space on your terms and you can keep your stuff there.

A market in low-end housing, as opposed to a network of nonprofit- or government-operated shelters also accounts for the fact that tastes and preferences differ. Some people might prefer to stay in an [single-room occupancy] with very strict rules as a way to protect themselves from disorder and nuisance. Others might prefer much laxer rules so they could indulge in alcohol or other private vices.
---
QUICK HITS
• "Working Minnesotans would be guaranteed up to 20 weeks of paid time off to care for a baby, loved one, or their own medical issues under legislation that narrowly passed the state Senate Monday," reports Axios. "A .7% payroll tax, split between employers and employees, would fund the program."
• The latest Washington Post-ABC News poll finds two-thirds of those surveyed support keeping the abortion drug mifepristone legal.
• Rep. Thomas Massie (R–Ky.) opposes a proposal by his Republican colleagues that would require employers to verify workers' citizenship status using E-Verify.
Republicans are about to make a huge mistake.

Biden forced millions of Americans to take VACCINES by threatening their JOBS, and turning EMPLOYERS into enforcers.

Imagine giving Biden the ultimate on/off switch for EMPLOYMENT called E-verify.

Might as well call it V-verify.

— Thomas Massie (@RepThomasMassie) May 7, 2023
• Jordan Neely wasn't killed by "the system," Reason's Billy Binion writes.
• After being fired from Fox News, Tucker Carlson will continue his show on Twitter.
• The Allen, Texas, massacre underlines the false promise of so-called "universal background checks."