Biden, Yellen Won't Rule Out Declaring Debt Ceiling Unconstitutional
Plus: Kansas voting restrictions struck down, the legacy of the "vast wasteland" speech, and more…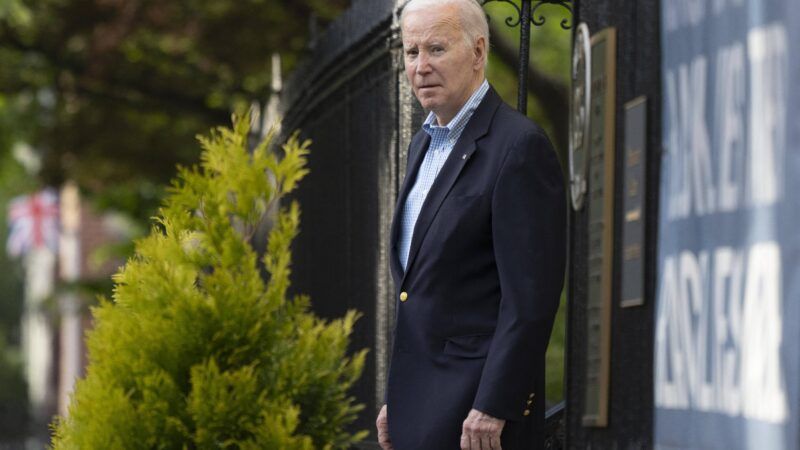 (Chris Kleponis - Pool via CNP // Newscome/RSSIL/Newscom )
Can the president declare the debt ceiling unconstitutional? If Democrats and Republicans don't reach a resolution on raising the government's borrowing limit, the U.S. could have to start defaulting on some payments as soon as June. Rather than compromise with their conservative counterparts to resolve this situation, some Democrats want to declare the debt ceiling itself unconstitutional.
Unilaterally casting aside government borrowing caps like this would have profound and disastrous effects. But that's the sorry point we've reached in these negotiations.
In April, House Republicans passed a bill to raise the debt ceiling—which already stands at $31.4 trillion—in exchange for freezing spending at 2022 levels for a while and rolling back some Democratic initiatives. President Joe Biden and his allies would prefer to raise the debt limit without conditions.
To resolve the standstill, some progressives are now pinning their hopes on the 14th Amendment. It says "the validity of the public debt of the United States, authorized by law, including debts incurred for payment of pensions and bounties for services in suppressing insurrection or rebellion, shall not be questioned."
"Some legal scholars contend that language overrides the statutory borrowing limit," The New York Times reported last week. And some in the Biden administration are buying this argument:
Top economic and legal officials at the White House, the Treasury Department and the Justice Department have made that theory a subject of intense and unresolved debate in recent months, according to several people familiar with the discussions.
On Friday, Biden said he wasn't ready to invoke the 14th Amendment to avoid disruption in government payments. But he didn't rule it out entirely, instead saying that he had "not gotten there yet" (emphasis mine).
On This Week With George Stephanopoulos yesterday, Treasury Secretary Janet Yellen would not say outright that this option was off the table. "We should not get to the point where we need to consider whether the president can go on issuing debt. This would be a constitutional crisis," Yellen said when first asked.
"I don't want to consider emergency options," she added when pressed. "What's important is that members of Congress recognize what their responsibility is and avert…an economic and financial catastrophe."
On ABC, @GStephanopoulos asks @SecYellen four times whether, if Congress fails to raise the debt ceiling, Biden might invoke the 14th Amendment and "continue to issue debt" anyway.

Yellen repeatedly says a crisis would ensue, but she doesn't rule it out. https://t.co/S2qlIEOTRq

— Will Saletan (@saletan) May 7, 2023
The idea that the debt limit might be unconstitutional isn't new—"a group of legal scholars and some liberal activists have pushed the constitutional challenge to the borrowing limit for more than a decade," the Times points out. But "no previous administration has taken it up. Lawyers at the White House and the Justice and Treasury Departments have never issued formal opinions on the question. And legal scholars disagree about the constitutionality of such a move."
If such a move were allowed, the federal government could keep borrowing indiscriminately, which would eventually lead to all sorts of financial troubles.
"No matter what the merits of the debate are, Biden officials fear that investors would demand much higher interest rates to buy government debt that the courts could throw out, since prospects for repayment would be unclear," writes Jeff Stein at The Washington Post:
That could lead federal borrowing costs to spike, as well as drive up rates for other loans, and it could still lead to the same broader panic in financial markets that it is intended to avoid.

"You have to worry about the interest rates, the market reaction, the effect on financial markets that rely on Treasurys. There's no way to avoid potentially significant economic damage given the debate that would ensue," said David Kamin, who served as deputy director of the White House National Economic Council earlier in the Biden administration.
---
FREE MINDS
Kansas voting restrictions ruled unconstitutional. A federal court has rejected some voting restrictions Kansas Republicans passed in 2021. The U.S. District Court for the District of Kansas held that rules violated the First Amendment.
The Voter Participation Center and VoteAmerica "challenged the law's ban on any person or organization soliciting a registered voter by mail and the law's prohibition on sending by mail an application for an advance mail ballot that was personalized with the voter's name and address," reports the Kansas Reflector. "Under the law, it would have been illegal to mail an advance mail ballot application personalized with a voter's name and address even if the voter provided that information and requested the application."
District Judge Kathryn Vratil wrote in her decision that the ban on sending out personalized ballot applications restricted "core political speech and association" and that the law—which made it a misdemeanor to go against it—could criminalize "a substantial amount of protected speech."
---
FREE MARKETS
Newton Minow has died. Minow, who ran the Federal Communications Commission (FCC) in the early 1960s, was best known for a speech he gave to the National Association of Broadcasters in May 1961.
"The address lasted almost 40 minutes and was more than 5,000 words long," Reason's Peter Suderman wrote in 2014, "but in the days and decades that followed it was remembered almost exclusively for just two words: 'vast wasteland'":
That was Minow's sour description of the burgeoning world of television. The speech was delivered from his perch as the nation's top broadcast regulator, yet it was framed in more personal terms. "I am the chairman of the FCC," Minow said. "But I am also a television viewer," one who has seen "a great many television programs that seemed to me eminently worthwhile." He had no complaint with those shows, the ones he liked to watch. His objection was to the rest of the TV lineup. It was pulpy, profane, populist, and crude, and he wanted it to change.

Minow wasn't acting as broadcast bureaucrat so much as he was playing amateur TV critic. His complaint was the same complaint made by so many grumbling channel surfers: There's nothing on.

But the difference between his critique and most armchair TV criticism was that Minow's was backed by the explicit threat of enforcement. To the broadcasting professionals assembled, he said, "I understand that many people feel that in the past licenses were often renewed pro forma, I say to you now: Renewal will not be pro forma in the future. There is nothing permanent or sacred about a broadcast license." Television was a public good, and broadcasters owed the public for the airwaves they controlled. "I intend to see that your debt is paid with service."

The warning was as subtle as a gun to the head, although Minow probably would have objected to that metaphor. The speech, which had a huge and immediate impact on broadcasters and the public, ranks as one of the highest profile exercises of censorious paternalism in modern history—and also, in its central argument, one of the most blatantly wrong.
It was the deregulation of television programming, not threats from central planners, that eventually ushered in a golden era of American TV. "Over the past two decades, as TV has increasingly slipped the bit of government regulation from its mouth, programming has dramatically improved," Glenn Garvin wrote in 2014. "Critics and television historians have arrived at a consensus that the Golden Age of television was not the 1950s but right now, and that it was ushered in by HBO, which shattered the TV programming mold with The Sopranos." And the reason HBO was able to do this is because "a premium-cable network beholden neither to the Federal Communications Commission nor to advertisers was more free to unleash flying lead and billowing bosoms than its broadcast rivals."
---
QUICK HITS
• At least eight people, including some children, were killed by a shooter at an Allen, Texas, outlet mall on Saturday. The Texas Department of Public Safety said yesterday that the shooter—who was killed by a police officer—was 33-year-old Mauricio Garcia of Dallas and that his motivation for the shooting is still unknown.
• Another eight people were killed in an act of violence in Brownsville, Texas, on Sunday, after someone drove an SUV into a crowd of people waiting at a bus stop outside a migrant shelter. At least 10 additional people were injured. "Brownsville police investigator Martin Sandoval, who confirmed the latest death Sunday evening, said police did not know whether the collision was intentional," the Associated Press reports.
• Meet the Republican lawmakers breaking from their party to vote down state abortion bans.
• The Foundation for Individual Rights and Expression (FIRE) warns that a new bill before Florida Gov. Ron DeSantis—Senate Bill 266—"doubles down on the Stop WOKE Act, which unconstitutionally bans ideas a majority of Florida lawmakers disfavor from college classrooms, despite the fact that FIRE, the NAACP Legal Defense and Educational Fund, and the American Civil Liberties Union secured a preliminary injunction from a federal court last November blocking Florida's public universities from enforcing the law."
• Academics are protesting "unethical" scientific journal fees.
• "It's been a tough start to 2023 for moderates hoping for a return to normalcy in our politics," writes Josh Kraushaar at Axios.