D.C. Smoke Shop Owner: 'I Know I'm Doing the Right Thing.'
Thanks to the city's Initiative 71, Lit City Smoke Shop is part of D.C.'s thriving weed-gifting industry.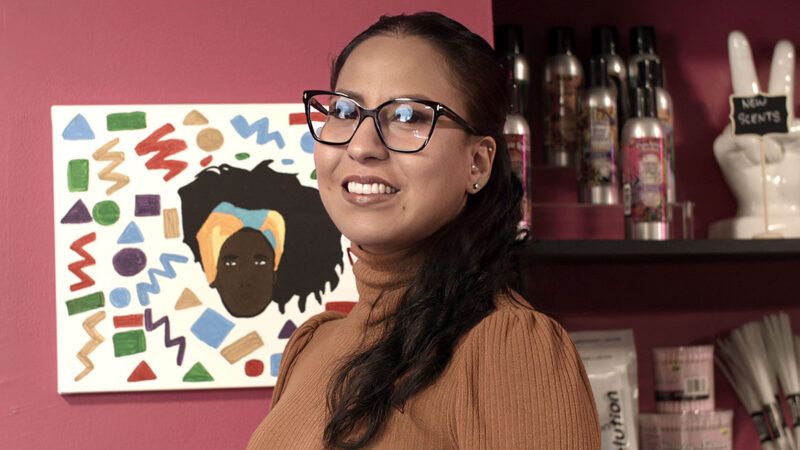 (Photo: Justin Zuckerman)
Diana Alvarez's son always wanted to go to college, so she started working in a smoke shop to earn some extra cash. What started as a part-time job evolved into a full-time family business: Lit City Smoke Shop, located in Washington, D.C. When the city passed Initiative 71, making it legal to possess up to two ounces of marijuana for personal use, the law allowed stores to "gift" small amounts of weed as long as a customer bought another item. Now Lit City is part of D.C.'s thriving gifting industry.
While reporting a video for Reason in November, Justin Zuckerman visited Alvarez at her shop to talk about the hardships of running a small business that's part of a new industry.
Q: What is your relationship with the police? Has your store ever been raided?
A: The relationship with the police was always good from the start. I would actually have a couple of police officers come by at the time we were selling tobacco.
What happened, unfortunately, was that a shop opened up next to mine and they didn't have their stuff in order. I pay taxes. I pay employee taxes. I have a business license, a certificate of occupancy to operate here. So this other business, I'm not really sure how they were running things or what they were doing, but because they got raided and we were right next to each other, I was also caught in the crossfire. I was raided three times.
I wouldn't say that the police were actually targeting me per se. They were just doing their work, their due diligence. I was never prosecuted. So I was able to conduct business and open up my shop the next day or two days later, after cleaning up everything.
Q: What did the police do when they raided your shop?
A: They came in early one morning and they took all of the day's worth of merchandise. They took all my CBD products, which was very disheartening because CBD is very expensive. They destroyed the door. They took our computers and the security system. They took the DVR stuff that we had in the back for the security system. I was able to get my computers back, but that was it.
Q: What is the difference between an I-71 store and a dispensary?
A: Customers choose our store over a dispensary because of how personable it is. It's a safe haven. We just ask for an ID that says you're 21 years of age. We don't require medical licenses. We don't ask who you work for. It doesn't matter.
I don't discriminate against who comes in here. You could be who you are, come as you are. And we will provide good customer service. It's a personal choice. They can come here and safely obtain what they want. We are therapists here. We're not just cashiers. They've been coming here for years. And it's not just because they want to get high. We educate our community.
You can come in here for CBD, which is really one of my top sellers. We have CBD lollipops that are so good. I have cancer patients that come in here and they've told me verbatim how much it's helped them after chemo to have a CBD lollipop. For people to come in here and tell me their stories, I know I'm doing the right thing.
This interview has been condensed and edited for style and clarity.