This California Bill Would Mandate Punishment of Marijuana Debtors Without a Hearing
To address an "unpaid debt bubble," the proposed law would dictate contract terms and require regulators to intervene in commercial disputes.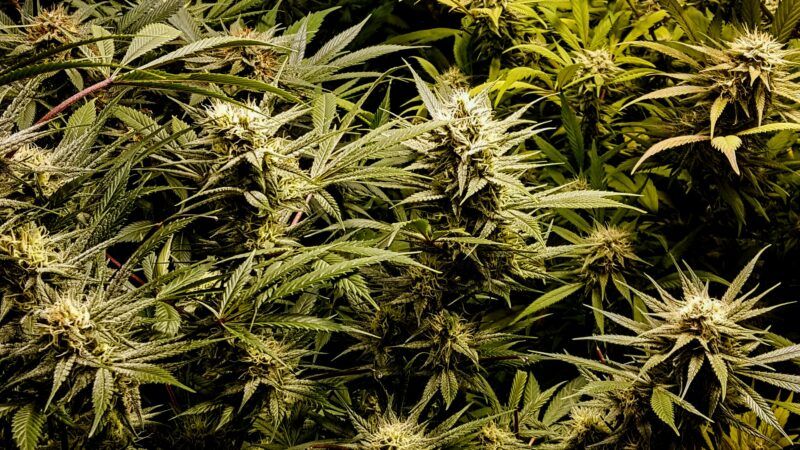 California's cannabis industry, which includes state-licensed growers, manufacturers, testing companies, distributors, retailers, and event organizers, has a deadbeat problem. In a business that generated $5.3 billion in sales last year, bills for marijuana products and services frequently go unpaid, leaving creditors in the lurch and compounding the financial difficulties created by federal prohibition.
According to an estimate cited by Assembly Member Phil Ting (D–San Francisco), "the unpaid debt bubble is over $600 million across California's supply chain." But Ting's solution—a bill that would inject state regulators into debt disputes between marijuana businesses—could create new problems by interfering with freedom of contract and penalizing licensees without due process.
A.B. 766, which Ting introduced in March, would require cannabis licensees to pay bills for goods or services totaling $5,000 or more within 15 days of the final date listed on the invoice. That date could be no more than 30 days after the goods were delivered or the services were performed.
When a buyer misses that state-prescribed deadline, the seller would be required to file a report with the California Department of Cannabis Control (DCC). The DCC would then be required to notify the buyer of the violation and "commence a disciplinary action," which could lead to suspension or revocation of his license if he fails to "pay the outstanding invoice in full" within 30 days of the notice. In the meantime, the buyer would not be allowed to "purchase goods or services from another licensee on credit."
Griffen Thorne, an attorney at the Los Angeles office of Harris Bricken, a firm that specializes in cannabis law, says the problem that Ting describes is real. But Thorne is troubled by the implications of dictating contract terms, requiring businesses to report collection issues, and imposing a penalty based on nothing more than a report, which might be based on disputed facts.
Under A.B. 766, a business would no longer be free to set the terms of a transaction. In particular, the bill defines what it means to be unacceptably late in paying an invoice. "I have seen plenty of cannabis contracts with fully negotiated payment terms that might violate AB 766," Thorne writes on Harris Bricken's blog. "If AB 766 becomes law, it will mean that the government dictates commercial [contract] payment terms."
The bill would make reporting of unpaid debts mandatory. "It is inevitable that licensees will not report every violation," Thorne writes. "Would they then be subject to potential discipline? It sure seems like it. I can't tell you how much harder it will be to settle payment disputes once one side has reported the other to the state. I can entertain an argument that licensees should be free to report each other, but requiring reporting of contract breaches is totally indefensible."
Under the current version of A.B. 766, a report immediately excludes an allegedly delinquent business from buying on credit, which could have a crippling effect. "The person making the report has to give the DCC almost no information in order to make the report," Thorne notes. "There is no hearing. There does not even seem to be an opportunity to contest the report. The second a report is made, the other side loses its rights to buy goods on credit—presumably even under preexisting contractual arrangements with third parties. This seems like an obvious due process concern and ripe for abuse."
A.B. 766 does not "address what happens in the event of a disputed invoice," Thorne adds. "What if XYZ retailer doesn't pay ABC because the goods XYZ bought were moldy? Well, it looks like ABC would still have to report it. Again, this makes no sense."
Ting's bill has split the cannabis industry in predictable ways. It is supported by the Cannabis Distribution Association, the California Cannabis Manufacturers Association, and the California Cannabis Industry Association. They say A.B. 766 "would address the debt crisis in the California cannabis industry by establishing clear terms of sale across the supply chain and by establishing oversight of sales on credit payment."
A coalition of retailers opposes A.B. 766 in its current form. They say they "strongly believe that this solution is much too drastic and punitive in nature and will result in greater net negative for the industry and the state of California." They note that "the same challenges have existed in other states where state legal cannabis markets have existed for many years" and that "those states have seen no need to implement such a punitive solution."
According to the appropriations report on A.B. 766, the DCC estimates that it would need "at least $10.2 million for the first year and $9.7 million ongoing for various legal, compliance, and administrative staff to implement this bill." The department notes that Ting's bill would require it to "serve as a contractual arbitrator between licensees and to enforce on those that do not pay their contractual obligations." It adds that "there is an existing legal system in place for businesses to seek a remedy for contract violations and nonpayment of services, and this bill essentially replicates the functions of the civil court system for contract violations."
What is the rationale for treating the cannabis industry differently from other businesses in this respect? Here is what A.B. 766's supporters say, as summarized by the appropriations report:
Because commercial cannabis activity is not legal at the federal level, the legal cannabis industry does not have access to the same banking, credit, or financing options available to other industries. Instead, the cannabis industry is mostly cash-based. According to the sponsors, cannabis businesses instead offer goods on credit to make up for the lack of normal financing options. They also note the credit terms may be extended to 60, 90, 120, or more days for payment. However, because there is no way to verify the creditworthiness of any other cannabis licensee, licensees are at risk of becoming overleveraged, owing more debt than they can pay back.
Thorne is skeptical of that explanation. Lack of access to financial services is a serious problem, he says in an email, and "it's also true that what financing is available often is predatory." But he adds that he's "not so sure that this is the cause of the current situation."
Thorne agrees with Ting that unpaid debts are "a huge concern" for the industry. "Collection on cannabis contracts has been very difficult for a long time, even before the current economic downturn," he says. He thinks there are two main reasons for that.
First, "contracts tend to be on net terms where payment isn't made on transfer but at some point in the future. Sometimes, parties aren't obligated to pay until they themselves have sold product further downstream. There can be a lot of intervening issues that make it difficult to collect when payment is not due for sometimes weeks or months and is contingent on a third party's performance."
Second, "the cannabis industry is way too fast paced, and licensees often don't want to spend a lot or can't spend a lot on drafting and negotiating contracts. So what you see often are handshake deals or simple purchase orders. Generally speaking, if you don't have a contract that allows you to recoup attorneys' fees, you don't get them. Attorneys' fees are a huge way to incentivize collections because the non-paying party knows that they will be on the hook for the other side's fees if they lose."
In a recent blog post, Hilary Bricken, a partner in Thorne's firm, explains how marijuana businesses can use the current system to collect overdue debts. Thorne thinks closer attention to contract terms, especially as they relate to compensation for legal fees incurred by a prevailing plaintiff seeking payment for goods or services, would help address the "unpaid debt bubble" without requiring evidently reluctant regulators to take on that problem.