Don't Be Fooled by Randi Weingarten's Rehabilitation Tour
The teachers union head honcho is trying to engage in some astonishing revisionism, claiming she actually wasn't opposed to school reopening.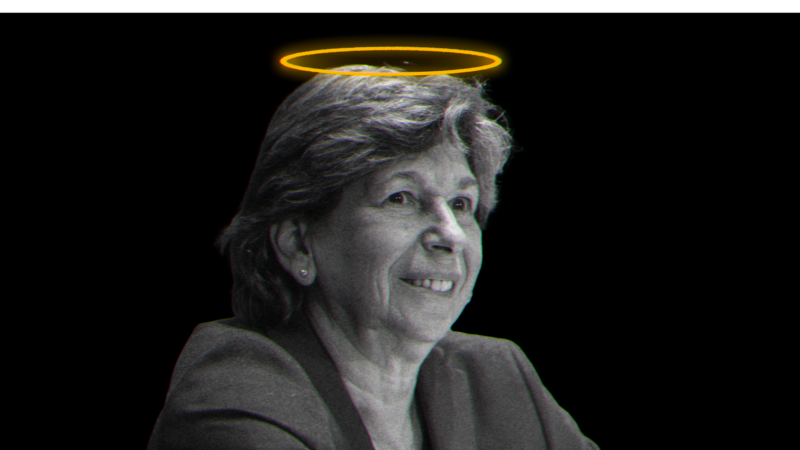 (Illustration: Lex Villena; Rod Lamkey - Cnp/ZUMAPRESS/Newscom)
On Tuesday, the fact-checkers over at PolitiFact—which is run by the Poynter Institute, that nonprofit focused on media literacy and journalism ethics training—declared that "it's misleading to suggest that [American Federation of Teachers President Randi Weingarten] didn't want to pursue reopening schools at all."
"As educators, parents and students struggled through the early COVID-19 pandemic to balance learning with health safety rules, teachers union president Randi Weingarten grappled, too," wrote Madison Czopek in a piece that attempts to evaluate Weingarten's truth telling before the House Select Subcommittee on the Coronavirus Pandemic last week (approvingly shared on Twitter by the subject herself). Czopek proceeded to go line by line not evaluating Weingarten's numerous claims during her testimony or on her recent media tour, but rather the claims made by Twitter users who added community-sourced context to the AFT head's tweet.
Republicans on the House Covid subcommittee want you to think I wanted to keep schools closed. Here's what I actually said… over & over again. pic.twitter.com/TTWuYgC5nN

— Randi Weingarten ????????????????????????????‍???? (@rweingarten) April 26, 2023
"Weingarten advocated for tailored approaches that prioritized safety needs of individual districts, educators and students but stopped short of endorsing a full return to in-person learning all across the country," wrote Czopek, which sounds an awful lot like Weingarten's own hair splitting. "The AFT's reopening plan, first released in April 2020, prioritized maintaining physical distance between people, establishing COVID-19 testing protocols and involving school staff and parents in these decisions. It also called for federal aid to help schools prepare."
Weingarten has offered a similar line recently: It's not that she or the AFT opposed school reopening, you see. It's that they just wanted schools to safely reopen and, well, when various actors didn't accede to their polite requests, they had no choice but to remain closed. What's conveniently excluded from that framing is the ludicrousness of union demands, the constant goalpost shifting, the coffin-protest hysterics, and the degree to which American school closures were out of step with the rest of the developed world, most severely in blue states and cities.
For example, one demand in the union's April 2020 reopening plan (touted repeatedly by Weingarten over the last week) was the cancellation of student loan debt for all teachers, which you might notice is unrelated to airborne virus spread. Another involved a temporary moratorium on teacher evaluations (which would make it hard to assess whether they were actually doing their jobs) while a third involved "rethinking student assessments"(which would make it hard to ensure children are actually learning).
Today's (hagiographic) NYT piece on Randi Weingarten is unintentionally hilarious at times. These teachers unions had *absurd* demands––why did they need their student-loan debt canceled in order to go back into the classroom safely? Have we ever gotten this one answered? pic.twitter.com/vypGxCFRn3

— Liz Wolfe (@LizWolfeReason) April 28, 2023
"Safe reopening" is, after all, a convenient and subjective turn of phrase to hide behind. As The New York Times' Jonathan Mahler summarized it:
Because of the decentralized structure of America's public-education system, which has some 14,000 different school districts, the federal government could not order schools to reopen for in-person learning, but in July 2020, President [Donald] Trump threatened to withhold federal funds from those that didn't. His education secretary, Betsy DeVos, echoed his sentiments, demanding that the nation's schools be "fully operational" by the fall without providing a specific plan for doing so.…

Weingarten did not believe the Trump administration was giving schools what teachers needed to return to work safely. She publicly denounced Trump and DeVos's call to reopen as "reckless," "callous" and "cruel," and the A.F.T. passed a resolution supporting local strikes if schools were forced to reopen in areas where a variety of safety conditions hadn't been met.
Florida served, in fall 2020, as an early experiment in whether schools could safely reopen (just as they had in France, Germany, the U.K., Italy, Switzerland, the Netherlands, Norway, Sweden, Spain, Poland, and Greece). But stateside, "an A.F.T. political action committee produced a TV ad attacking Trump, citing claims that schools were becoming superspreader sites and that children were being used as 'guinea pigs,'" after Florida reopened, added Mahler (in a piece that goes easy on Weingarten).
One might be forgiven for thinking, then, that the union and its leader were waging a pitched ideological battle, not waiting for evidence before determining the best path forward.
"In Feb. 2021, long after the rest of the world knew better, Weingarten advocated closing entire schools for a 24-hour wipedown if a single person tested positive for COVID," wrote Reason's Matt Welch this week. "This is not working to keep schools open, this is working to keep schools closed."
In New York City, the mayor at the time shuttered schools in November 2020 because the  positivity rate had gotten above 3 percent "even though that community spread threshold was far below those recommended by international health authorities, and weekly tests inside school buildings were showing a minuscule positivity rate of 0.18 percent," wrote Welch, adding that unions also influenced New York's policy of instituting "mandatory 10-day closures for any school with 2 positive cases," which led to kids having very little in-person instruction.
"Weingarten helped influence the CDC's global outlier of a Feb. 2021 recommendation that students have an average of 6 feet of distance from one another" in classrooms, which "effectively sentenced millions to 'hybrid' learning purgatory," added Welch.
It was Weingarten's benign-seeming safetyism, in other words, that informed many school districts' approaches—and led to kids in blue states and cities being forced to sit at home for months on end.
"Children are the least at-risk population, but in many areas of the country they continue to face draconian mitigation policies—either in their name (low chance of serious COVID complications doesn't mean no chance) or in the name of protecting their elders," wrote Mary Katharine Ham in The Atlantic back in January 2022. "In our focus on one threat, we've let a thousand others flourish: learning loss, destabilization of the public-school system due to under-enrollment, self-harm, behavioral problems."
"To request a cost-benefit analysis of any COVID-mitigation policy in places where this style of thinking prevails is to be accused of desiring child sacrifice. The Alexandria City Public Schools board member Margaret Lorber asked parents in 2021, 'Do you want your child to be alive or to be educated?'" added Ham. Of course such rhetoric seems permissible to public officials when teachers unions have been carrying coffins to protest in the streets and writing mock obituaries for themselves.
"I have worked for the last 20 or 30 years helping kids every single day. I've been a schoolteacher, I've been a union leader," Weingarten said, in yoga-teacher tones, during a CNN panel last week. This, like many other things Weingarten claims, is not really accurate unless you're willing to stretch the truth like it's a Gumby toy.
Weingarten worked for six years as a history teacher early on in her 40-year career. But for most of her life, she has advocated for teachers' interests, which is demonstrably not the same as "helping kids."
To tell parents, many of whom are concerned by the two decades' worth of progress wiped out in math and reading for fourth-graders; the fact that eighth-graders' average math scores fell in all 50 states minus one; and may have in some cases initiated the exodus of some of the 1.3 million children from the public school system, that the person who helped keep schools closed has their kids' best interests in mind is deeply offensive. Her job is fundamentally to secure higher pay and more job protection for teachers who pay union dues, not to make sure your child is happy, healthy, or safe.