'Reprehensible and Plainly Unconstitutional': Child Welfare Agents Took Their Kids. Now They're Suing.
Even though a family pediatrician said she had "zero concerns," child welfare services still seized Josh Sabey's and Sarah Perkins' two young children. It took four months for the couple to regain custody.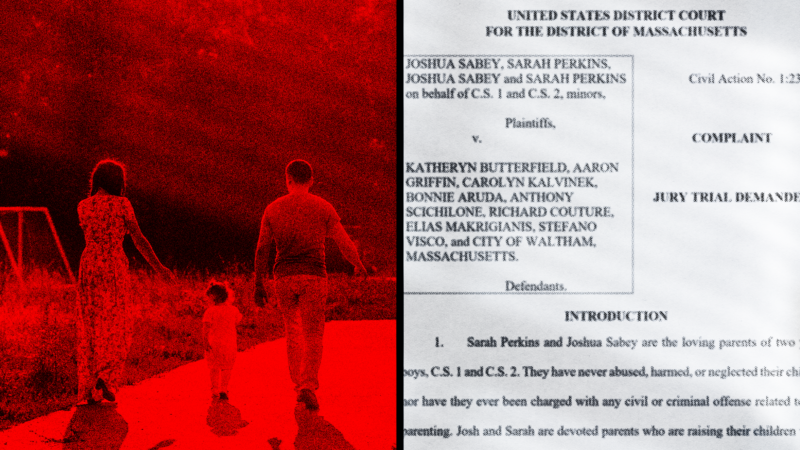 Last July, Josh Sabey's and Sarah Perkins' two young children were seized by child welfare officials in the middle of the night without a warrant. Because of a minor injury to their youngest child, the Massachusetts Department of Families officials attempted to keep custody of the children for nearly four months. The couple has now filed a lawsuit, arguing that the state's seizure of their children was "reprehensible and plainly unconstitutional."
"The officials had no warrant to enter the Sabeys' home or seize the young Sabey children," the 33-page complaint states. "And there was no plausible imminent threat that could justify entering the home and seizing the sleeping toddler and infant from their loving parents."
On July 12th, 2022, the Sabeys' youngest child, 3-month-old Cal—named in the lawsuit as C.S. 2—developed a high fever, leading Sarah to take him to the emergency room at the advice of the family's pediatrician. At the hospital, Cal was diagnosed with a respiratory infection. During an X-ray to search for pneumonia, doctors found a small, almost-healed fracture on Cal's rib—an injury many doctors view as a sign of child abuse.
This single injury sparked an investigation by child welfare officials. The lawsuit claims the agency subjected Sarah, in particular, to humiliating, antagonistic questioning. While Sarah says she was concerned that her son's high fever was being ignored in favor of a nearly-healed facture, investigators reported that her "affect" was "flat." When she began crying as Cal was subjected to a DCF-mandated blood test that took multiple attempts, this was recorded as suspicious. "The DCF worker told us later that they had reported that I was extremely upset," Perkins told The Washington Post. "Their concern was that I seemed upset that they might find something in the test."
During interviews, the complaint notes that both parents denied knowing the source of the injury—though when asked to speculate, Perkins said that it could have come from a falling off a bed several weeks earlier.
There was also another hypothesis about the source of Cal's injury—though DCF officials didn't know at the time. According to a later Washington Post interview with the couple, the children's grandmother filed an affidavit attesting that, while babysitting the children, she had taken Cal out of his car seat when "His head began to roll back, and she grasped him tightly. She recalls that he shrieked—but he was quickly consoled, she says, and she didn't think to mention anything to his parents at the time."
Despite several days of investigation, child welfare officials could not find any evidence of abuse other than Cal's minor injury. Officials conducted multiple interviews with the family's pediatrician, who told officials she had "zero concerns." Government agents also made several visits—including an unannounced house call—to the family's home and found no signs of neglect or abuse. They also asked the police for any records involving the Sabeys, which also turned up nothing. The family pediatrician even examined Clarence, the couple's older child, and found no signs of abuse or injury.
However, this wasn't enough to keep DCF from seizing the couple's children. Despite the dearth of evidence, DCF decided that the children were in imminent danger and concluded that they needed to be taken from their parents. The lawsuit states that the officials who made the call to seize the children "did not do so on the basis of any new evidence or information collected during DCF's investigation; instead, she based her decision on C.S. 2's healing rib fractures that DCF had been aware of for more than two days."
At 1:00 a.m. on July 16, multiple police officers and DCF employees arrived at the Sabey home and demanded that the couple hand over their children. While neither law enforcement nor DCF employees had a warrant, they insisted that if the couple "did not surrender the children to the police officers at the door, they would break into the Sabeys' home and seize the children by force." After this threat, the complaint notes, "Josh and Sarah woke their children and placed them, crying, into the officials' vehicles. The children were driven away into the night."
The Sabeys wouldn't regain full custody of their children for nearly four months. During that time, "DCF failed to uncover any evidence of abuse, neglect, or maltreatment that justified their initial unlawful seizure of the children or their continued denial of full parental rights to the Sabeys," according to the lawsuit.
While the Sabeys' story is harrowing, it's hardly uncommon. In the United States, it is estimated that as many as 1 in 3 children are the subject of a child welfare investigation by the time they turn 18. When alleged abuse or neglect is investigated, warrantless home entries are common. According to ProPublica and NBC, 40 child welfare agencies said they "only obtain a warrant or court order to search a home—or call the police for help—in rare cases when they are denied entry. None said they keep any data on how often they get an entry order."
Making matters worse, child welfare employees are often trained by police to be "very much based around the idea of finding out the truth, interrogating parents, interrogating children, and the idea that there has to be something here, otherwise you wouldn't be here," law professor Anna Arons told the Post. Arons added that many child welfare agencies will view it as an indication of danger if a parent objects to any part of the investigation, "and I think any parent would very fairly voice dissent."
Some child welfare agencies use scant evidence to take children from their parents. What goes unacknowledged is the immense suffering—and legal costs—foisted on innocent families.
"While the Sabeys were ultimately—and obviously—cleared of any wrongdoing, and the children were eventually reunited with their parents, nothing can undo the trauma of that early July morning and the prolonged abrogation of the Sabeys' parental rights," the complaint writes. "For parents, the emotional and physical toll of having your crying children torn from your arms never goes away."