Rivian Continues To Hemorrhage Money Despite $1.5 Billion in State Incentives
According to a new Bloomberg report, Rivian has lost 93 percent of its market value since November 2021. The state of Georgia is still on the hook for as much as $1.5 billion in state incentives.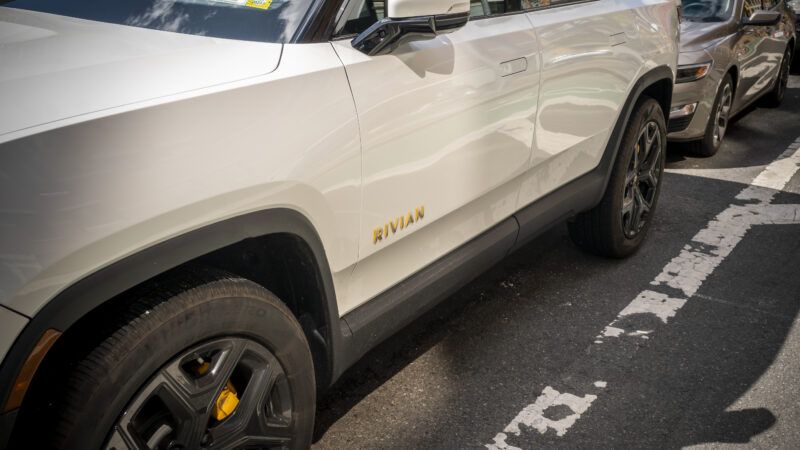 (Richard B. Levine/Newscom)
The market for electric vehicles in the U.S. continues to grow: In January 2023, 7.1 percent of all new light-duty vehicles registered were electric, a 74 percent year-over-year increase. During that same period, Tesla's market share dropped from 72 percent to 58 percent, a sign of serious competition in the space.
Unfortunately, not every company is reaping the benefits: According to a report from Bloomberg, market analysts are increasingly skeptical about the future prospects of Rivian, maker of luxury all-electric trucks and SUVs. In the years since its founding, the company has received multi-billion-dollar investments from established firms like Ford and Amazon, and the state of Georgia is giving as much as $1.5 billion in state incentives for Rivian to build a factory there.
Last month, Reason reported that after a successful November 2021 initial public offering (IPO) that saw its balance sheet swell to $18.1 billion in cash and a market cap of more than $150 billion, "Rivian's stock lost 80 percent of its value, making it 2022's worst-performing stock on the NASDAQ 100." Additionally, by December 2022, "Rivian's cash on hand had fallen 36 percent, to $11.6 billion."
According to Bloomberg, the company's market cap "now stands at less than $12 billion after a 93% stock wipeout, reflecting almost no value beyond the company's cash hoard," which it cited as "cash and equivalents of $11.6 billion and debt of $1.6 billion." First-quarter revenue projections "have fallen more than 25% since the end of December." And despite struggling to fill its own orders amid rising interest rates, the company may have to come up with even more cash, and quickly.
Ivana Delevska, chief investment officer at SPEAR Invest, told Bloomberg that Rivian "still needs to invest several billion dollars to prove out its business model." Similarly, Alexander Potter of investment bank Piper Sandler said that while the company "shouldn't abandon its strategy," it would likely need to raise at least $4 billion by 2025 to fund its projected growth.
There's a problem with that: Rivian is required to invest at least $5 billion in its Georgia factory by the end of 2028 in order to qualify for the full $1.5 billion in state incentives. Even under the company's own best estimates, that's a gamble. CEO R.J. Scaringe told The Atlanta Journal-Constitution that the company's future was inextricably tied to the Georgia factory, saying "There's not another option…. This must work." Further, the company doesn't expect to be able to manufacture any vehicles from the Georgia plant until at least 2026.
Rivian's own CFO doesn't expect the company to be profitable until sometime in 2024, and even then, it's not clear that those profits will be enough to make up for the losses the company has already accrued. Meanwhile, the state of Georgia will still have committed hundreds of millions of dollars, or more, in taxpayer-funded incentives.
Americans tend to keep their cars for around 12 years on average. Since the majority of motorists will be in the market within a given decade, electric vehicles are a relatively easy way to introduce clean, climate-friendly technology into widespread usage. And with growing demand in the market, numerous automakers are stepping up to fill that need. But it's important to let the market lead the way forward, not government planners. Unfortunately, Rivian—and Georgia's risky bet on a growth-stage company—may serve as a cautionary tale on central planning.