This Georgia Man Has Been Jailed for 10 Years Without a Trial
In 2013, Maurice Jimmerson was charged with murder. Ten years later, he's still languishing in a Dougherty County jail, awaiting trial.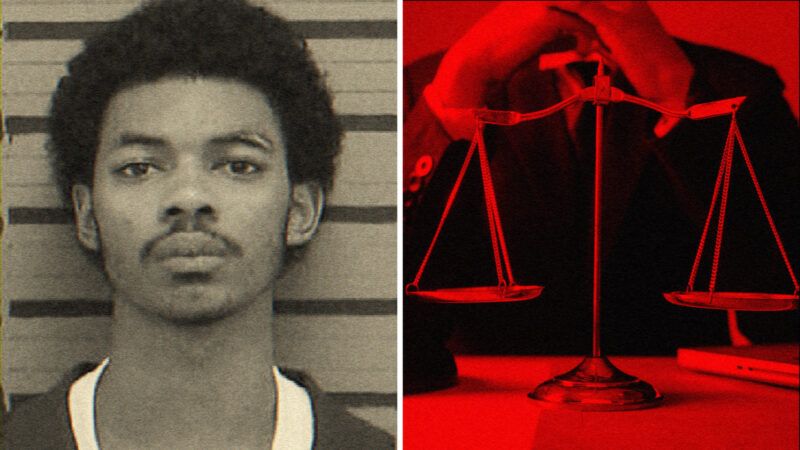 (Illustration: Lex Villena, Doughtery County Jail)
In 2013, Maurice Jimmerson was charged with murder. Ten years later, he still hasn't received a trial. Even though two of Jimmerson's codefendants were acquitted in 2017, Jimmerson—who pleaded not guilty—still languishes in jail in Dougherty County, Georgia, with little hope of a trial anytime soon. Making matters worse, he hasn't had a lawyer since last summer.
According to Gregory Edwards, the local district attorney, several factors have led to Jimmerson's absurdly long wait time for a trial. Edwards told Atlanta News First (ANF), a local news station, that the COVID-19 pandemic, a 2021 courthouse flood, and the decision by the previous judge to try Jimmerson and his codefendants separately caused the delay. Making matters worse, Edwards also says the county has been unable to find a public defender for Jimmerson, which has lengthened his time behind bars.
"Jimmerson's case, it's a rare situation," Edwards told ANF "We want to get to trial eventually."
While these recent issues have considerably slowed down Jimmerson's path to a trial, it's not clear why he was not tried before 2020.
Jimmerson has been left without an attorney for the past eight months due to a particularly Kafkaesque string of bureaucratic errors. According to ANF, Jimmerson's old attorney, Benjamin Harrell, filed requests in July and August of last year to be released from the case, citing that he would need to travel frequently to obtain necessary medical care for his infant daughter.
However, the local county clerk's office misplaced a judicial order formally releasing Harrell from his position as Jimmerson's attorney. When Jimmerson sent a request for a new attorney in September 2022, it went unnoticed, according to one judicial assistant who spoke to ANF.
Because court employees lost Harrell's request to be released from Jimmerson's case, he was technically listed as Jimmerson's attorney until April 12 of this year—seemingly only after ANF journalists asked one judge why she never signed an order releasing Harrell. Though Jimmerson never received actual legal help from Harrell during this time, the Georgia Public Defender Council insists that Jimmerson has had access to legal counsel during the past eight months, despite the error.
"A court error, if one took place, does not obviate Mr. Harrell's responsibilities or representation," said Thomas O'Conner, the Public Defender Council's communications director. "In law and in fact, Mr. Harrell was Mr. Jimmerson's attorney until April 12; assertions to the contrary are deliberately misleading."
ANF notes that Georgia's public defender system is plagued with issues, primarily understaffing and difficulty retaining attorneys. One judge insists that "We have too few public defenders for the work to be done," adding that "The lack of public defenders slows down the judicial process."
However, the director of the Georgia Public Defender Council disputes this, saying, "We have more employees than we've ever had in the history of the agency. We have more funding than we've ever had in the history of the agency and that's the last two years."
Regardless of the source of the issues, it's clear that something is very wrong. When sloppy bureaucracies go unchecked, defendants like Jimmerson—who cannot afford their own lawyers and must rely on public defenders—are in danger of being effectively denied their Sixth Amendment right to a speedy trial.
"To claim that Mr. Jimmerson was 'represented' under these circumstances makes a mockery of the right to counsel," Maya Chaudhuri, an attorney for the Southern Center for Human Rights, told ANF. "This is certainly not the type of 'representation' anyone of means would pay for."