Georgia Jail Officials Resign After Inmate Found Dead and Covered With Insects
"They put that man in that cell, left him there to die," said an attorney for the man's family. "And that's exactly what happened."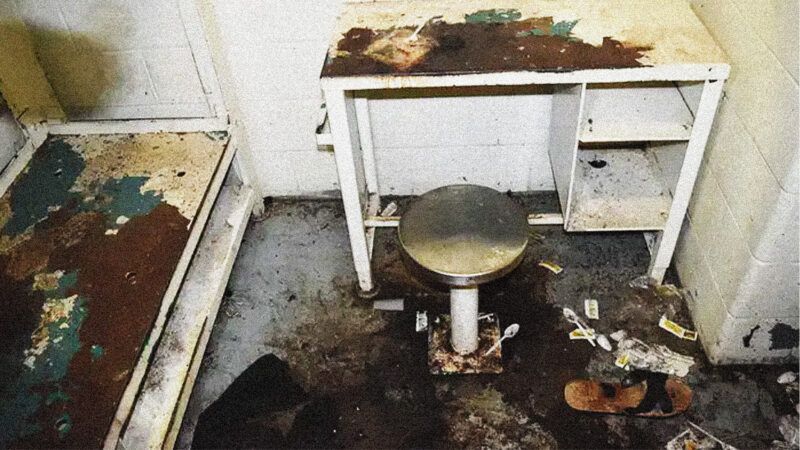 Three Fulton County, Georgia, jail employees have resigned after a mentally ill inmate was found dead in his cell, allegedly "eaten alive" by insects. The man's family is demanding a criminal investigation into the incident and the conduct of jail staff and the closure of the jail itself.
"They put that man in that cell, left him there to die," Michael Harper, the family's attorney, said during a Thursday press conference. "And that's exactly what happened."
LaShawn Thompson, who had schizophrenia, was found dead last September in his cell in the Fulton County Jail outside Atlanta. According to WSB-TV, a local news station, Thompson was detained for three months after being arrested for simple battery in June. He was held in the jail's psychiatric ward.
The Washington Post reported last week that the jail documents stated that the first jail employee who found Thompson's body "freaked out" and refused to perform CPR. The report further notes that Thompson's body was covered in lice, bedbugs, and numerous lesions. Graphic photos released by the Thompson family's attorney show that Thompson's cell was covered in filth and insects at the time of his death, though the autopsy listed the cause of Thompson's death as "undetermined."
Fulton County law enforcement officials responded to building outrage over Thompson's death on Monday. "It's clear to me that it's time, past time, to clean house," said Fulton County Sherriff Pat Labat in a statement about the incident, which also announced the resignation of the jail's Chief Jailer and two Assistant Chief Jailers.
Labat also noted that an internal investigation into the matter is ongoing. "The final investigative report will not ease the family's grief or bring their loved one back, but it is my hope and expectation that it provides a full, accurate, and transparent account of the facts."
The appalling conditions in which Thompson lived and died are not unusual in the Fulton County Jail. A November 2022 report from the Southern Center for Human Rights found that every inmate housed in the jail's unit for the mentally ill had either lice, scabies, or both. The report also concluded that 90 percent of affected inmates were "significantly malnourished, showing clear signs of cachexia—a wasting syndrome leading to the loss of muscle and fat, often seen in people with late stage cancers."
"This is inexcusable and deplorable," Harper said. "The medical staff and the officers saw him deteriorating in the last few weeks before he died. They did nothing to help him. Nothing. They found him dead in his cell, lying there, infested with bedbugs and lice, and that's what killed him."
Thompson's family has indicated they intend to file a civil suit against the jail.