New York City Brings Back Dystopian Robot Police Dogs
'Digidog is out of the pound," New York City Mayor Eric Adams declared, not ominously.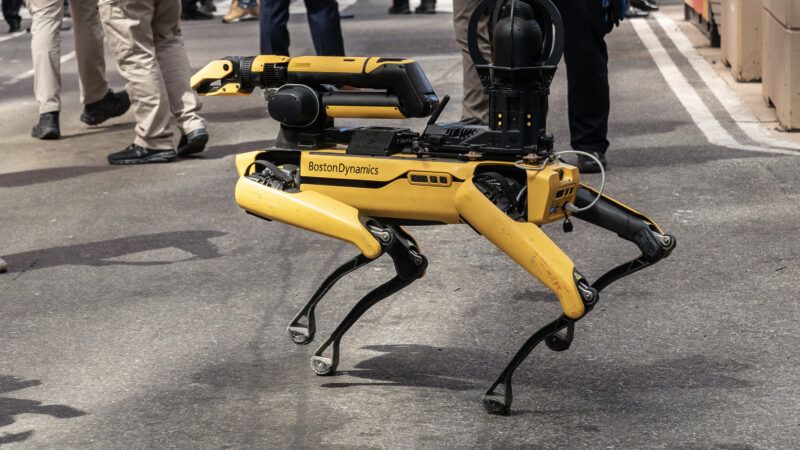 (Lev Radin/ZUMAPRESS/Newscom)
The New York Police Department (NYPD) is reintroducing robot police dogs after scrapping their rollout in 2021 due to public backlash. 
Democratic New York City Mayor Eric Adams announced the return of "digidog," the NYPD's nickname for a four-legged remote-control robot, at a Times Square press conference Tuesday demonstrating several new pieces of police equipment.
'Digidog is out of the pound," Adams declared. "Digidog is now part of the tool kit that we are using."
Look at these little freaks in action:
The NYPD is welcoming a new member to its ranks: a robot dog. The robotic mobile K-9 device is part of a number of technological rollouts the city said is "crucial" in keeping the city safe. https://t.co/mS7vk99Ys0 pic.twitter.com/zyoYFbyc8d

— Geopolitics & Empire (@Geopolitics_Emp) April 11, 2023
The NYPD first obtained several Boston Dynamics robots in 2020, claiming they would be invaluable for hazardous scenes like barricaded suspects and bomb threats. In 2016, Dallas police used a robot armed with a bomb to blow up a barricaded suspect.
Deployments of the robot in New York City, including at a public housing complex, sparked a backlash from privacy and civil liberties advocates, who worried there was too little oversight and too much opportunity for unchecked police surveillance.
Under pressure, the city quietly terminated its contract with Boston Dynamics. "It's creepy, alienating and sends the wrong message to New Yorkers," a spokesman for then-Mayor Bill de Blasio said.
But Adams has never been worried about being creepy or alienating, so the dogs are back.
"I believe that technology is here; we cannot be afraid of it," Adams said at Tuesday's press conference. "A few loud people were opposed to it, and we took a step back. That is not how I operate. I operate on looking at what's best for the city."
"Rolling out Digidogs and Robocops only opens New Yorkers up to more pervasive police spying," the New York Civil Liberties Union tweeted.
Albert Fox Cahn, executive director of the Surveillance Technology Oversight Project (STOP), a surveillance watchdog group, said in a statement that the NYPD "is turning bad science fiction into terrible policing." 
"New York deserves real safety, not a knockoff robocop," Cahn said. "Wasting public dollars to invade New Yorkers' privacy is a dangerous police stunt."
STOP notes that last month, the NYPD Inspector General released a report finding that the NYPD violated a 2020 law requiring it to disclose surveillance technology.
According to the New York Times, two of these robo-puppies cost $750,000, but don't worry; the NYPD is paying for them with asset forfeiture funds. 
Under civil forfeiture laws, police can seize property suspected of being connected to criminal activity, even if the owners aren't charged. For example, a Bronx family was left facing eviction in 2016 after NYPD officers trashed their apartment and seized more than $2,000 in cash from them.
The robot dogs wouldn't be the most frivolous use of New York City asset forfeiture funds, though. In 2019, public records showed that former Manhattan District Attorney Cy Vance spent $250,000 in forfeiture funds over five years on fine dining, first-class airfare, and luxurious hotels.