Electric Truck Manufacturer Featured in Super Bowl Ad Got $186 Million in Taxpayer Subsidies
Stellantis, one of the largest automakers on the planet with billions in cash on hand, got a generous handout from the state of Indiana for choosing to build its battery manufacturing plant there.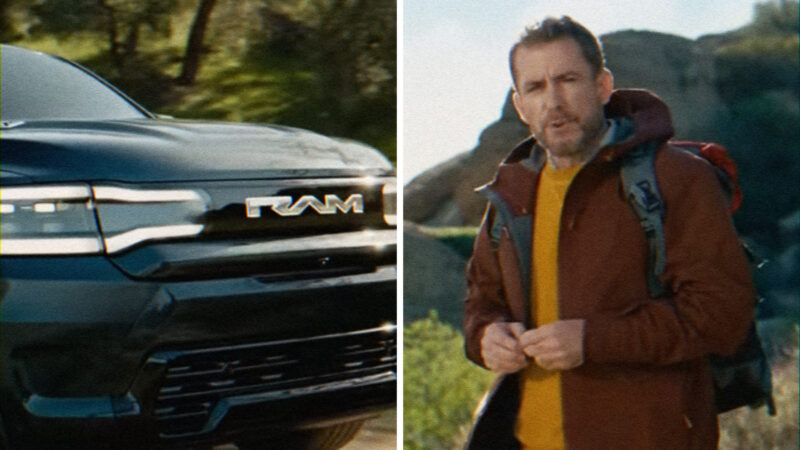 (Illustration: Lex Villena; Stellantis)
Over 100 million people watch the Super Bowl each year, more than any other single broadcast. Commercials that run during the game therefore command a high price: During this week's Super Bowl, a 30-second ad cost between $6 million and $7 million.
One 60-second spot titled "Premature Electrification" humorously addressed concerns about how far electric vehicles (E.V.s) can go between charges. In a parody of a pharmaceutical ad, actor Jason Jones spoke to viewers worried about being "unsatisfied" by an E.V. if it was "unable to last as long as you'd like." The solution: a Ram 1500 REV pickup truck, manufactured by Big Three automaker Stellantis (formerly Fiat Chrysler).
The all-electric version of the 40-year-old Ram will not be available until late next year, but it boasts of a 500-mile range between charges, which is currently unheard of for a truck. Its closest competitors, Rivian's R1T and Ford's F-150 Lightning, can each only go around 320 miles on a single charge.
It makes perfect sense for Stellantis, a company with a market cap currently valued over $50 billion, to shell out a few million bucks to promote its upcoming entrant into the high-tech electric vehicle market. What doesn't make sense is that some of those trucks will likely be made with considerable help from taxpayers.
In May 2022, the company announced a $2.5 billion joint development deal with Samsung SDI in which the companies would build an E.V. battery manufacturing facility in Kokomo, Indiana. The factory, which is expected to begin production in early 2025, will "supply battery modules for a range of vehicles produced at Stellantis' North American assembly plants."
That same day, the Indiana Economic Development Corporation (IEDC), a state development agency chaired by Gov. Eric Holcomb, committed to state incentives totaling over $186 million in grants, tax credits, and site preparation. The city and county also offered 100% property tax abatements worth up to $1.175 billion over 20 years.
The incentives seem to have made Indiana a more attractive location than Michigan, which a Stellantis executive said was "in play" earlier the same month.
While $186 million is a lot of money, it constitutes a small fraction of the $2.5 billion Stellantis and Samsung committed to the project and which over time could increase to more than $3 billion. It also pales in comparison to the €48.134 billion ($51.584 billion USD) that Stellantis reported in cash on hand in June 2022. For comparison, the state of Indiana's total expenditures in the 2021 fiscal year added up to $44.7 billion.
Unfortunately, offering taxpayer money to billion-dollar automakers is all too common. In October, Gov. Mike DeWine announced that Ohio would kick in $150 million toward a $4 billion Honda investment in E.V. factories. Last year, the state of Georgia committed as much as $1.5 billion in state incentives for a Rivian plant at a time when the company had $16 billion in cash.