Police Release Body Camera Footage of Louisville Bank Shooting That Killed 5
Plus: Fact-checking the Twitter Files fact check, The Super Mario Bros. Movie's alleged lack of wokeness, and more...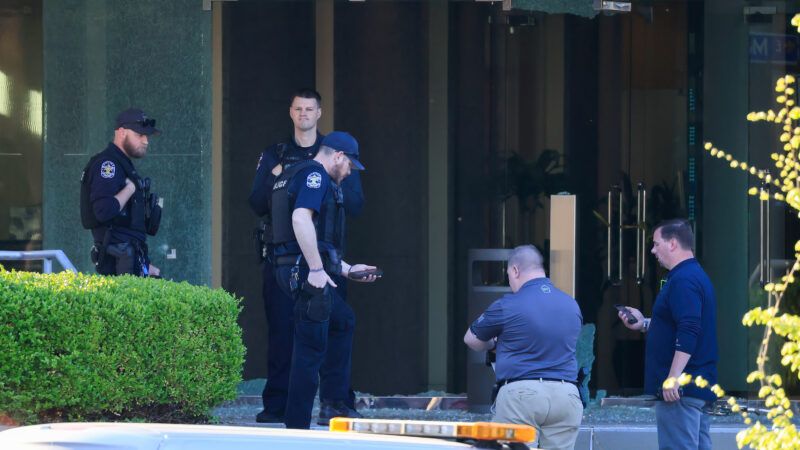 The Louisville Metro Police Department released body camera footage showing their response to the mass shooting at a bank on Monday. The shooting left five people dead and nine wounded. The perpetrator, Connor Sturgeon, was killed by police.
The police responded swiftly, arriving at the bank within minutes. They engaged Sturgeon, who shot one of the officers, Nickolas Wilt—a rookie who had graduated from the police academy just 11 days prior—in the head. Wilt remains in critical condition.
This heroic response from law enforcement in Louisville—and also in Nashville during the recent attack on a Christian school that left six people dead—stands in stark contrast with the sickening behavior of the police officers in Uvalde, Texas, who waited almost an hour to engage that mass shooter while children were dying of gunshot wounds. Police are trained not to wait for backup, not to secure a perimeter, but rather to charge the gunman as soon as they arrive on the site.
According to CNN:
"Officer Wilt was a brand new officer, he had no experience. He was going based on two things: his training and his character. And you will see that he never hesitates – even after getting shot at," Humphrey said at a news conference where nine minutes of video was released.

When the shooting was over, officers and teams from other agencies reentered the bank with supplies and started providing medical treatment right away, Humphrey told reporters.

After talking to medical staff, Humphrey said it is "100% certainty" that those swift actions saved lives.

"The actions that they took to follow up after being shot at themselves, to be compassionate and provide medical treatment, absolutely saved lives that day," Humphrey said.
It's a relief to know that there are officers who know to follow the protocol and bravely engage the shooter, even if that means putting their own lives at risk. Unfortunately, there are many recent high-profile examples of police departments that did not do their jobs as well as the Louisville cops did—and many examples of reform bills passed in 2020 that have both succeeded and failed at changing police protocol.
For more on police failures to respond appropriately to mass shootings, read Reason's C.J.Ciaramella on Uvalde and police secrecy loopholes; Elizabeth Nolan Brown on the search for public policy solutions and answers in the wake of Uvalde; and my own work on school resource officers at Marjory Stoneman Douglas in Parkland, Florida, where a mass shooting took place in 2018.
---
FREE MINDS
Lee Fang, an independent journalist formerly of The Intercept, responded to MSNBC host Mehdi Hasan's fact check of Twitter Files author Matt Taibbi.
In a testy exchange last week, Hasan accused Taibbi of making several errors that seriously undercut the validity of the Twitter Files, Taibbi's report on the federal government's campaign to pressure the social media company to restrict content. Those disclosures were authorized by new Twitter CEO Elon Musk, whose recent crusade against Substack has seemingly caused a rift between the billionaire and the journalists he was working with.
Taibbi copped to making some mistakes, but Hasan also accused him of "lying under oath" during his recent appearance before Congress. According to Hasan, Taibbi confused the Center for Internet Security (CIS), a private contractor, with the Cybersecurity and Infrastructure Security Agency (CISA), a federal agency.
But as Fang points out, both CISA and CIS coordinated with other watchdogs, government actors, and Twitter to monitor speech:
Hasan claimed that only CIS, the government contractor, was involved, not CISA. That's clearly not true, and not something that even CISA, EIP or CIS has claimed in the past. The government agency CISA worked hand-in-glove with CIS, in support of EIP. Hasan isn't explaining any of this to his viewers and is instead engaged in a vicious character assassination effort.

Where else can you find information on CISA working closely on election-related content moderation with the big social media firms? NBC News, the media outlet that is owned by Comcast, the cable giant that also employs Hasan, reported on this relationship during the election. If Hasan is still confused about the role of CISA, he could in fact ask his employer. Comcast is a partner to CISA through its consortium for communication platforms.

The Taibbi-Hasan debate speaks to the sorry state of affairs in the U.S. news media. Every journalist gets things wrong occasionally. Taibbi has conceded that he made an error in one of his tweets, though not in his congressional testimony, and swiftly corrected it. Many of Hasan's claims have been debunked, including his false claim, first flagged by journalist Aaron Mate, that he "never said a word about the Hunter Biden story" and of course this CISA-EIP issue. Hasan's version of journalism means never correcting his own falsehoods. But since Hasan works for a cable news network where exciting a polarized audience is the chief performance metric, he is sure to benefit from the gotcha-style assault on Taibbi.
Hasan has since responded to Fang by accusing him of past Islamophobia.
Talking of owning up to mistakes, I remember when we worked together at The Intercept and you launched an Islamophobic smear against me (since deleted), which you only then apologized for because the bosses made you. Yeah, owning up to mistakes indeed.

And now the latest attack: https://t.co/e3v52otY7V

— Mehdi Hasan (@mehdirhasan) April 11, 2023
---
FREE MARKETS
The Super Mario Bros. Movie is, of course, excellent. It's also a smashing success, earning $204 million at the domestic box office and $377 million globally over the weekend.
It has even earned the acclaim of many conservative cultural warriors, who appreciated its alleged lack of, uh, wokeness:
The anti-woke Super Mario Bros movie just set a global record. https://t.co/QfhIcHdvF8 pic.twitter.com/37Hrq4WZSm

— Steven Crowder (@scrowder) April 10, 2023
'Go woke, go broke.' The opposite may also apply. Nintendo, the Japanese maker of Super Mario Bros. Movie, resisted pressure to use diversity casting, and has hauled in $377 million globally, setting box office records. https://t.co/93QnYU0mfI

— Toby Young (@toadmeister) April 10, 2023
And then, of course, there's The Daily Wire's perpetually cranky Matt Walsh.
Unpopular opinion but it's a bit cringe for conservatives to be championing Super Mario as some kind of anti-woke manifesto

— Matt Walsh (@MattWalshBlog) April 10, 2023
Well, you can't win 'em all.
---
QUICK HITS