Conservative Florida Lawmakers Want To Expand LGBT Censorship to Charter Schools
New bill makes a mockery of parents' rights, school choice, and educational freedom.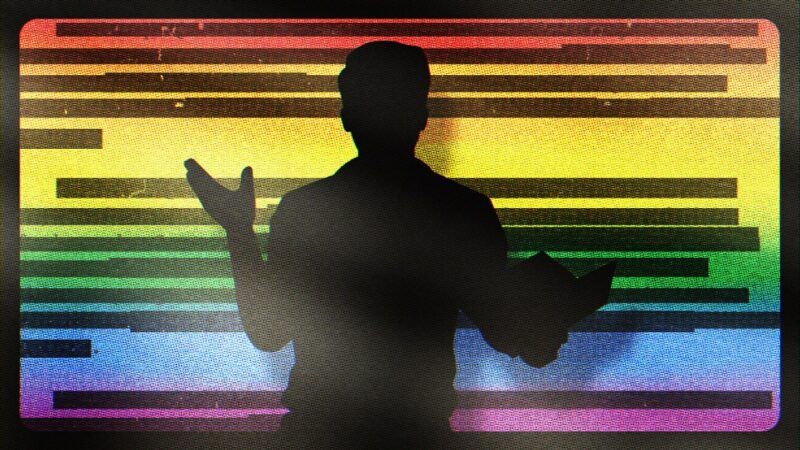 (Illustration: Lex Villena, Michal Sanca )
A bill making its way through Florida's Legislature would expand the state's censorship of discussion of sexual orientation and gender identity all the way up through eighth grade and, in addition, would specify that charter schools are included in the ban.
This attack on educational freedom comes just days after Gov. Ron DeSantis signed into law H.B. 1, which expanded school choice to all Florida students. It's a reminder that when some (but not all) conservatives and Republicans talk about "school choice" and "parents' rights," they have a limited view of what those choices should be and which parents should have rights.
H.B. 1069, which passed the state's House on Friday, would staple some new rules onto H.B. 1557, the law passed in 2022 that censored any discussion of sexual orientation and gender identity in kindergarten through third grade and restricted it in other grades. H.B. 1069 expands the censorship from pre-K all the way up to eighth grade. And while proponents of this type of legislation have insisted that this is all about giving parents control over their children's education, one simple line of text will undermine that entire argument if this bill is signed into law: "This subparagraph applies to charter schools."
All of this is in addition to the latest move by the state's Department of Education to implement regulations that apply a greater level of censorship to all discussions of sexual orientation and gender identity in all grades.
What makes charter schools so valuable is that they give families the freedom to pursue education that meets their children's needs and is free from overly restrictive, one-size-fits-all lesson plans. Families can find charter schools that cater to special needs children or that only focus on certain subjects. There are also a small number of charter schools designed for families with LGBT parents or children.
H.B. 1069 essentially declares that certain types of families will be denied the educational freedom offered by charter schools by censoring which topics can be taught. Politicians who actually believe in "parents' rights" and school choice should be very much opposed to this ban. If parents want their children to learn about LGBT issues in schools, it should not be for a group of conservatives in Tallahassee to tell them no.
In a similar vein, another part of H.B. 1069 undermines the educational choices of families by amending the process of objecting to and removing books from schools. The bill requires that any book or material that is the subject of a removal request by a parent be removed and unavailable to students within five days for an investigation. This means the allegedly objectionable material will be unavailable to all students, not just those of the parents who object. The bill also adds a lengthy appeals process that involves bringing in a special magistrate that the school district has to pay for if a parent continues to object. As Reason has pointed out before, these aren't "parents' rights" bills at all. These are "parents' veto" laws that allow some parents to control what other parents' kids have access to. And since the school district will have to pay to bring in a magistrate to fight against these objections, it doesn't take a genius to figure out that the easiest thing for a school district to do is just remove anything any parent objects to.
H.B. 1069 passed the House easily Friday by a vote of 77–35, and the Senate version is currently being reviewed by the Fiscal Policy Committee. If the bill passes, it will be a test of DeSantis' actual commitment to school choice. If he signs it into law, he's giving credence to any Democratic or progressive critic that says "school choice" is really a conservative plot to undermine public schools and school unions as a mechanism of control, not freedom. It is taking power away from parents and concentrating it in the hands of conservative lawmakers.